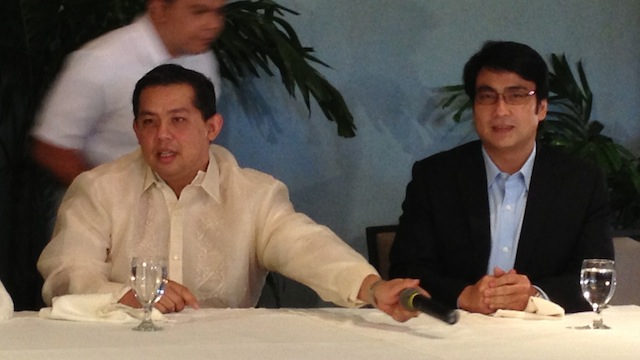 Leyte Rep Ferdinand Martin Romualdez (L) is the new Lakas-CMD president while Sen. Ramon "Bong" Revilla, Jr has been appointed as the new party chairman.
MANILA, Philippines -- It's all about the local races for the Lakas-Christiam Muslim Democrats (Lakas-CMD) this coming elections.
The former ruling party will consolidate its forces at the local level, where it said it has fielded 800-900 candidates, and will just endorse senatorial candidates from other parties mid-way during the campaign.
Lakas failed to field a senatorial candidate for 2013, but its newly named chairman, Sen Ramon "Bong" Revilla Jr, said the party is still "a party to reckon with" if their numbers at the local level were to be considered.
Of their candidates this year, 30 are running for congressmen, and the rest are for local posts, party officials said.
Rappler's database of 2013 candidates shows 25 congressional, 8 gubernatorial, and 109 mayoral candidates running under Lakas.
To gain a foothold in the upcoming elections, Lakas on Tuesday, February 5, appointed Revilla as new party chairman after a party caucus at the Manila Golf and Country Club.
He replaced Albay Rep Edcel Lagman, who resigned as chairman and revoked his Lakas membership in January 2012 after a scuffle over the minority leadership in the House.
Lakas also has a new president in the person of Leyte Rep Ferdinand Martin Romualdez, who is running for re-election unopposed.
Revilla said he and Romualdez will go around the country and pour financial support for their local bets.
"We will work hardest to ensure the election of our local officials in their respective fields. Our task is to support all our candidates to ensure that all candidates will be elected in certain positions," Romualdez said.
50/50 senatorial slate
Lakas-CMD will only choose who to endorse among senatorial bets in the latter part of the campaign period.
Revilla said they will decide a month before the elections. The party's executive committee will choose 10 candidates. It could be "50-50" from the two leading senatorial slates -- 5 could come from the Liberal Party coalition and 5 can come from the United Nationalist Alliance.
The remaining 2 slots will be up for their local members to decide, Revilla said.
Wouldn't a month before the elections be too late to make a difference in the senatorial race? Lakas-CMD does not believe so.
"As they say, one week is a lifetime in politics. As we can see all of the senatorial candidates are jockeying for higher slots. Right now, we're in the process of getting a consensus. Chairman and I will be going around the country, we will get a consensus," Romualdez said in a mix of English and Filipino.
Playing it safe
Lakas-CMD refused to categorize itself as an opposition.
As Lambino said, "We are not the opposition but we can be the minority."
But as deputy secretary-general Raul Lambino also pointed out, some Lakas-CMD members in the House, such as Camarines Sur Rep Rolando Andaya, Valenzuela City Rep, Magtanggol Gunigundo, and La Union Rep Victor Francisco Ortega, are members of the majority.
Revilla himself is allied with the majority coalition in the Senate.
"Walang administrasyon, walang oposisyon. Kaya tayo nagkakawasak-wasak dahil nagkakahiwa-hiwalay dahil walang tigil ang pamumulitika," Revilla said.
'We're on our own'
Asked on whether former President Gloria Macapagal-Arroyo was consulted in any of the recent decisions made by the party, Revilla said: "Di na siya nakikialam sa ating partido. Sariling lipad na kami. (She doesn't meddle with the party's affairs anymore. We are flying on our own."
Arroyo is running for re-election as Pampanga congresswoman under Lakas.
Arroyo and party founder former President Ferdinand Ramos are chairmen emeritus of Lakas-CMD.
They are "always informed" about happenings within Lakas-CMD, Lambino said, but they are not consulted with decisions anymore.
In the 2010 elections, there were 140 Lakas members in the House of Representatives. Romualdez said there are only about 15 of them in 2013. - Rappler.com