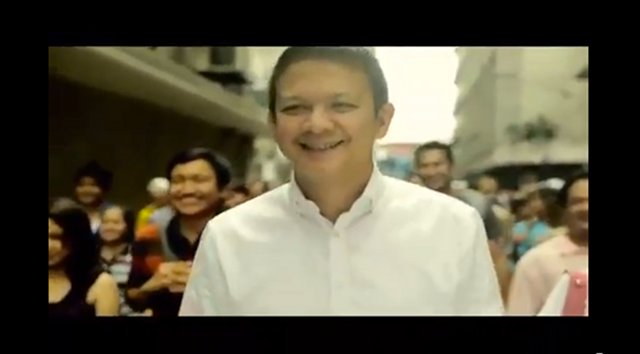 CHIZ FOR CHANGE. Chiz Escudero emphasizes need for change in campaign video. Screenshot from Escudero's video "Ang Pagbabago."
MANILA, Philippines - It's time for change.
This is the message of Sen Chiz Escudero's first campaign video for the 2013 elections, released on Sunday, February 3. The video features the song "Ang Pagbabago," or "Change" of Filipino singer and songwriter Jose Villanueva III, also known as Quest.
The ad opens with a shot of a Philippine flag hanging from a building, and cuts to Filipinos walking on the streets with Escudero. Scenes of teenagers painting and cleaning the streets follow, before Escudero enters and joins them in cleaning.
A dance sequence with Quest comes after, peppered with shots of Escudero with Filipino youth planting, playing basketball, and mingling. The minute-long video then closes with the same opening scene.
Throughout, Quest's song plays, emphasizing the theme of change and working together. It is edited from the original version to add the senator's name, and to encourage listeners to support him. The lyrics read:
Harapin natin ang ngayon
Pantay na pagkakataon
Para sa bagong henerasyon
Ito ang aming tugon
Ang sarap ng pagbabago
Kung sama sama tayo
Sipag, tapang, talino
Kailangan natin dito
Kay Chiz parin tayo
Harapin lahat ng hamon
Ngayon na, tayo na
Tara na, tara na
Bangon, Kilos, Sugod
Panahon na
Kay Chiz na tayo
Sumabay ka
Bangon, Kilos, Sugod
Panahon na
Kay Chiz na tayo
Sumabay ka
The song is from Quest's first album from 2011, that reportedly resonated with the senatorial candidate.
"I got a call from from Chiz's team in late October (2012). They said they were interested because Chiz heard the song," Quest told Rappler.
"I said, 'I'm only gonna if you give me a private lunch with him.' Being an artist, I wanted to know I could promote something I believed in."
Quest met with Escudero to listen to his platforms, and he said he was impressed. He agreed to work with Escudero and while he was paid for the video, was not forced to appear in it. The hip hop and R&B artist said he did it by his own will.
"Immediately, we clicked. I liked his vision," Quest said.
"Not only does he embody this song, he wants to challenge himself to live up to the song… it says, 'We still have a long way to go as a country, as a nation. At this point it's nice when we're together. (Chiz) wants people to be in the same page and to believe we are all agents of change," he said.
In the past, the patriotic lyricist Quest was also tapped by Chot Reyes, the head coach of the Philippine basketball team Smart-Gilas, to use his song "Sige Lang" as the team's theme song.
Escudero, a re-electionist, is one of 3 common candidates of the administration slate and the slate of the opposition, United Nationalist Alliance. He is constantly ranked in the top 3 among candidates, and sat on the number 2 spot in the latest Social Weather Survey rankings.
Watch the video below and tell us what you think of Escudero's video in the comments section.
- Rappler.com