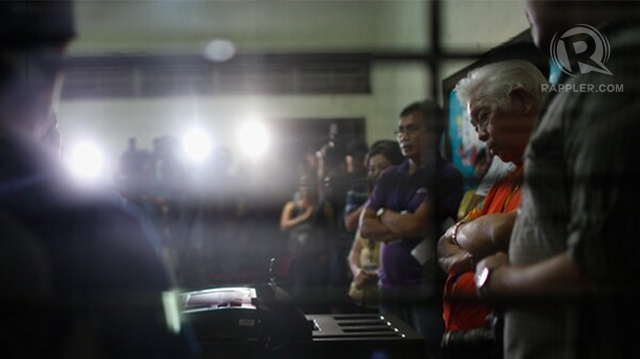 FED UP. Comelec Chair Sixto Brillantes Jr says he has heard the same criticisms over PCOS machines 'about 100 times.' He inspects PCOS machines during the mock polls last February 2. Photo by John Javellana
MANILA, Philippines – Fed up with criticisms he has heard "about 100 times," Commission on Elections (Comelec) Chair Sixto Brillantes Jr threatened to walk out of a congressional hearing Wednesday, February 6, after a watchdog raised issues over ballot-counting machines.
"If it will be repeated again here, can I just step out because I'm getting... mahirap, ang bigat na ho ng tainga ko. Paulit-ulit na eh," Brillantes said, addressing the chair of the joint congressional oversight committee (JCOC) on the automated elections, Senate Minority Leader Alan Peter Cayetano. (It's difficult; it grates on the ear. It's the same thing over and over again.)
Cayetano prevailed over Brillantes after responding: "Mr Chairman, may I pray for your patience. Anyway we only have 10 minutes."
Brillantes appeared irate after the head of an election watchdog, during the hearing, again questioned the security of precinct count optical scan (PCOS) machines.
Center for People Empowerment in Governance (Cenpeg) executive director Evita Jimenez remained unconvinced that PCOS problems in 2010 have been corrected. "Show us proof," Jimenez said.
She cited the legal squabble between Smartmatic, from which the Comelec bought its PCOS machines, and the US-based Dominion Voting Systems, which owns the system used by Smartmatic.
The fight between Smartmatic and Dominion has prevented SLI Global Solutions, another US-based company, from releasing its certification of its source code review. Much like a recipe, the source code refers to "human readable instructions that define what the computer equipment will do," as defined by the automated election system law.
The law requires a source code review.
"Without the certification, and without being told and without being informed that all the errors have been corrected, we would expect preloading, we would expect multiple transmissions, we would expect jamming to occur. We would expect the CF cards fiasco again. We are not doomsaying here, sir, but we want proof that the machines will be functioning well, accurately, and reliably," Jimenez explained.
Brillantes, on the other hand, said SLI and the Comelec's technical evaluation committee (TEC) will release a report on Tuesday, February 12. "Can I address all of these issues after the SLI and the TEC come out with the report? This will settle so many issues," he said.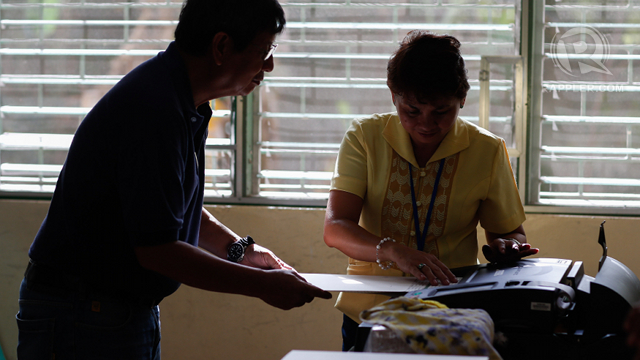 MOCK POLLS. Hundreds of voters try the PCOS machines during the mock elections over the weekend. Photo by John Javellana
Brillantes also complained that Comelec's critics "have not been getting in touch with us." "Our doors are open every day."
Brillantes steps in
In several instances, the Comelec chair has said that even if SLI could not release its source code review, "we should not be affected."
"We will still proceed with the automated elections. We have already prepared our legal arguments that we can proceed with the automated elections regardless of the Dominion-Smartmatic issue," Brillantes said in a forum last week.
Repeating what he has said several times in interviews, he also downplayed the squabble between the two companies. "Pera-pera lang 'yan," he said. (It's all about money.)
Brillantes added that he himself has intervened in their dispute, with him talking to the highest official of Dominion.
In an interview aired on ABS-CBN's Cheche Lazaro Presents (CLP) on Sunday, February 4, Brillantes revealed one of the moves he is considering to insulate Philippine elections from the Smartmatic-Dominion dispute. He said his proposal involves the $10-M, or P400-M, that Smartmatic supposedly owes Dominion.
"That would have been the way to settle the issue. My suggestion is, for me to put in escrow the P400-M that Dominion wants to get from Smartmatic. I said I can put that in escrow. You can fight – even to death. We'll put it in escrow, but give the consent for the certification that we need," he said in a mix of English and Filipino.
Brillantes told CLP that Dominion remains open to this possibility. "They were already saying, 'We might be prepared to give the source code. Just give us an assurance that it will be put in escrow,'" he said.
Mock polls again?
During Wednesday's hearing, Brillantes also addressed problems regarding the mock elections last Saturday, February 2.
Problems like a mismatch between the PCOS and manual counts, as well as low voter turnout, hounded the mock elections. (Watch the video report below.)
Bayan Muna Rep Neri Colmenares said the Comelec should conduct mock elections again, "considering that so many glitches were found during the mock polls."
Brillantes said the Comelec will evaluate this proposal after completeing its report on the mock polls. But he said a repeat of this "might create more problems."
"There will be no perfect mock elections anyway," he said. – Rappler.com