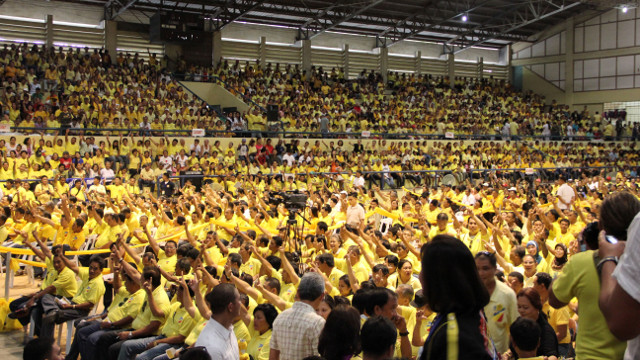 Photo by Gualberto Laput
DIPOLOG CITY – It was officially promoted as President Benigno Aquino III's "meeting with local leaders and the community" here, but it turned out to be a rally of the Liberal Party (LP) attended by more than 5,000 party leaders and supporters from Zamboanga del Norte and its neighboring Zamboanga Sibugay province.
President Aquino arrived here from Davao City on Tuesday, Febuary 5, and proceeded to the inauguration of the Graduate Building at the Andres Bonifacio College (ABC), a private school owned by his political allies, the Amatong family.
From the airport, the President and his entourage proceeded to the ABC, where he was greeted with wild cheers by LP leaders and supporters. President Aquino was accompanied by Interior and Local Government Secretary Mar Roxas, the president of the LP, and Team PNoy senatorial candidates Riza Hontiveros-Baraquel and Benigno "Bam" Aquino.
"We are happy and honored to have been visited by President Aquino," said Dipolog Mayor Evelyn Uy in her welcome remarks.
Not everyone was happy about the President's visit, however. Some questioned why Aquino traveled using public funds to inaugurate a private business; some thought he played politics in excluding incumbent local officials from the supposed community consultation.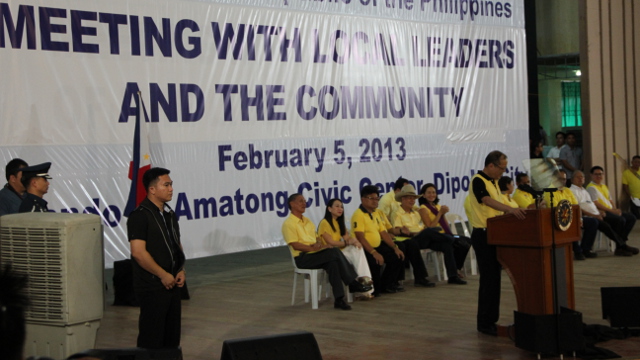 Photo by Gualberto Laput
A 46-year-old government employee commented: "Where on Earth can you find a president who goes to the province, spends a lot of people's money, to inaugurate a private building? Only in the Philippines."
Zamboanga del Norte's Vice Governor, Francis Olvis, said that while it looks like the main event of the visit was the "meeting with local leaders and the community," a lot of local officials were not invited.
Although the Philippine Information Agency here was dodging on painting partisanship in Aquino's visit, what took place was obvious–those who were not invited were the Jalosjoses of Nationalista Party (NP) and Governor Rolando Yebes of United Nationalist Alliance (UNA) and their allied government officials, including Olvis.
"We just heard from the media about the President's visit, so we (provincial government) made a huge welcome tarpaulin in front of the provincial capitol," Olvis told Rappler.
Yebes and his allies attempted to set a meeting with the President, but they were turned down.
"I asked an officer of the PSG (Presidential Security Group) advance party if the governor and other high officials of the province could just meet the President at the airport, but I was told that only top officials of the military and police were allowed at the airport," said Jay Adraincem, Yebes's executive assistant.
It turned out that LP leaders here–Dipolog Mayor Uy, Rep Rosendo Labadlabad (LP, ZN, 2nd District) and former governor Isagani Amatong, who is running for congressman of the province's 3rd District–welcomed President Aquino at the Dipolog City airport.
"It hurts, he is also our President, but we knew that would happen," Olvis lamented. "Even the letters we sent to President Aquino [were ignored]. Until now we are yet to receive a reply, and that's even when there is a law that requires government officials to act on all communications that they receive within 15 days."
In his speech at the ABC gymnasium, President Aquino told the crowd in yellow shirts the need to rid the government bureaucracy of corrupt officials.
"Sa Team PNoy, isusulong natin ang matuwid na daan. Kaya sa darating na halalan, nananawagan ako na bantayan natin ang ating balota," the President said. – Rappler.com