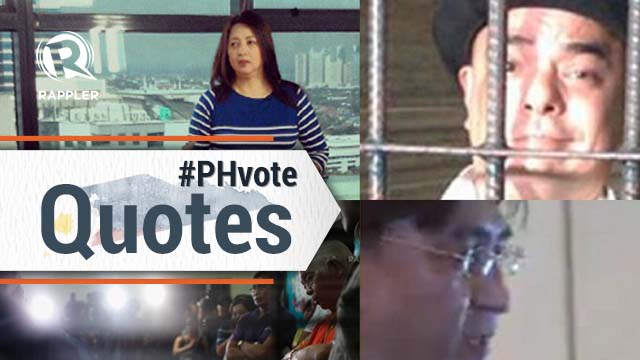 MANILA, Philippines - The week before the start of the official campaign period for national candidates has been filled with senatorial forums, interviews and, well, unforgettable quotes.
As candidates and campaign managers gear up for the 2013 midterm elections, they have also provided voters some insights worth remembering -- some offered a fresh perspective, others, plain entertainment.
Here are some of Rappler's favorite #PHVote quotes from the week that was:

No sex until 18?
"Palagay ko lahat ay pabor sa sex ed. Ang debate lang saan ibibigay yan. May mga nagmumungkahi na grade 5, grade 6, may mga nagmumungkahi na high school at may nagsasabi na college. Para sa akin po, ngayon na may K-12 na tayo, dapat yan ibigay sa senior high school."
(I am in favor of sex education, the debate is when. Some say grade school, others say high school, college. I think now that we have K-12, it should be given to seniors in high school.)
- United Nationalist Aliiance senatorial candidate Ernesto Maceda, 77, on the sexual education provision of the Responsible Parenthood and Reproductive Health Act at "Rundown 2012"

Church "sermon"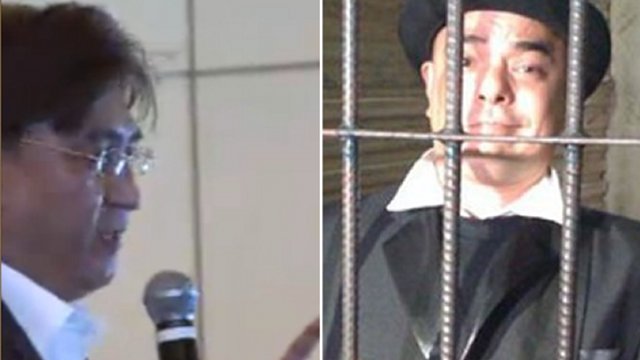 "Scientifically, not religious, dapat mo rin malaman, Mr Celdran, na ang mga katuruan ng simbahan ay hindi lamang religious or spirutual. Maraming katuruan ang simbahan na nakabase sa empirical evidence at 'yan po ang nais kong sabihin sa kanya!"
(Scientifically -- not religious -- you should know, Mr Celdran, that the teachings of the Church are not just religious or spiritual. A lot of the Church's teachings are based on empirical evidence. And that is what I hope to let him know!)
- Ang Kapatiran party's senatorial candidate Rizalito David to Carlos Celdran, in response to the question of divorce at "Rundown 2013"
"Talo ang pikon" (Sore losers finish last).
- Carlos Celdran on Twitter, in response to David
'Not my problem'
"You see, politics to me is nothing personal. You have to understand what Pia Hontiveros said, "Strictly politics. Nothing personal." So it's not based on relationships. It's really not personal. So I guess, it is just so hard when there are other senators who make it personal…It's their problem not mine."
- Liberal Party senatorial candidate Jamby Madrigal, quoting the slogan of a defunct talk show, in a Rappler interview on her previous clashes with other politicians
Bet is on
"12-0. We want the 12 to win."
- Liberal Party campaign manager, Sen Franklin Drilon on the goal of Team PNoy at "Kapihan sa Senado" to have its whole slate elected
"Ang sabi ni Senator Drilon, kaya daw niya kami i-12-0. Sabi ko, pustahang magkaibigan, hindi niya kami kayang i-12-0. At ang pusta ko, kapag na-12-0 niya kami, gagayahin ko 'yung buhok niya. Pero kapag hindi niya kami na-12-0, siyang gagaya sa buhok ko!"
(Senator Drilon said they can beat us 12-0. I said, "Let's make a bet, friend. You can't beat us 12-0." My bet is, if they are able to defeat us 12-0, I will copy his hairstyle. But if they're unable to get that 12-0, he needs to copy my hairstyle!)
- Navotas City Rep and United Nationalist Alliance secretary general Toby Tiangco on DZMM, in response to Drilon's goal
Charm won't work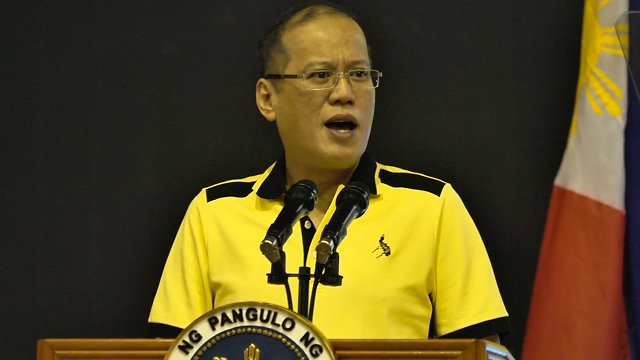 CAMPAIGN TRAIL. President Aquino asks Caviteños to vote for his candidates in May. Photo by Natashya Gutierrez
"Paalala lamang po: Asahan na po ninyong may mga nagpapanggap, at may mga nakikisakay diumano sa ating krusada; may mga nakikisuot ng kulay dilaw, pero hindi tiyak kung anong kulay ang nasa loobin. Huwag po tayong umasa sa tsamba, o sa agimat, o anting-anting."
(Just remember: Expect that there will be those who will pretend, who will ride the bandwagon of our crusade; there will be those who will wear yellow, even if their real colors in the inside are dubious. Let's not depend on chance, on amulets or lucky charms)
- President Benigno Aquino III in his speech to Caviteños at the "Alay sa Mamamayan" event, taking a hit at Sen Bong Revilla, a Caviteño and political rival whose family became popular actors for playing roles of heroes wearing amulets
GMA who?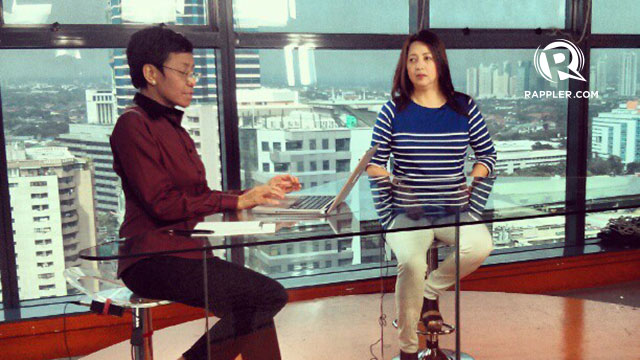 "I was the one who was the least close to GMA in the past administration. I never went to presidential trips, I never had any extras as far as my PDAF is concerned…I didn't benefit anything from her and she was wary of me also because I'm too vocal for her."
- United Nationalist Alliance senatorial candidate and Zambales 1st district Rep Mitos Magsaysay on her alleged alliance with former President Glorial Macapagal-Arroyo, on Talk Thursday
Enough, please!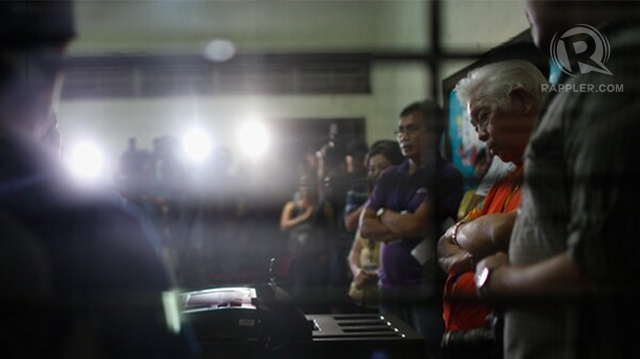 FED UP. Comelec Chair Sixto Brillantes Jr says he has heard the same criticisms over PCOS machines 'about 100 times.' He inspects PCOS machines during the mock polls last February 2. Photo by John Javellana
"If it will be repeated again here, can I just step out because I'm getting...mahirap, ang bigat na ho ng tainga ko. Paulit-ulit na eh."
(It's difficult; it grates on the ear. It's the same thing over and over again.)
- Commision on Elections chair Sixto Brillantes on old issues about the alleged unaddressed glitches of the Precinct Count Optical Scan machines
Yes to marijuana
"If it will heal the body, why not?"
- United Nationalist Alliance candidate and San Juan Rep JV Ejercito (UNA) on legalizing marijuana at "Rundown 2013" - Compiled by Natashya Gutierrez/Rappler.com