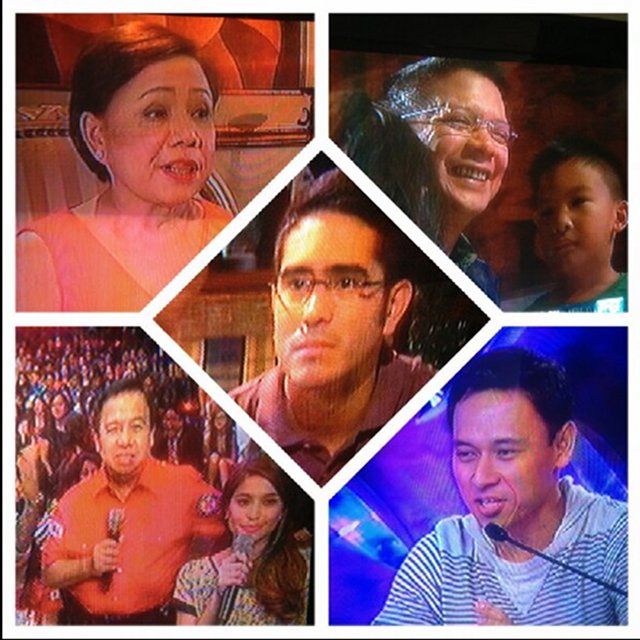 MANILA, Philippines (Update 2) - It's the final weekend before the official campaign period starts on February 12. And it looks like senatorial candidates are making most of their exposure on "free" TV before the Commission on Elections (Comelec) begins to ban them.
As opposed to political ads where bets have to pay hundreds of thousands per spot, these shows are considered "free' TV. The selection of guests is entirely the prerogative of the show's producers.
The candidates' exposure on TV before February 12 will not be counted either against their 120-minute campaign airtime limit.
Rappler spotted the following candidates on various shows on major networks ABS-CBN and GMA on Saturday and Sunday, February 9-10. It's part of Rappler's continuing monitoring of media campaigns.
Aurora Rep Juan Edgardo "Sonny" Angara on ABS-CBN's Saturday noontime show It's Showtime. He was a celebrity judge in one segment -- a look-alike contest.
Former Senator Richard Gordon on ABS-CBN's Saturday noontime show It's Showtime. He talked about the Philippine Red Cross, which he chairs.
Former Las Piñas Rep Cynthia Villar on ABS-CBN's Saturday early afternoon entertainment show Showbiz Inside Report. She talked about the supposedly humble beginnings of her father and how she met Senator Manuel Villar Jr at the University of the Philippines.
Senator Francis "Chiz" Escudero on ABS-CBN's early afternoon entertainment show Showbiz Inside Report. He talked about his relationship with his late father Sorsogon Rep Salvador Escudero and how it supposedly taught him how to raise his children.
Senator Alan Peter Cayetano on ABS-CBN's flagship program Maalaala Mo Kaya. The biography focused on his relationship with his father, the late Senator Rene Cayetano, and how the latter supposedly inspired him to join public service.
San Juan Rep JV Ejercito on ABS-CBN's late evening show Bottomline.
Cynthia Villar on GMA-7's Sunday afternoon entertainment show H.O.T. TV.
Cynthia Villar on ABS-CBN's Sunday late afternoon show Goin' Bulilit.
These guestings may not be allowed anymore starting February 12. Due to a ruling by the Supreme Court, the Comelec cannot control premature campaigning, but the poll body vowed to strictly implement Comelec Resolution 9615, the implementing rules of the Fair Elections Act.
Comelec has been firm on the 120-minute aggreggate limit per senatorial candidate on political advertisements. TV networks have questioned this before the Supreme Court.
There are at least 2 provisions in the Comelec resolution that cover TV and radio guestings.
Section 7 of the resolution lists biographies among prohibited forms of election propaganda -- "to show, display or exhibit publicly in a theater, television station, or any public forum any movie, cinematography or documentary portraying the life or biography of a candidate, or in which a character is portrayed by an actor or media personality who is himself a candidate."
The Comelec resolution says the appearances of senatorial bets are only allowed in "bona fide" programs like news. But there's still a debate on what "bona fide" covers.
Section 9 initially required broadcast stations to seek "prior approval" from Comelec "to determine whether the appearance or guesting in a program is bona fide." The poll body has modified this, however, to require the networks to just notify the Comelec of these guestings so they can be properly classified as propaganda or legitimate news. - Rappler.com