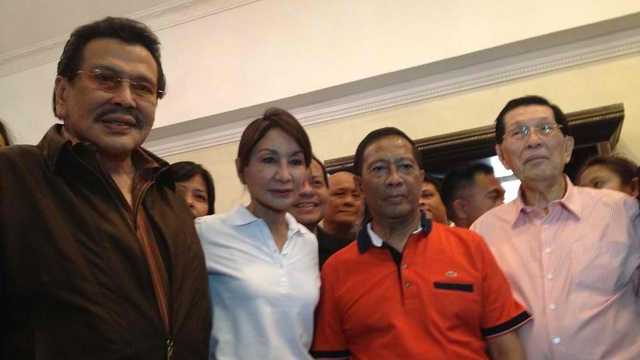 MANILA, Philippines – There were many choices for the United Nationalist Alliance (UNA).
The self-styled "constructive opposition" could have picked from a number of its top leaders' bailiwicks as the venue of its campaign kickoff.
There is Makati, so-called Binay country. There is Tondo, Manila, where former President Joseph Estrada formally declared his 2010 presidential bid, and the city he now seeks to be mayor of. There is even Cagayan where Senate President Juan Ponce Enrile hails from.
Yet for a change, UNA chose Cebu as the site of its proclamation rally, its opening salvo for the campaign period of national candidates that starts on Tuesday, February 12.
UNA candidates began arriving in Cebu on Monday, February 11, for the proclamation to be held in Cebu City's Plaza Independencia. Rival Team PNoy will be at the Liberal Party (LP)'s historic base, Plaza Miranda in Manila.
UNA campaign manager Navotas Rep Tobias "Toby" told Rappler that Vice President Jejomar Binay, UNA president and founder, approved the choice of venue for obvious reasons. UNA is an alliance between Binay's Partido Demokratiko Pilipino-Lakas ng Bayan (PDP-Laban) and Estrada's Pwersa ng Masang Pilipino (PMP).
Tiangco said, "Cebu is the province with the biggest voting population. Mas maraming tao, mas maraming botante. Ano ba ang gusto mong puntahan, 'di ba tao?" (The more the people, the more the voters. Who do you want to reach, isn't it people?)
The UNA secretary-general said the alliance will hold a separate proclamation rally in Manila to highlight Estrada's mayoral bid at the start of the campaign period for local candidates on March 29. UNA will also be in Makati for the last day of the campaign in May.
Yet the choice of Cebu as the first proclamation site may be seen at the backdrop of UNA's "political harassment" tack against the administration, and the coalition's effort to expand its base in the country's de facto second capital.
'Biggest voting bloc'
Situated in Central Visayas, Cebu is the most vote rich province in the Philippines. It has 8 congressional districts (6 for the province, two for Cebu City), 9 cities, and 44 municipalities.
The Commission on Elections' Region 7 Office registered 2,509,520 voters in Cebu for the 2013 midterm election. The figure includes voters from Cebu City, Lapu-Lapu City, and highly urbanized cities.
This is an increase from 2010, when Cebu had 2.43 million voters.
Observers note that with this number, Cebu can influence the results of national polls.
In 2004, for example, then President Gloria Macapagal-Arroyo credited Cebu for her victory.
"Thank you … for giving me the largest margin of voters in the whole country …. Thank you, Cebu, for making me president," Arroyo said in a speech after the congressional canvassing ended.
Arroyo then led actor Fernando Poe Jr by one million votes in Cebu, giving her the margin she needed to win the presidency. Back then, she enjoyed the support of almost all of the province's politicians and benefitted from their machinery.
Newsbreak reported though that election operators cheated for Arroyo in Cebu and other administration strongholds in 2004.
In 2007, a total of 7 senatorial candidates of Arroyo's Team Unity also made it to the top 12 in Cebu: Joker Arroyo, Prospero Pichay, Edgardo Angara, Mike Defensor, Juan Miguel Zubiri, Ralph Recto, and Cesar Montano.
Nationally, only Angara and Recto won. Zubiri was proclaimed senator but the Senate Electoral Tribunal ruled in 2011 that the winner was Aquilino "Koko" Pimentel III.
For former Arroyo ally and now suspended Cebu Gov Gwendolyn "Gwen" Garcia, all this makes UNA's choice of proclamation venue no surprise.
"Cebu is the single biggest voting bloc in the entire country," Garcia told reporters.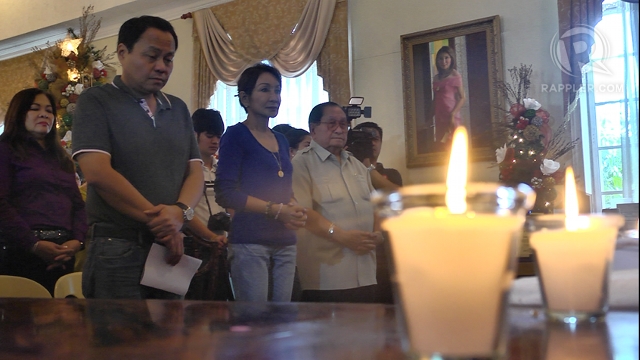 LOCAL ALLIES. UNA is allied with the local One Cebu party of suspended Gov Gwen Garcia (3rd from left) and Team Rama of Cebu City Mayor Michael Rama. File photo by Adrian Portugal
'Highlighting harassment'
Garcia adds another element to UNA's proclamation rally in Cebu. UNA is allied with Garcia's local One Cebu party, and Team Rama of Cebu City Mayor Michael Rama.
The coalition made its congressional candidate's suspension an election issue, accusing Interior Secretary Manuel "Mar" Roxas II and his LP of political persecution.
The interior department tapped LP vice gubernatorial bet Agnes Magpale to be acting governor.
The Office of the President suspended Garcia in December 2012 for grave abuse of authority in bypassing the Office of the Vice Governor and the provincial council in hiring contractual employees. The case was based from an administrative complaint Garcia's late vice governor and political rival Gregorio Sanchez Jr filed in 2010.
Garcia is questioning her suspension before the Court of Appeals.
President Benigno Aquino III and Roxas said the move underwent due process but Garcia and UNA cried power grab.
In a controversial move, Binay, Estrada, and Enrile visited Garcia while she was holed up in the provincial capitol and have since defended her.
UNA's senatorial bets said they will bring the issue to the campaign trail.
"We chose Cebu to highlight the persecution of Gov Garcia. Political persecution of opponents is tantamount to abuse of power, which runs contrary to President Benigno Aquino III's avowed straight path," former Sen Ernesto Maceda said in media interviews.
UNA even linked Magpale's order to lock Garcia out of the capitol to its proclamation.
"LP betrays its panic and desperation because of UNA's decision to hold its proclamation rally in Cebu. As a result, they unwittingly drew attention to their repressive tactics," said Tiangco.
Beyond political allies, UNA also has ties to religious leaders of Cebu. Estrada is a longtime friend of Cebu Archbishop Emeritus Ricardo Cardinal Vidal.
Vidal will officiate a Mass for UNA on Tuesday at the Cebu Cathedral.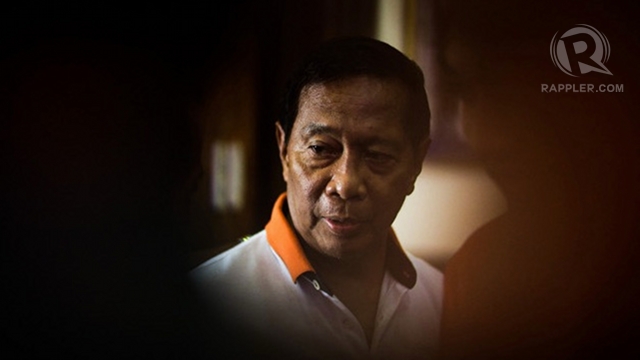 STRENGTHENING BASE? Vice President Jejomar Binay approved Cebu as the proclamation site of UNA. In 2010, Binay lost in Cebu to rival Interior Secretary Mar Roxas. File photo by John Javellana
Binay, Erap lost in Cebu in 2010
UNA Spokesperson JV Bautista said Binay also handpicked Cebu because UNA already has "strong projection in Manila" and chooses to focus on Visayas.
The proclamation venue prompted LP's Cebu gubernatorial bet Hilario "Junjun" Davide III to point out that Binay lost to his bitter rival, Mar Roxas, in Cebu in 2010.
Comelec records showed Roxas with 814,397 votes in Cebu while Binay ranked second with 323,171.
The book Ambition Destiny Victory tracked Binay's victory in 14 out of 17 regions, with the exceptions being Western Visayas, Central Visayas and Caraga in Mindanao.
Roxas' running mate, President Benigno Aquino III, also won via landslide in Cebu (759,938 votes) while Estrada only placed 4th (67,578 votes) based on Comelec records. In 1998, Estrada won as president but only placed third in Cebu.
Surveys of performance and trust ratings also show why Binay needs to work on Cebu.
A November 2012 Pulse Asia survey showed that while the Vice President has the highest approval and trust ratings among government officials, his numbers are lowest in the Visayas compared to the National Capital Region, the rest of Luzon, and Mindanao.
The same goes for Enrile whose trust and approval ratings were lowest in Visayas. See the tables from Pulse Asia: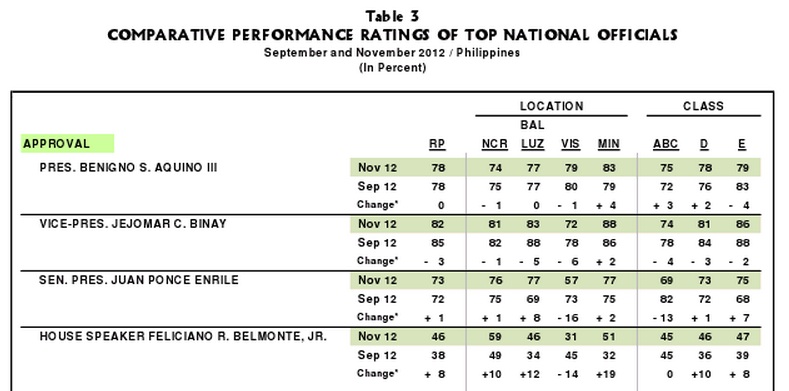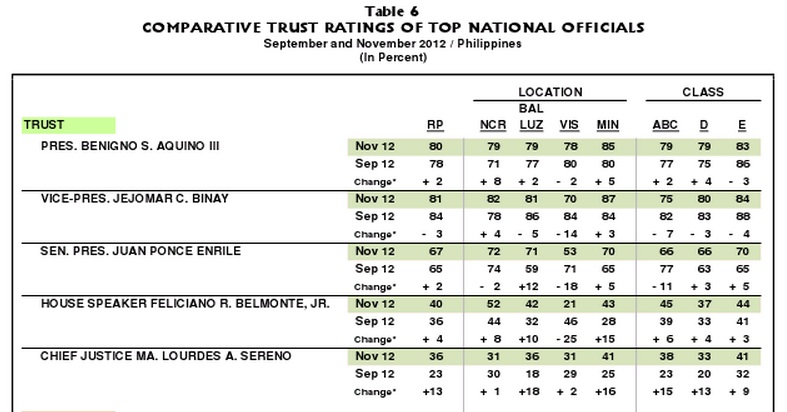 Tiangco clarified that the proclamation does not mean UNA is claiming Cebu as its turf.
With UNA's press conferences, motorcades and proclamation all set, it will now be up to Cebuanos to decide whether they want their province to be an UNA bailiwick or not. – Rappler.com