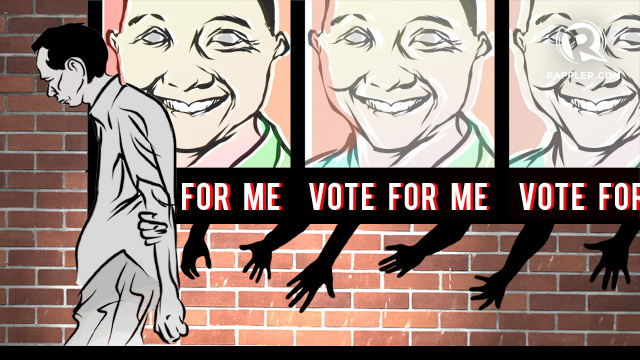 MANILA, Philippines (UPDATED) – Saying it has had enough of candidates who took advantage of a legal loophole to campaign prematurely, the Commission on Elections (Comelec) vowed to get back at "epals" starting Tuesday, February 12.
"Kung epal ka ngayon, bukas kriminal ka na," said Comelec spokesman James Jimenez in an interview with reporters on Monday, February 11. (If you're an epal now, tomorrow you become a criminal.)
Jimenez was referring to "epals," or publicity-hungry politicians who have advertised their candidacies long before the start of the campaign period on Tuesday.
"They've taken advantage of the law on premature campaigning. Now it's the campaign period; it's time to follow the law. On our part, we'll strictly implement the law to make sure everyone follows," said Comelec chair Sixto Brillantes Jr in an interview with reporters Monday. (Watch more in the video below.)
Rappler reported on Sunday, February 10, that senatorial bets have made the most of "free" TV exposure, particularly on ABS-CBN. One of them didn't even spare the kiddie show Going Bulilit on Sunday evening.
A Supreme Court ruling has decriminalized premature campaigning, and Brillantes, in various interviews, has said the most the Comelec can do is to strictly implement its campaign rules starting Tuesday.
Comelec commissioner Christian Lim, who heads the campaign finance unit, earlier said the Comelec plans to disqualify violators in what could be a test case. (Watch more in the video below.)
In the mold of hard-hitting TV host Ramon Tulfo, Brillantes himself will appear on TV ads to run after "epals." In these ads, Brillantes will urge the public to report campaign violations to the poll body.
"Ang sasabihin ko, 'Isumbong mo sa Comelec!' Hindi kanino man. Isumbong mo sa Comelec," Brillantes said in an interview with reporters, describing his ads. (I will say, "Report them to Comelec!" Not to anyone else. Report them to Comelec.)
The Comelec will accept reports on campaign violations through the following modes:
@Comelec on Twitter

/PCOSdemo2013 on Facebook

Comelec hotlines 5275574, 5259345, and 5259302

A feedback form on mycomelec.tv
On its website, the Comelec assured the public it will keep their reports confidential. The poll body also promised to respond to all crowd-sourced reports.
Now what's prohibited during the campaign period? Check the downloadable infographic below by Rappler's Teddy Pavon.

– Rappler.com