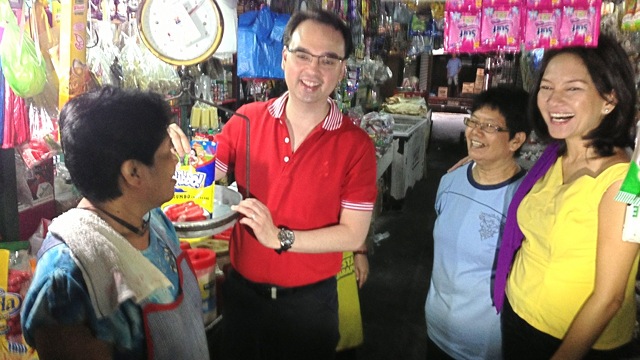 CAMPAIGN LAUNCH. Re-electionist Sen Alan Peter Cayetano and former Akbayan Rep Risa Hontiveros visit a market in Tondo to launch their campaign. Photo from the office of Sen Alan Peter Cayetano.
MANILA, Philippines - Team PNoy's candidates are not wasting any time in kickstarting their campaigns, starting with individual efforts before a huge proclamation rally that will see all 12 candidates on stage with the President.
At 6 am on Tuesday, February 12, the first day of the official start of the campaign period, re-electionist Sen Alan Peter Cayetano and former Akbayan party list representative Risa Hontiveros -- both members of the administration's slate -- visited Pritil market in Tondo bright and early in the morning, to launch what Cayetano calls his #PitiK campaign.
#PitiK stands for presyo, trabaho, kita (prices, jobs, salary), which the re-electionist hails as his platform.
"Ang kampanyang ito ay tungkol sa lahat ng Pilipino na hirap dahil sa presyo ng bilihin, walang trabaho, at kulang ang kita (This campaign is for the Filipino that is suffering because of high prices, lack of jobs and insufficient income)," he posted on his official Twitter account.
The two candidates spoke to market vendors about their concerns relating to these issues, choosing to start their campaign "with people they are fighting for."
Other candidates chose to kick off their campaigns differently.
Sen Loren Legarda, who has relatively kept her distance from media in recent weeks, guested at ABS-CBN News Channel's morning show with Karen Davila, Headstart, where she talked about her platforms, specifically the environment.
Former senator Jun Magsaysay and Las Piñas Rep Cynthia Villar meanwhile, turned to social media to make their presence felt.
Magsaysay promoted his Facebook page early in the morning, asking voters to like his page via his Twitter, while Villar posted her Mano Mano interview with Anthony Taberna aire on Studio 23 last Sunday, February 10, on both her Twitter and Facebook accounts.
United stand
But come 4pm, all 12 candidates will be in one place together: Plaza Miranda in Manila.
While the senatorial hopefuls started the day with their own gimmicks, the complete slate of President Benigno Aquino III will officially launch their campaign in Manila, where they will be endorsed by Aquino himself.
The 3 common candidates Team PNoy shares with the opposition United Nationalist Alliance (UNA) -- Legarda, Sen Chiz Escudero and former censors chief Grace Poe -- will also join the President on stage, while UNA simultaneously kicks off their campaign in vote-rich Cebu. Their presence on Aquino's stage is being emphasized by Team PNoy as a sign of whose side the 3 are on.
The attendance of all candidates at the proclamation rally is in line with the strategy that Team PNoy has trumpeted they will use -- their unity in supporting the President's reforms, having been handpicked by Aquino himself.
Sen Franklin Drilon, campaign manager of the ruling coalition, has said they will achieve their 12-0 goal in favor of Aquino's team by drawing clear lines between the administration and the opposition.
Pretenders?
Aquino himself has warned voters to make a distinction between his selection and the opposition, which was the theme of Team PNoy's first campaign ad. He also emphasized the message in a recent trip to Cavite.
"Just a reminder: Expect there will be those that will pretend they're LP, those who will join the bandwagon in our crusade. There are those wearing yellow but are surely not yellow in their hearts," he told Caviteños on Thursday, February 7.
From Cebu, UNA head and Vice President Jejomar Binay took offense at the President's statements.
"You charge us of being pretenders? Excuse me," Binay told reporters early this morning.
"Sila nga, 'di pa nga nag-iinit ang pag-upo ng bagong Pangulo, 'yung mga ang ingay-ingay sa pagkontra sa bagong Pangulo, andun na lahat (They are the ones who were noisy in opposing the President even when he was just new in office but now they are all there)," he said of some candidates on Aquino's slate that he refused to name.
The proclamation rally of Team PNoy is scheduled from 4-7pm, where 8,000 government officials, supporters and voters are expected to attend.
Each candidate is expected to speak for 6-8 minutes, before the President will deliver his endorsement speech for his candidates.
Team PNoy's official candidates are Legarda, Escudero, Poe, Cayetano, Villar, Magsaysay, Hontiveros, re-electionist Sen Koko Pimentel, former Sen Jamby Madrigal, Aurora Rep Sonny Angara, and social entrepreneur and the President's cousin Bam Aquino. - Rappler.com