MANILA, Philippines - Aside from the senatorial race, the upcoming national elections in May will also see new party-list representatives getting elected to congressional posts.
In the lead up to the elections, the Commission on Elections (Comelec) conducted an unprecedented purge of the party-list system, trimming the initial list of 289 applicants down to an initial 79 -- to separate genuine party-list groups from those who, according to the poll body, are just using the system to gain undeserved entry to Congress.
In the end, the Comelec, upon orders of the Supreme Court, has included 123 party-list groups in the ballot.
A total of 58 party-list seats are up for grabs, according to Comelec. To secure one seat, each group needs to get at least 2% of the total number of votes for party-lists.
The party-list system is meant to provide a chance for "marginalized and under-represented sectors" to gain representation in Congress. But even Comelec chair Sixto Brillantes Jr has said there is a need to amend RA 7941 or the Party-list System Act to define what "marginalized sectors" really are.
How did party-list groups conduct their campaigns Tuesday, February 12, the start of the official campaign period for national candidates? How did they reach out to their sectors?
Rappler tracked how party-list groups started their respective campaigns through their social media accounts.
Sorties, jingles
The day was filled with the usual motorcades, sorties and campaign jingles but with nuances in terms of reaching out to the sectors they represent.
Ang Partido ng mga Marinong Pilipino or Angkla party-list held a sortie at the Luneta Seafarers Center in TM Kalaw. After all, they represent Filipinos working in the maritime industry.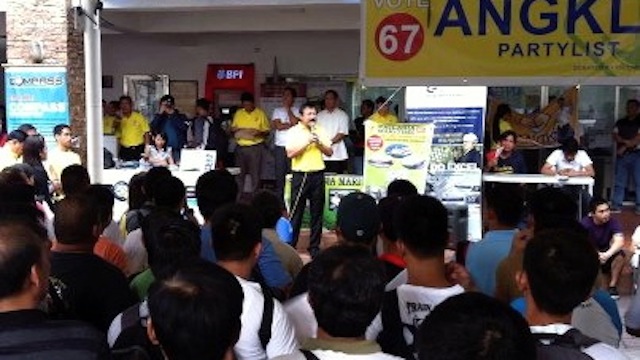 Photo from ANGKLA's Facebook page
Incumbent Bagong Henerasyon Rep Bernadette Herrera-Dy, meanwhile, spent the day holding a series of meetings with her party-list groups' leaders from various areas in Metro Manila.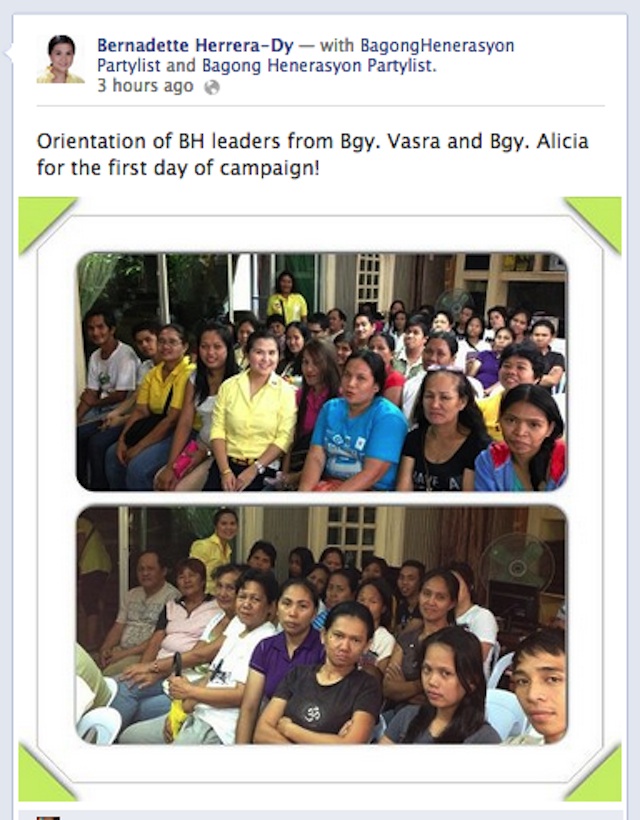 Another incumbent legislator, Citizens' Battle Against Corruption (CIBAC) party-list Rep Chona Cruz-Gonzales, chose to campaign at the Bulacan State University.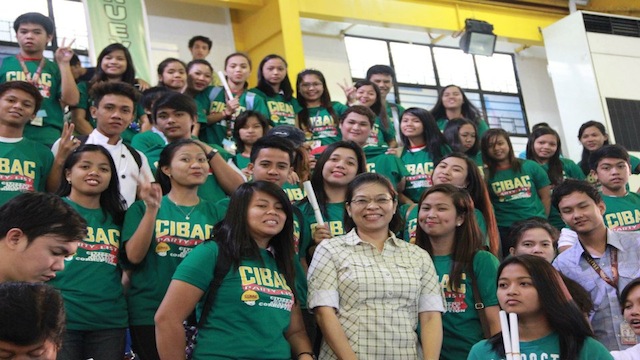 Photo from CIBAC's Facebook page
Child welfare organization Akap Bata party-list went around Metro Manila and conducted a house-to-house campaign after.
Others groups such as the Kabataan party-list held simultaneous sorties in and outside Metro Manila.
The youth group is also employing familiar strategy this elections to increase name recall – the campaign jingle. Urging the youth to re-elect the group, "Kabataan Level Up" is to the tune of One Direction's "What Makes You Beautiful."
Migrante party-list -- which, like Kabataan, belongs to the leftist Makabayan coalition -- also launched their campaign jingle, which is inspired by the popular song "Call Me Maybe."
Bayan Muna had a caravan and market-hopping event in Rodriguez, Rizal.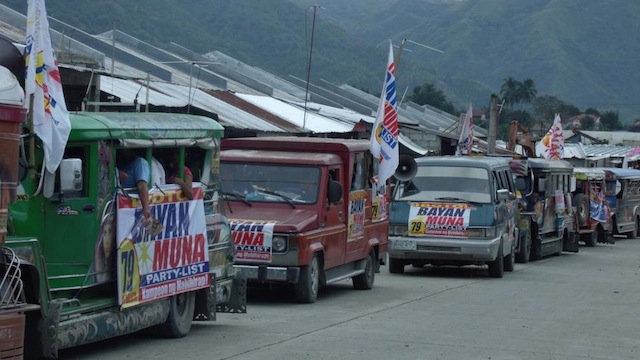 Photo from Bayan Muna's Facebook page
Non-traditional
Other parties went beyond sorties, parades and motorcades.
Incumbent ACT Teachers Rep Antonio Tinio joined Makabayan senatorial bet Bayan Muna Rep Teddy Casiño as he ran to the Senate from Taft Avenue.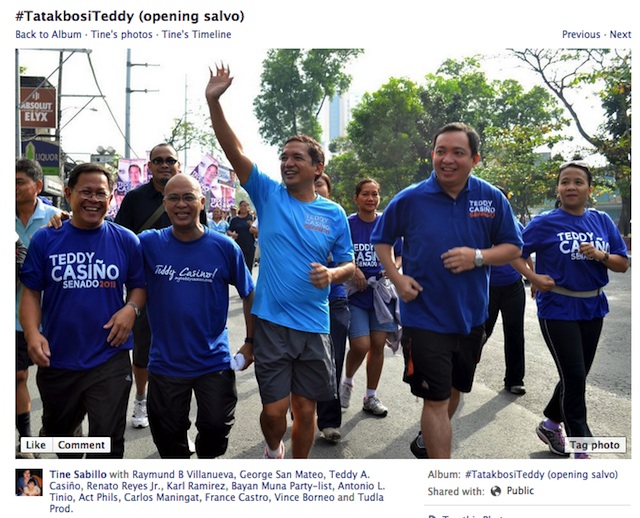 Screen grab from Bayan Muna's Facebook page
Instead of going the traditional route, LGBT group Ang Ladlad party-list, had a whole day event that started with a mass and ended with a tour of different bars across Quezon City. They were also scheduled to visit public markets in Quezon City, the Home for the Golden Gays and a beauty parlor.
Women's party-list group Gabriela spent Tuesday promoting One Billion Rising, a February 14 event where one billion women across the world will dance simultaneously to call for an end to violence.
Social media
Other party-list groups took to social media to mark the first day of the campaign period but most of them -- such as 1BAP - 1 Banat and Ahapo Party-List Coalition (1BAP), An Waray, PBA party-list and Ang Nars -- only used their accounts to post their campaign materials.
The Alyansa ng mga Grupong Haligi ng Agham at Teknolohiya para sa Mamamayan, or Agham, took to social media to mark the first day of the national campaign period.
More of these activities are, of course, expected in the coming days. - Rappler.com