CAMPAIGNS BEGIN. The Team PNoy rally at the Plaza Miranda
MANILA, Philippines - They support President Benigno Aquino III but don't believe they have have to turn yellow.
Nacionalista Party (NP) senatorial candidates Sen Alan Peter Cayetano, Sen Antonio "Sonny" Trillanes IV, and former Las Piñas Rep Cynthia Villar have been conspicuously wearing white - not President Aquino's trademark yellow color - in recent activities with the rest of the administration senatorial ticket now called Team PNoy.
"Nag-decide ang Nacionalista na mag-white. (The Nacionalistas have decided to wear white)," Villar told Rappler Tuesday night, February 12, when asked why she was wearing white again.
Rappler asked if she will wear yellow in the future. "White," she answered, smiling.
Senate Minority leader Cayetano said the Nacionalistas don't have to lose their identity just because they had coalesced with the Liberal Party. "It's a coalition. Hindi maganda na just because you are in a coalition, you will all be one. Nagsasama-sama ang colors," Cayetano said.
The Nacionalista color is red, Cayetano said. "Out of respect, instead of wearing our own color, we'll wear our neutral color," Cayetano told Rappler.
But in a sea of yellow, they stand out.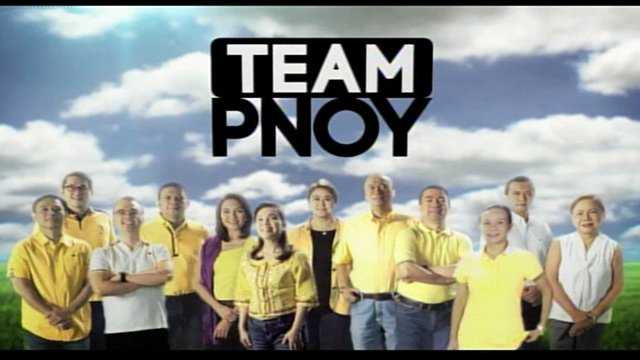 The Nacionalista Party led by Sen Manuel Villar Jr joined hands with the President's Liberal Party (LP) to form Team PNoy - a coalition of senatorial candidates who vowed to push for the President's priority measures in the remaining 3 years of his term.
It's a curious partnership considering the recent history of the two political parties. Both camps viciously attacked each other in the 2010 presidential elections, where Aquino beat Villar.
Senator Villar himself was present in the Team PNoy proclamation rally to support the candidacy of his wife Cynthia. He wore a white top.
Cynthia Villar earlier told Rappler they never blamed President Aquino for the black propaganda in the 2010 campaign. She said it was Aquino's campaign team that was behind the attacks. Still, she said they have moved on.
Cynthia Villar also said she was happy with the President's endorsement during the proclamation rally. "Okay naman. Masaya. Maganda ang endorsement sa amin ng presidente at ng aming mga kasamahang kandidato," she said.
Even returning Sen Jamby Madrigal endorsed Cynthia Villar and called her "ang aking kaibigan (my friend)." Madrigal also ran in the 2010 presidential elections. She was also one of the fiercest critics of Sen Manuel Villar Jr on the alleged double-funding on the C-5 road.
The Nacionalistas were first seen wearing white tops in the senatorial slate ad of Team PNoy released in late January. All the rest of Team PNoy were in yellow in the ad.
During the proclamation rally, senatorial candidates Senator Loren Legarda and former censors chief Grace Poe Llamanzares were also wearing white tops. They were in yellow in the slate ad.
Legarda and Poe are common candidates of Team PNoy and rival ticket United Nationalist Alliance (UNA). Both sent representatives to the UNA proclamation rally in Cebu. One of the conditions of the Liberal Party for its coalition partners is to commit that they will only join the campaign stages of the administration.
The third common candidate, Sen Francis "Chiz" Escudero, was wearing yellow during the Team PNoy proclamation rally. He was unable to send a representative to the UNA rally. - Rappler.com