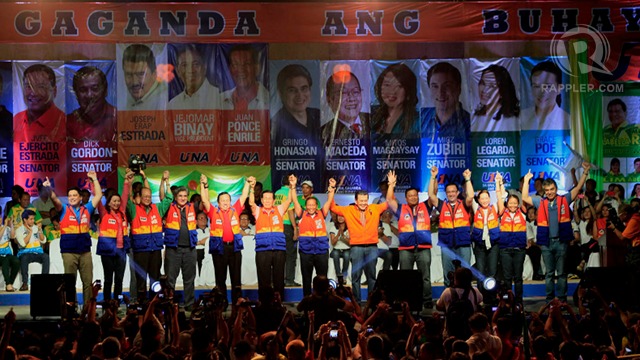 NEW OPPOSITION? Vice President Jejomar Binay proclaims UNA's senatorial candidates, hailing them as "the new, responsible and constructive opposition." Photo by Charlie Saceda
CEBU, Philippines – It is an opposition that supports the President but attacks the very programs he and his administration push for.
Vice President Jejomar Binay's United Nationalist Alliance (UNA) was in combat mode during the proclamation of its senatorial candidates in Plaza Independencia here on Tuesday, February 12.
Binay, Senate President Juan Ponce Enrile, and former President Joseph Estrada expressed support for President Benigno Aquino III but said the reforms and programs under his watch have not uplifted the lives of the poor.
In fiery speeches, the UNA triumvirate and their senatorial bets slammed administration measures as they asked a crowd of 35,000 people to vote for the opposition on May 13.
The Vice President fired the first shot, hitting economic growth that he said does not trickle down to the masses.
Binay said, "Sa kabuuan ng bansa, marami pa rin ang nagugutom. Marami pa rin ang walang trabaho. Marami pa rin ang patuloy na naghihirap." (In the country, many are still hungry. Many are still jobless. Many people still suffer.)
"Masigla nga ang stock market. Masaya ang mga negosyante. Dapat masaya rin kayo. Ang pag-unlad ay hindi para sa mga negosyante at mayayaman lamang. Ito ay para sa lahat ng Pilipino." (The stock market is doing well. The businessmen are happy but you should be happy, too. Growth is not just for businessmen and rich people only. It is for all Filipinos.)
The message echoed UNA's populist stance. LP officials have said that it will take time for the poor to feel economic gains, saying Aquino is only in the middle of his term.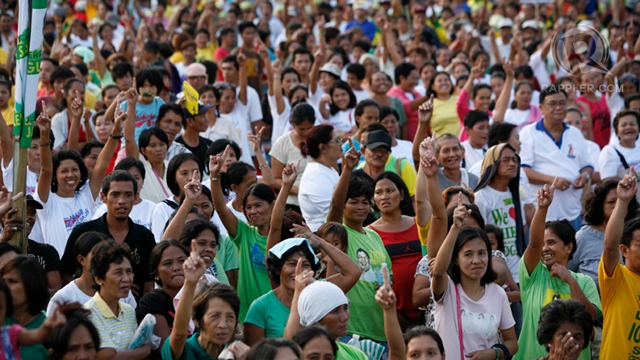 CEBU VOTE. Supporters and onlookers flash the UNA sign in Plaza Independencia in Cebu during the proclamation rally of the United Nationalist Alliance. Cebu police say 35,000 people showed up. Photo by Charlie Saceda.
Enrile attacks RH, sin tax, CCT
Enrile followed suit, attacking the passage of Aquino's pet measures: the Reproductive Health and sin tax reform laws. The Senate President staunchly opposed the passage of the two measures.
"Pinatawan nila ng malaking buwis ang negosyante ng sigarilyo pero pinapayagan po nila ang smuggling ng napakadaming sigarilyo …. Ano ang paggagamitan ng mataas na buwis sa sigarilyo? Para ikalat ang condom sa bansa! Kayo ba papayag diyan?" (They imposed heavy taxes on tobacco businessmen but allowed smuggling of cigarettes. Where will the taxes go? To distribute condoms! Will you agree to that?)
He also took a swipe at what he called a dole-out program, alluding to the administration's conditional cash transfer program.
"Anong ginagawa nila sa taumbayan, nilimusan po sila …. P43 billion po na pera niyo ang gagamitin sa pagpapalimos na iyan sa halip na gamitin ang pera na iyan para magkaroon ng trabaho ang mahihirap sa ating bansa. (They are doling out to people. They are spending P43 billion of your money to dole them out instead of using that to help the poor find jobs in our country.)
'LP wants to hold Senate by the neck'
In formally proclaiming candidates of the self-styled "constructive opposition," Binay sought to address questions about where UNA really stands.
The ruling Liberal Party and analysts have criticized UNA's awkward position of supporting the President while being in the opposition.
Binay remained unfazed. "The times call for what we call a new opposition, a constructive opposition. This means no longer criticizing anything and everything that the administration says or does."
"It is all about saying the truth, no matter how it hurts."
Enrile said voting for Aquino's candidates will also compromise the independence of the Senate.
"Ang ibig sabihin ng mga Liberal, ngayon ay gusto nilang talian ang ilong ng Senado na parang isang kalabaw na maaring hihilahin ng humahawak ng kapangyarihan ng ating bansa kung anuman ang kanyang gusto. Iyan ba susundin niyo?" (What the Liberal wants is to tie the Senate by the nose and drag it like a carabao by the people who hold power in our country. Is that what you want?)
"Paninindigan ko ang independensya ng Senado kahit pa buhay ko ang ibubuhos ko para maging malaya ang Senado niyo." (I will fight for the Senate's independence even if I have to give up my life.)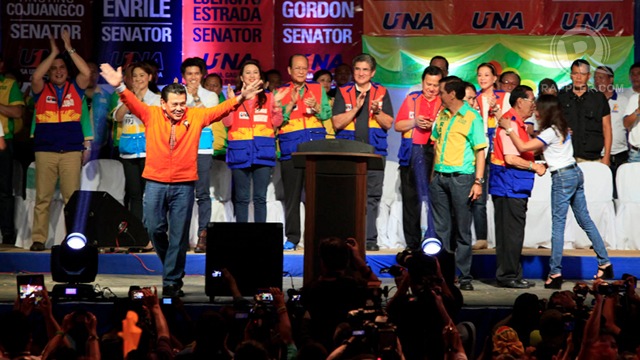 CROWD DRAWER. Former President Joseph Estrada's humor and charm were a big hit at the UNA proclamation. Estrada got the most cheers from the crowd. Photo by Charlie Saceda
'Victim of bad politics'
The message was consistent all throughout the night as UNA's 9 exclusive senatorial candidates, and representatives of Sen Loren Legarda, and Grace Poe-Llamanzares took the stage to explain their platforms. The common candidates chose to attend the LP's proclamation in Plaza Miranda, Manila.
Actress Sheryll Cruz and Llamanzares' son, Brian, represented the former Movie and Television Review and Classification Board chairperson. Legarda's father, Antonio, climbed the UNA stage on behalf of his daughters.
Sen Francis Escudero did not send a representative to the UNA rally, causing UNA not to post his posters and streamers. Escudero said though that UNA kept him out of the loop.
Former Tarlac Governor Tingting Cojuangco, Nancy Binay, San Juan Rep JV Ejercito, Former Sen Ernesto Maceda, Former Sen Richard Gordon, Sen Gregorio Honasan II, Cagayan Rep Jack Enrile, Zambales Rep Mitos Magsaysay and resigned Sen Juan Miguel Zubiri took turns hitting the administration.
Like their leaders, the candidates asked voters to choose them to ensure there are fiscalizers, and checks and balances in the Senate.
Gordon and Ejercito spoke against electing what they called "yes, sir" senators.
Yet while the candidates harped on UNA's "daang maganda" and "gaganda ang buhay" slogans and their own taglines, there was little mention of specifics in their platforms.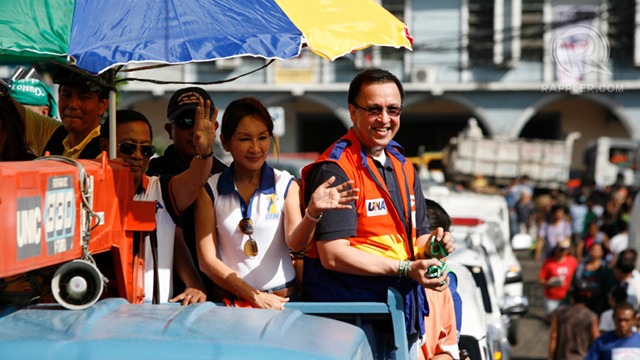 'BAD POLITICS.' Binay calls suspended Cebu Governor Gwen Garcia a victim of "bad politics." Garcia campaigns with UNA candidate Rep Jack Enrile in Cebu. Photo by Charlie Saceda
The alliance also highlighted the suspension of Cebu Gov Gwendolyn "Gwen" Garcia as a campaign issue. Garcia is UNA's provincial chairperson in Cebu and congressional bet for the 3rd district.
The Office of the President suspended her for 6 months for grave abuse of authority last December 12.
Binay said, "We believe that Governor Gwen does not deserve to be unseated. She was denied due process and is a victim of bad politics."
Before the rally, Garcia promised to ensure victory for UNA's senatorial candidates in Cebu, citing the province's record of delivering votes for Senate bets in 2007.
Aside from Garcia, Cebu City Mayor Michael Rama of Team Rama and Cebu 3rd District Rep Pablo John Garcia of One Cebu were present to pledge support for UNA.
The opposition is courting the vote of 2.5 million voters in Cebu, the country's most vote rich province.
Binay said, "In the final analysis, the people of Cebu will be the judge." – Rappler.com