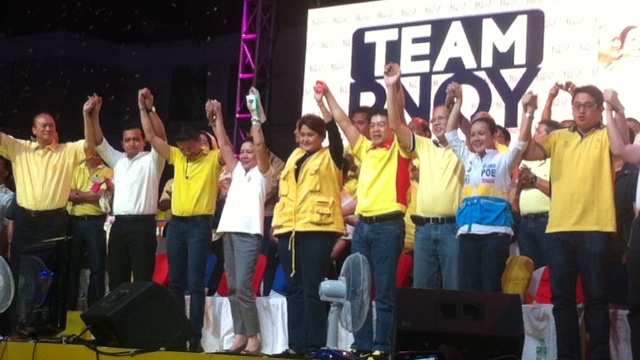 CAMPAIGNS BEGIN. The Team PNoy rally at the Plaza Miranda
MANILA, Philippines - The message was loud and clear: This is the President's team, nobody else's.
On the proclamation rally of Team PNoy on Tuesday, February 12, President Benigno Aquino III endorsed his candidates and took a swipe at the opposition United Nationalist Alliance (UNA), questioning how they could say they were supportive of his reforms, when they are allied with those who used to support the administration of Gloria Macapagal-Arroyo.
"May ilan sa kanilang magsasabing, nilalabanan namin ang katiwalian. Matanong ko lang po: Kung ganoon, bakit ninyo kakampi ngayon ang mga tagapagtanggol at nakinabang sa nakaraang administrasyon? Ano po ba talaga ang pinaninindigan ninyo?," he said. (There are some of them that say they are fighting corruption. But let me ask: If that's the case, why are you allied with those who defended and benefitted from the past administration? What is your stand, really?)
At least one UNA senatorial bet was a vocal supporter of Mrs Arroyo -- Zambales Rep Mitos Magsaysay.
Aquino told the jampacked Plaza Miranda that candidates who backed the former president would likely return to the same style of governance once elected.
He also reverted to his anti-corruption themed speeches, which he often used when running for the presidency in 2010, and urged voters not to forget the accomplishments of his administration in only 2.5 years. He compared it to the 9 years of the past administration wherein he said little was achieved, and asked supporters not to forget it.
"Ang tanong po ngayon: magpapatuloy ba ang mapayapa't mabungang biyahe natin sa tuwid na daan o isusuko na lamang natin ang lahat ng ating tagumpay sa mga nagnanais tayong iligaw sa masukal na ruta ng katiwalian; sa kamay ng ilang nagpalit nga ng kulay ng baro, pero ang budhi naman ay nakasampay pa rin sa dating baluktot na kalakaran?," he said. (My question is: will this peaceful and effective governance continue or will we give up all these sucessess to those who hope to take us to a route of corruption, to the hands of those who have changed the color of their clothing, but still sides with wrongdoing?)
"Hindi po natin ito kailan man dapat makalimutan—at hindi tayo papayag na maulit pa ito. Tandaan po natin: nariyan pa rin ang ilang mga alipores ng nakaraang administrasyon, at ang mga kauri nila—pareho pa rin ang istilo, hindi pa rin nagbabago ang ugali." (We must never forget, and we must not allow it to happen again. Let's remember: the supporters of the past administration are still there and those like them -- they have the same styles, they have not changed their personalities).
The mood was festive in historic Plaza Miranda, the site of a 1971 LP rally where two grenades were launched, killing 9 supporters. It has since served as the only site in the country where protests, rallies and assemblies may take place without a permit needed.
With a complete slate of 12, Aquino said the gathering was a celebration of the sacrifices and the inspiration of the country, that continually rises despite tragedy, corrupt past officials and years of suffering under Arroyo.
Own styles
Supporters came in droves carrying placards, wearing shirts of candidates they were supporting, and beating drums hours before the official start of the ceremonies.
Each candidate took to the stage to introduce themselves to voters, mostly using video presentations of campaign ads, endorsements of celebrities, or slideshows listing their accomplishments and platforms.
Former censors chief Grace Poe emphasized the influence of her father and former actor Fernando Poe Jr in her life, flashing photos of her childhood and the two together to illustrate their closeness and her goal to achieve his dreams for the poor.
Aurora Rep Sonny Angara was endorsed by popular actors Sarah Geronimo and Coco Martin in his campaign commercial, while Sen Alan Peter Cayetano donned boxing gloves and alluded to Manny Pacquiao in his speech, saying he is the "Pambansang Kamao" fighting against high prices, low wages and lack of jobs.
Other candidates spent most of their allotted time endorsing other candidates. Sen Loren Legarda and former Sen Jamby Madrigal went through each name on the slate, and reminded the crowd to vote 12-0 in favor of Team PNoy.
Some bets said they were exactly like their relatives who had previously served the nation as public servants, specifically presidential cousin Bam Aquino who said he was just like his uncle Sen Ninoy Aquino, aunt and former president Corazon Aquino, and his cousin. Former Sen Ramon Magsaysay Jr also highlighted his father's achievements as president.
But a common thread throughout the senatorial hopefuls' speeches was in line with the trumpeted strategy of the coalition: each candidate vowed to continue the reforms the President had started.
Unapologetic
Aquino too endorsed his candidates one by one, lauding their accomplishments and explaining why they were on his slate. He said he and his team handpicked the candidates and scrutinized their abilities and personalities -- finally coming up with a team that he said supports his agenda.
Campaign manager Franklin Drilon has said that the May 2013 elections will serve as a referendum on the President, hence Aquino's unapologetic push for his choices.
For his part, Vice President Jejomar Binay, a stalwart of UNA, has repeatedly told voters that his slate supports the President and his reforms, but has ideas on how to do it better.
But Aquino slammed the claim, saying they couldn't possibly be on his side if they are the first to criticize his administration's achievements.
"Sasabihin nilang bahagi sila ng Tuwid na Daan, pero kapag tumalikod ka, hayun at nakatawid na sa kabilang bakuran, tinitibag ang mga repormang iyong nasimulan," he said. (They say they are supportive of my reforms but once you turn your back, there they are, backing the other side, criticizing the reforms you have started).
Aquino is expected to join his candidates regularly on the campaign trail as they visit various provinces in the weeks ahead. - Rappler.com