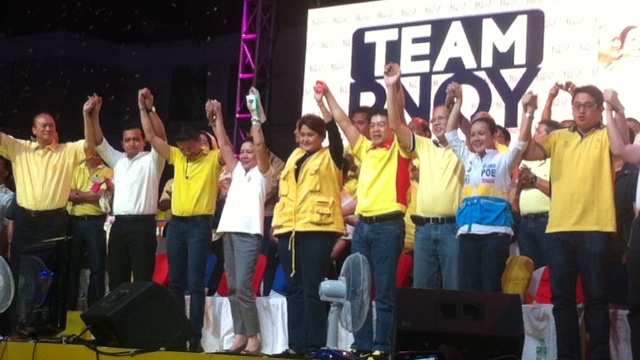 CAMPAIGNS BEGIN. The Team PNoy rally at the Plaza Miranda
MANILA, Philippines - The first stop of Team PNoy after its proclamation rally? Vote-rich Batangas.
While the opposition United Nationalist Alliance (UNA) makes its way to Bohol Wednesday, February 13, after it launched its campaign in Cebu, President Benigno Aquino III's team has chosen to visit Batangas, before Laguna on Thursday, February 14 and Cavite on Friday, February 15.
Campaign spokesperson Miro Quimbo said the region of Calabarzon (Cavite, Laguna, Batangas, Rizal and Quezon) has traditionally delivered votes in past elections. "These are battleground provinces where you have a substantial number of votes and where there is a tough local fight," he said. Batangas has 1,248,059 registered voters, one of the highest in the country.
Recent events suggest Batangas may be a tricky sell for Team PNoy.
Batangas has traditionally supported Vice President Jejomar Binay, a stalwart of UNA. Binay's father, Diego Medrano Binay, hails from Bauan, Batangas.
The province is also deeply religious. Lipa Archbishop Ramon Arguelles staunchly campaigned against the controversial Reproductive Health (RH) law. Arguelles said he and members of the Catholic Bishops' Conference of the Philippines were "disgusted" about Aquino's support for the law, saying the President's matuwid na daan has been "selective."
The Aquino government has lauded the passage of the law as one of its biggest achievements.
Batangas is also the home province of Sen Ralph Recto, whose wife, actress Vilma Santos-Recto, is the governor. Recto had opposed the administration's version of the sin tax law and was even forced to quit a committee over allegations he was siding with cigarette and alcohol companies.
Will these issues affect Team PNoy in Batangas?
Quimbo said he expects candidates to make adjustments according to their own judgment calls.
"Issues are essentially managed by the candidates… we brief the candidates individually on what the respective issues are in one area, and then they make the decision," Quimbo added. - Rappler.com