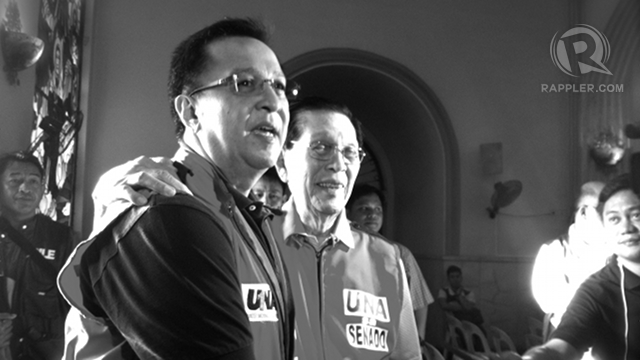 FACTOR IN DROP. Senate President Juan Ponce Enrile admits the Senate fund controversy may have been a factor in the huge drop in his popularity. His son Cagayan Rep Jack Enrile says he will inevitably be affected by what happens to his father. Photo by Ayee Macaraig
BOHOL, Philippines – Senate President Juan Ponce Enrile agrees with the pundits.
In an interview here, Enrile conceded that the controversy over his selective release of Senate funds may have caused a significant drop in his popularity.
A January 2013 Pulse Asia survey showed Enrile suffered the biggest decline in his approval ratings, from 73% in November to 46%. The survey was conducted at the height of Enrile's word war against his Senate critics.
Enrile said, "I really do not know [why]. Maybe because I was the subject of a barrage of attacks from some people who were dissatisfied with the way I distributed the budget of the Senate."
The Senate President stood by his decision, reiterating that members of the minority are not entitled to receive additional Maintenance and Other Operating Expenses (MOOE).
Enrile's decision not to give P1.6 million each in additional MOOE to Senators Miriam Defensor Santiago, Antonio Trillanes IV, Alan Peter Cayetano and Pia Cayetano sparked the ugly word war.
Rappler has also linked the issue to the decline in re-electionist senators' survey numbers.
Enrile though said the controversy will not affect the results of the midterm polls. Enrile's son, Cagayan Rep Juan Ponce "Jack" Enrile Jr is running for senator while his opposition alliance is fielding candidates for the Senate.
"My God. This is my 19th campaign. When I first helped President Marcos, he was running far, far behind as compared to Diosdado Macapagal but in the end he ran far ahead of him," Enrile said.
"UNA sa umpisa, UNA rin sa raya. First from the starting point, first in the finishing line."
'Father's numbers affect me'
Asked about the impact of his father's plunge in the surveys, Rep Jack Enrile told Rappler that it is natural his popularity will also be affected.
"Anything that happens to my father will affect me, and I guess anything that happens to me will affect my father. That is the reality of Philippine politics, we have accepted that for the longest time."
"We accept it now, we will just continue to work for the next 90 days. Let the Filipino people decide how they want to vote," he added.
Like his father, Rep Enrile thinks the Senate fund row will not become an election issue.
"The issue is amongst the elected senators now. It's my hope they will settle and deal with the issues openly so the people will understand what the real core issues are, and I hope people will accept the explanation of the senators involved," he said.
Rep Enrile added that he is campaigning hard, knowing that there was already a "correction" or decline in his survey numbers as voters begin to distinguish him from his father.
"Sa tingin ko factor na din diyan si Jack Enrile. Natutuwa naman ako kahit papaano my father is showing support for my candidacy." (I think being Jack Enrile is a factor there. I am happy my father is supporting my candidacy.)
"This is the first time he is campaigning for me. He never campaigned for me in the first district of Cagayan. Probably he felt he did not see the need to. This is a father and son team and I'm looking forward to our time together in the course of the next 90 days."
Binay confident as ever
Like Enrile, Binay is not bothered by his dip in the surveys. The same Pulse Asia survey showed his approval ratings declined from 82% to November to 69% in January.
His disapproval ratings rose slightly, from 3% to 5%. His "undecided" rating rose by 11 percentage points, from 14% to 25%.
"It doesn't affect my confidence level because I am still number one. Number one official that our countrymen showed trust and confidence in. Number two, all of us dropped."
Binay added, "I attribute it to the election time. Many issues are coming out, so many things are happening. The decline did not go to unfavorable but to the undecided." – Rappler.com