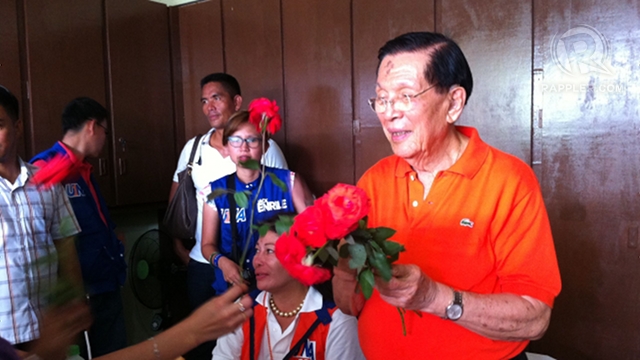 THRIVING UNA. Boholanos give Senate President Juan Ponce Enrile flowers for his 89th birthday. Enrile says his birthday wish is "for UNA to thrive." Photo by Ayee Macaraig
BOHOL, Philippines – An ugly Senate word war about money caused a huge dent on his popularity but Senate President Juan Ponce Enrile could not care less.
"If I'm going to be bothered by that, I will not be where I am today," said Enrile who turns 89 today, February 14.
The controversial Senate President spent the eve of his birthday here, accepting flowers from a priest while facing the fire of controversies on the national scene.
Speaking like he has seen and heard it all, Enrile downplayed the impact of the dip in his approval ratings on his bid to make his son, Cagayan Rep Jack Enrile, and party mates as senators.
Enrile is chairman emeritus of the opposition United Nationalist Alliance (UNA), and is actively campaigning for the group. Vice President Jejomar Binay and former President Joseph Estrada are the two other top UNA leaders.
"My birthday wish is for UNA to thrive and for UNA to serve the nation well, and faithfully and effectively."
Even if he criticized administration programs just the night before, Enrile also said he wished President Benigno Aquino III well.
"And my wish is for the President to continue his service to the nation and with good health and very clear mind in order to direct the affairs of the country while he is sitting as the chief of government and chief of state of this country."
Enrile again spoke about his controversial memoir, copies of which he has been asked to sign even in the campaign whistle stops of UNA.
"If you read the prologue, the ending of the prologue is 'with God and guts' because I fervently and honestly believe that all my life, God was with me," he said.
"If I think of the perils and vicissitudes of life I've gone through, it's probably a wonder to all of you here and the entire nation that a poor boy like a rat, like me, would ascend to carry the fate of number 3 in this nation, which I never expected and never aspired for."
Critics like Sen Miriam Defensor Santiago are pushing for a Senate probe of his book over its "brazen false claims" like Enrile's denial that he faked his own ambush in 1972, one of the reasons for declaring Martial Law. Enrile was defense minister during the Marcos regime, and a close Marcos ally.
Senate Minority Leader Alan Peter Cayetano has also called the book "fantasy."
Yet Enrile has said that he has the documents to back up his memoir.
"They can do anything they want. They'll make my book popular. Instead of selling only 20,500 [copies], it might sell one million," Enrile told reporters in Cebu.
The Senate fund controversy intensified the feud between Enrile and his critics.
Enrile excluded Santiago, Cayetano, and Senators Pia Cayetano and Antonio Trillanes IV from receiving P1.6 million each in additional Senate funds last December 2012.
The Enrile memoir is also at the center of the P31-M libel suit he filed against columnist and ad veteran Yolanda Ong, who wrote about inconsistencies in Enrile's book. Ong filed an P88-M counterclaim against Enrile.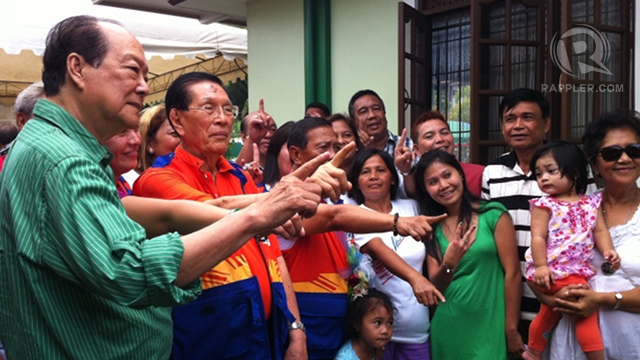 'PRESENCE UNQUANTIFIABLE.' Senate President Juan Ponce Enrile says no form of campaigning beats face to face interaction with voters. Enrile campaigns in Bohol with Vice President Jejomar Binay and former Sen Ernesto Maceda. Photo by Ayee Macaraig
'Nothing like face-to-face campaign'
Even at 89, Enrile is tireless on the campaign trail. During UNA's proclamation rally in Cebu, he was one of the most energetic and impassioned speakers as he blasted the administration for passing the Reproductive Health and sin tax reform laws.
The Senate President though also has a sense of humor on the campaign stage, saying he wants to sing a song for Valentine's Day.
"Gusto ko kayo kantahan ng 'To All The Girls I've Loved Before'," drawing laughter from the crowd. (I want to sing the song To All the Girls I've Loved Before.)
Enrile has joked about his image as a ladies' man even when he was linked to his resigned chief of staff, lawyer Jessica "Gigi" Reyes. He denied having an "illicit relationship" with her.
In campaigning, the Senate President also takes the time out to chat with onlookers and shake their hands, even if he is only able to walk slowly. An early riser, he is sometimes even the first in UNA to make it to the campaign site.
Enrile said this will be his last senatorial campaign before he steps down in 2016.
"Siguro ang huli na lang ang pagkampanya ko kay Jojo Binay sa 2016." (Maybe my last campaign will be for Jojo Binay's presidential bid in 2016.)
Enrile said this is the 19th campaign of his life. Over the years, he said the forms of campaigning have changed.
"This time, there are many instruments of campaigning. You can campaign through television. Well, radio was already current when I started to be in politics but television was not. Print media was current but not as widespread today."
He added, "Then you have the Twitter, the Facebook, the blogs and so forth, the Internet. So those are additional instruments of reaching the people."
For Enrile, nothing beats pressing the flesh.
"You cannot substitute seeing people face to face, people will see whether you are ugly, if you walk like a duck, talk like a duck."
"That is unquantifiable because there are many people that cannot be surveyed and if you just base it on people who have TV, radio in their homes, maybe [that works] but when you go to the rural areas and reach out here, there are homes that have no TV, no radio, and no magazines to inform them so there's nothing like going."
Enrile said another factor is connecting with the local leadership.
"Because I'm a rural politician and became a congressman. Every congressman will be asked by the voters of their district, who are you for? How much percentage of the voting population has that kind of attitude, who ask who are you for and how many do not care who their leader votes for? There are many unknowns."
Enrile said he does not really prepare to hit the campaign trail.
"I just go to sleep at night, wake up, dress up and ride a vehicle and go around."
Can the self-styled "gurang na gurang" (very old) politician still stand the rigors of campaigning?
"I do not know. Only God knows." – Rappler.com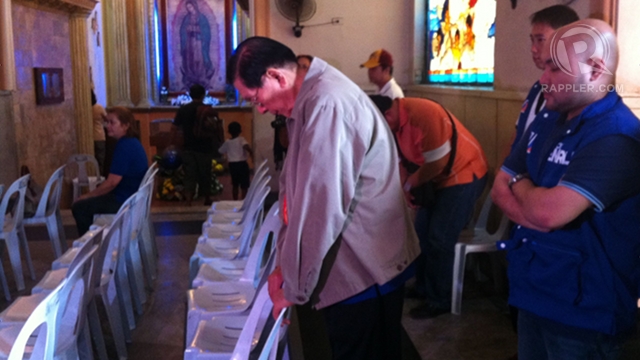 'GOD AND GUTS.' At 89, the controversial Enrile attributes his longevity to "God and guts." In this photo, he arrives early for the UNA Mass at the Cebu Cathedral. Photo by Ayee Macaraig