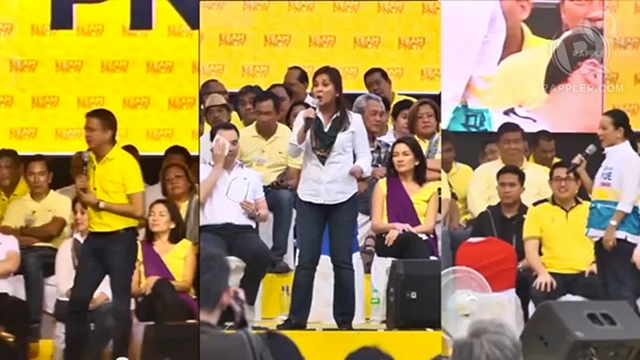 BOHOL, Philippines - Vice President Jejomar Binay threatens to drop common candidates if they continue snubbing the opposition's events.
Binay asks the common candidates to make up their minds as the administration insists they belong with the Liberal Party.
Ayee Macaraig reports.
It's day two of the campaign period but the opposition's common candidates are still a no-show in its Bohol sortie.
Vice President Jejomar Binay says Senators Loren Legarda, Francis Escudero and Grace Poe-Llamanzares will have to make up their minds if they will join UNA events or not.
The common candidates become a sore issue for UNA, a day after they snubbed its proclamation rally in Cebu.
The three chose to attend the rally of the administration slate in Manila.
Legarda and Llamanzares only sent proxies to Cebu while Escudero did not.
JEJOMAR BINAY
VICE PRESIDENT
'Di pwedeng magpalugit dito kasi kung ayos pa ang usapan, tuloy pa rin ang samahan. Kung dumating sa punto na ayaw na nila for one reason or another, kami ay di namin gusto ang panukala nila.
Binay says the worst case scenario is for UNA to drop the common candidates if they refuse to join some of its events.
Another challenge for UNA is the decline in the popularity of its top leaders: Binay and Senate President Juan Ponce Enrile.
UNA's senatorial candidates rely on their endorsing power.
But the two are unfazed.
JUAN PONCE ENRILE
SENATE PRESIDENT
"My God. This is my 19th campaign. When I first helped President Marcos, he was running far, far behind as compared to Diosdado Macapagal but in the end he ran far ahead of him."
Binay also says he remains the number one trusted official.
As the popularity of its top leaders decline, UNA seeks to cover its bases by campaigning here in Bohol, a province where Binay lost to LP's Mar Roxas in 2010.
UNA extends its campaign in Central Visayas from Cebu to Bohol.
Binay, Enrile and the Senate bets go around Tubigon, Loon and Tagbilaran in Bohol to court support for the opposition.
UNA is allied with the local Bag-ong Bol-anon party, which is challenging incumbent Liberal Party Governor Edgar Chatto.
LIEZL GO
UNA LOON, BOHOL MAYORAL CANDIDATE
Sinabi nila ang krusada naming sa Bag-ong Bol-anon di magci-click pero pinupuntahan namin ang mga bundok at mga bahay at nakikita namin ang sentiment na gusto nila ng pagbabago. Kaya confident kami sa chance namin at sa chance ng UNA.
Whether or not they have the common candidates and the high ratings, for UNA, the show and the campaign must go on.
Ayee Macaraig, Rappler, Bohol. - Rappler.com