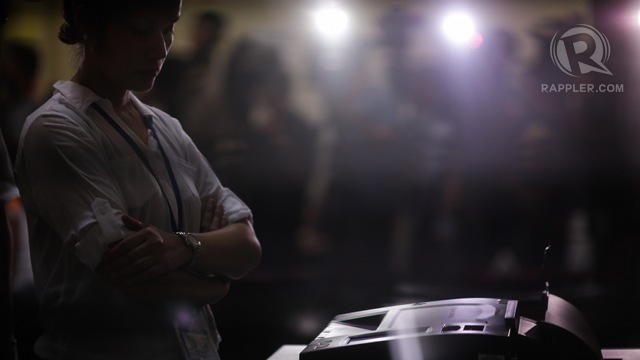 EARLY VOTING. Media practitioners, who work during election day, may finally vote. Photo by John Javellana
MANILA, Philippines (UPDATED) – What a Valentine's gift for media workers.
Commission on Elections (Comelec) spokesman James Jimenez on Thursday, February 14, said the poll body has finalized its rules for media absentee voting.
In Resolution No. 9637 promulgated Wednesday, February 13, the Comelec said the media can vote from April 28 to 30, any time from 8 am to 5 pm. They may do so at the Comelec offices where they filed their applications to vote.
The media should file applications for absentee voting by March 31. The Comelec will accept their applications in the following offices:
Office of the Provincial Election Supervisor

Office of the Regional Election Director of the National Capital Region (NCR)

Office of the City Election Officer in the case of highly urbanized or independent cities, except cities in the NCR
They may only vote, however, for the positions of senator and party-list representative. (Read the full resolution below.)
The Comelec said the following members of the media can vote from April 28 to 30:
print journalists;
television journalists;
photo journalists;
online journalists;
radio journalists;
documentary makers; and
television and radio production staff
For media voters, the only condition is that on election day, May 13, "they will not be able to vote due to the performance of their functions in covering and reporting the conduct of elections."
The media may vote alongside other local absentee voters, such as government officials and employees, members of the Philippine National Police, and members of the Armed Forces of the Philippines. – Rappler.com