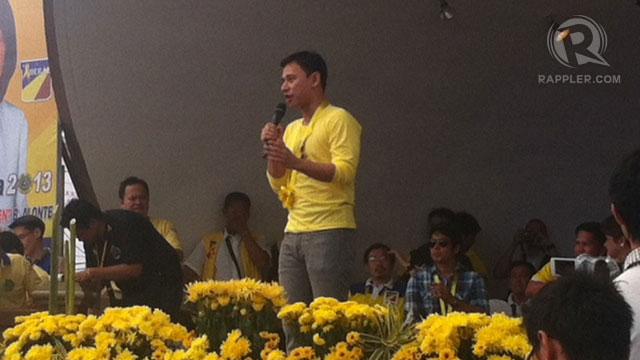 LAGUNA SORTIE. Senatorial bet Sonny Angara in the town of Biñan. Photo by Natashya Gutierrez
LAGUNA, Philippines - They probably didn't want to hurt the United Nationalist Alliance (UNA) coalition on Valentine's Day. Or they had better things to do.
Whatever the reason, the 3 senatorial candidates shared by UNA and Team PNoy skipped the latter's sortie in Biñan town here on Thursday, February 14.
Former censors chief Grace Poe, and re-electionist Senators Chiz Escudero and Loren Legarda were absent in the campaign rally of Team PNoy here. This comes a day after Vice President Jejomar Binay, a stalwart of UNA, said he was considering dropping them from the opposition slate if they continued skipping UNA sorties.
Team PNoy took the time to court voters here as well as take a swipe at UNA candidates, following the lead of President Benigno Aquino III who slammed UNA at the proclamation rally in Plaza Miranda.
Laguna is the second provincial stop on the official campaign trail of Team PNoy. It has 1.3 million voters.
In Biñan, Aurora Rep Sonny Angara talked about wanting to push for the Bill of Rights for new graduates and promoting jobs in Calabarzon (Cavite, Laguna, Batangas, Rizal, Quezon).
But he also took the chance to hit UNA.
"We will not get to daang maganda if we don't first go through daang matuwid," he said. Daang maganda or 'good road' is what UNA has trumpeted they are aiming for. Daang matuwid has been the slogan of Aquino and Team PNoy for good governance.
Former Sen Jamby Madrigal didn't spare the opposition either during her speech. Madrigal echoed Aquino's proclamation speech wherein he accused UNA of pretending to be on his side despite criticizing his reforms and being allied with those who have backed former President Gloria Macapagal-Arroyo and her administration.
"We are not pretenders. Unlike others, we do what we say," Madrigal told the crowd of mostly youth and students at Biñan Plaza.
But it was not all negative in Biñan.
Presidential cousin Bam Aquino handed out roses to squealing women in the audience, while Madrigal distributed plastic bracelets as her Valentine's Day gift.
It was Sen Loren Legarda's father and proxy, Antonio Legarda, who stole the show.
Mr Legarda told Biñan that they had the most beautiful women in the world, asking them: "May I kiss you?," before sending out flying kisses. Then he danced -- Gangnam style. -- Rappler.com