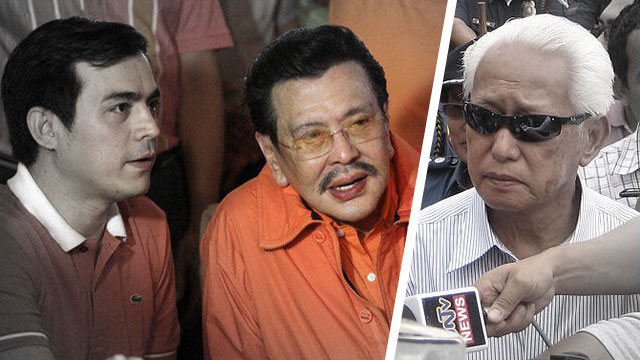 Images courtesy of Joseph Ejercito Estrada Facebook page and www.wikipedia.com
MANILA, Philippines – For Manila Vice Mayor Isko Moreno, it's only the beginning.
Moreno said his arrest for alleged illegal gambling over the weekend is just a preview of a heated campaign period in Manila. The campaign period for local candidates officially starts on March 29.
The vice mayor and his running mate, former President Joseph Estrada, are going up against the camp of Manila Mayor Alfredo Lim and running mate Manila Councilor Lou Veloso. Like Moreno, Veloso is an actor.
Moreno and Estrada are running under the opposition United Nationalist Alliance (UNA) while Lim is a candidate of the Liberal Party (LP).
"Is that a warning to shut our mouths in campaigning? This is just a prelude. Hindi pa nga kampanya, ganito na. Paano na lang 'pag nag-umpisa na," Moreno told Rappler in a phone interview on Monday, February 18. (The campaign period has not even started yet and it's already like this. What more when it begins?)
Lim and Manila policemen have denied that politics was behind his arrest.
Moreno, Francisco Domagoso in real life, said he met with his lawyers Monday afternoon to decide on the specific charges he plans to file against the Manila policemen who arrested him.
Moreno and 5 Manila city councilors were arrested after sponsoring a bingo game in Santa Cruz, Manila. A scuffle broke out and the accused were brought to the Manila precinct 3. They were released after about 12 hours for lack of evidence.
The vice mayor told Rappler he will sue Blumentritt Police Community Precinct Commander Chief Insp Eduardo Morata and other policemen for violating their Miranda rights.
"We were not informed of our right to remain silent, what we were being charged of, our right to get a counsel. We were immediately arrested. Nagkagulo na. Kahit noong nasa jeep kami, hindi nila sinabi." (A scuffle broke out. Even when we were in the jeepney, they did not tell us what the charges were.)
Moreno will also sue the police for perjury. He said during the inquest, Morata told the fiscal that he confiscated P500 cash bills from the table at the site of the bingo game. Moreno insisted there was no cash.
"Itong mga pulis, parang magsasaka eh. Magaling magtanim ng ebidensya. May nakuha raw pera. Pero ang papremyo namin, gamit lang, mga airpot, electric fan." (These policemen are like farmers. They are good in planting evidence. They said they got money but our prizes were all gifts.)
Moreno added that Morata said during the inquest that there was a wager but when the fiscal asked him for evidence, he could only cite information from an anonymous caller. Moreno also denied that P10 tickets were sold during the bingo game.
"We never sold tickets. It was all free. All these violations show they are now liable for unlawful arrest and grave misconduct, and abuse of authority," Moreno said.
The vice mayor clarified that he is not filing a case against Supt Ricardo Layug, commander of the Manila Police District Quiapo Station. "We want to be fair and only charge those who committed violations. We don't want to accuse without basis. Col Layug, to be fair to him, even tried to keep me safe. Itong sina Morata and John Does ang talagang nanakit at nandamba sa mga konsehal." (It was Morata and John Does who really hurt and pounced on the councilors.)
'Wanna resign? Go ahead'
Moreno also responded to Lim's threat that he will resign if the vice mayor can prove it was he who ordered their arrest.
"Ha? Okay lang ba siya? Bakit ba siya napaka-defensive? Did you hear me mention his name? Lagi siya nagcha-challenge, eh di mag-resign siya. Iyon lang ata ang kaya niyang gawin, mang-hamon." (Huh? Is he okay? Why is he so defensive? He always issues challenges, why don't he just resign? Maybe that's all he can do, issue challenges.)
In his media interviews over the weekend, Moreno has hinted that it was Lim who ordered his arrest. Lim and Manila policemen though denied the charge.
"Ang dapat itanong sa kanila. Kung hindi si Mayor Lim, sino ang sinasabi nila na 'utos lang galing sa itaas?'" (What you should ask them is if it wasn't Mayor Lim who gave the order, who are they referring to when they say the order came from above?)
Moreno said he was trying to focus on the issue and build an airtight case.
"There is injustice done to us. We were restrained and our constitutional rights were violated. It's not about our positions in government. It's not about the election. The fact is that they kept us in the precinct for hours without a charge."
'Tall tales'
Estrada's running mate also responded to the police's statement that it was he who threatened to continue the bingo game despite warning from police. He also addressed allegations of police that Estrada hit the policemen and cursed at them during the inquest.
"Wala iyang pinagkaiba sa storya ng mga pulis na namatay ang suspek kasi nung pagbiyahe sa city hall, pinosasan at nang-agaw daw ng baril. Kwento na lang nila iyan." (That has no difference with the story of police that the suspect died because on the way to the city hall, they handcuffed him but he grabbed their gun. That's all a tall tale.)
Moreno said his camp is still studying whether or not to continue the bingo games. Yet he insists that there is nothing illegal about sponsoring bingo because a Marcos-era presidential decree excluded bingo from the list of banned games.
Despite the feud, Moreno said the work of the city government will not be affected. He said he will even push through with a city council meeting on Tuesday, February 19.
"I made a promise last year to continue to support his (Lim) administration until June 30, 2013 despite our political differences. We must be strong. I think of this as just a dream. The work continues."
"Tomorrow is a new day, back to normal, back to work." – Rappler.com