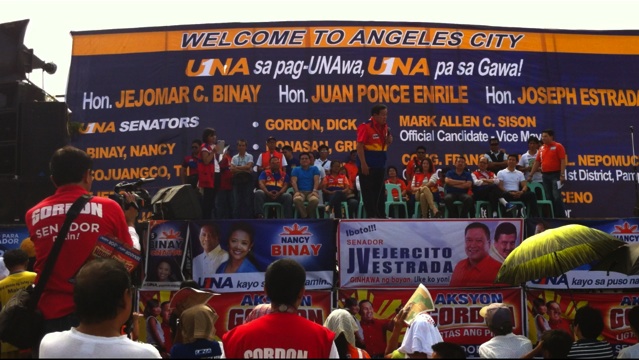 WHY BASH? Former Sen Richard Gordon hits the Liberal Party for its penchant of bashing ex-President and Pampanga Rep Gloria Arroyo. Gordon is onstage in a sortie at the Angeles Public Market. RAPPLER/Ayee Macaraig
PAMPANGA, Philippines - Their leaders were once the most vocal critics of former President Gloria Macapagal-Arroyo but in her turf, opposition senatorial bets are silent on her alleged sins.
Campaigning before Arroyo's fellow Kapampangans, senatorial candidates of the United Nationalist Alliance (UNA) slammed the administration's tack of criticizing Arroyo.
"Nagkaroon na tayo ng dalawang Kapampangan na Pangulo. 'Di dapat sinisiraan ang Pangulo kapag tapos na ang termino. Paano aangat ang bansa," former Sen Richard Gordon asked the crowd at the Angeles City Public Market on Wednesday, February 20. (We've already had two presidents from Pampanga. We should not criticize a President when his or her term ends. How will our country improve?)
San Juan Rep JV Ejercito said the ruling Liberal Party (LP)'s penchant of bashing Arroyo will hurt its chances of winning in Pampanga, and benefit UNA.
"Kung may mamomoblema dito sa Arroyo country na tinatawag, palagay ko LP kasi sila ang gumagawang punching bag kay GMA. Sila naman at 'di kami." (If there will be someone who will have a hard time here in the so-called Arroyo country, it will be the LP and not us because they're the ones making GMA a punching bag.)
Yet in the same breath, Ejercito told reporters that unlike in the 2010 elections, the former President will not be an issue this time around.
In 2010, Benigno Aquino III won as president after presenting himself as the antithesis to the unpopular Arroyo administration.
"I think the issues are different now because the problem of ordinary citizens is the prices of goods, commodities, poverty. That's what the administration should resolve instead of making GMA a punching bag every time President Aquino's approval ratings drop," Ejercito added.
Arroyo is seeking re-election in Pampanga's 2nd district. Despite her detention and prosecution in various cases, the province is still known as her bailiwick.
In 2010, it had 1,216,394 registered voters.
The opposition coalition is a strange mix, having both the loudest critics and once close allies of Arroyo. Resigned Sen Juan Miguel Zubiri and Zambales Rep Milagros "Mitos" Magsaysay were once her partymates in Lakas.
In Angeles, UNA endorsed local candidates former congressman Blueboy Nepomuceno for 1st district representative, and a former staffer of Vice President Jejomar Binay, Mark Allen Sison for vice mayor.
Is it really Arroyo country?
Promises
In its first campaign stop in Angeles, UNA's senatorial bets sought to appeal to Arroyo's cabalens, citing their ties to the province.
Zubiri said he finished 5th here in 2007. Former Tarlac Gov Tingting Cojuangco, Gordon, and Magsaysay painted themselves as "neighbors and siblings" of Pampanga because they hail from nearby provinces.
Cojuangco promised to help improve Pampanga's railway system, saying she understood it to be a key issue for Kapampangans.
Gordon vowed to push for a bill that will help create factories and bring businesses near Clark, Pampanga and Olongapo, Zambales to help residents benefit from the province's location.
"We want to create jobs because we know that ships are already being made in Subic, rubber in Clark, and even the toys sold in China are made here. Our priority will be jobs."
The other candidates stuck to their usual spiels: Nancy Binay pushed for the creation of more daycare and feeding centers; Magsaysay promised to give free health and education services, while former Sen Ernesto Maceda said he will work for allowances for senior citizens and discounts for students.
Zubiri said built clinics and a classroom building in Pampanga when he was in the Senate. Ejercito harped on how he helped push for a bigger budget for state colleges and universities.
Sympathy vote?
Sen Gregorio Honasan II and Cagayan Rep Jack Enrile were absent. UNA's three common candidates with the LP also skipped the sortie.
Despite the province's reputation, UNA candidates differed on whether Pampanga remains the so-called Arroyo country.
Zubiri said, "In these times, I feel that Pampanga, being the former bailiwick of the former President, there's still a big sympathy vote for the former president here and not to mention that we feel we have a better platform of governance for the people and I think the people of Pampanga will better appreciate that."
Nancy Binay thinks otherwise, saying Aquino and his running mate Mar Roxas won here in 2010. Yet she said UNA is determined to court the Pampanga vote.
"My father lost here in Pampanga, like in Cebu, but you see the reception they gave us. We have high hopes that UNA will also win here in Pampanga."
UNA's Pampanga sorties are the first leg of its campaign in Central Luzon. UNA is banking on its candidates' ties to the region, and possible alliances with local parties. – Rappler.com