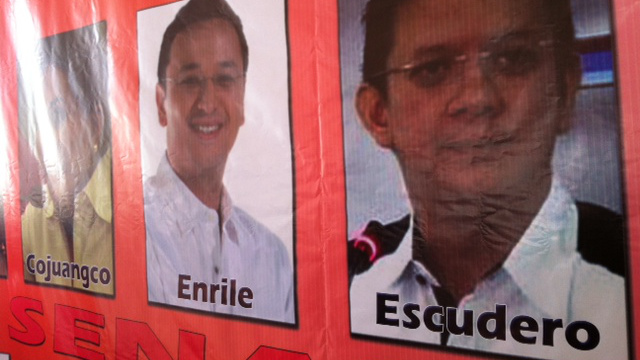 PICTURE TROUBLE. Quimbo's photo was spotted under the name "Enrile" in the poster that featured UNA's top leaders and Senate bets. Photo by Ayee Macaraig.
PAMPANGA, Philippines - Has Liberal Party spokesman Miro Quimbo gone to the other side?

This was the question of some onlookers who saw a photo of the Marikina Representative in a United Nationalist Alliance (UNA) poster in a sortie in Mabalacat town Wednesday, February 20.
Quimbo's photo was spotted under the name "Enrile" in the poster that featured UNA's top leaders and Senate bets. The poster was hung behind the UNA stage.

It was an apparent mix-up as the photo was supposed to be that of UNA candidate Cagayan Rep Juan Ponce "Jack" Enrile Jr, who was absent in the Pampanga sorties.

Photos of the poster tweeted to Quimbo prompted him to joke about the mix-up. "Now that may explain the slide in his ratings. They've been using my pic. Mas pogi naman si Rep Jackie d hamak," Quimbo tweeted back to Rappler. (Rep Jackie is without a doubt more handsome.)

"I wonder why they have my picture in the first place?"

Quimbo was referring to the dip in Enrile's ratings in the past months, which the Cagayan Representative branded as a "correction" of initial misconception that it is his father, Senate President Juan Ponce Enrile, who is running.

The joke was a light moment and a rare departure from the word war between Quimbo and UNA officials and candidates.

Asked about the mix-up, UNA sortie organizers told Rappler it was the local candidates of UNA who made preparations in the sortie. - Rappler.com