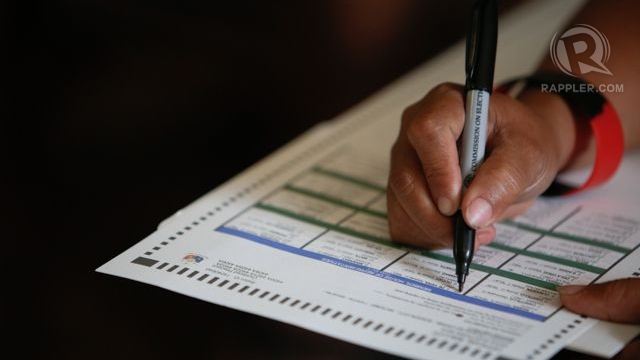 NEWLY ACCREDITED. The group C-Care will officially guard the ARMM elections on May 13. File photo by John Javellana
MANILA, Philippines – The Commission on Elections (Comelec) has accredited a Moro watchdog to officially guard the elections in the Autonomous Region in Muslim Mindanao (ARMM), in time for the first synchronized national, local, and ARMM polls.
Comelec chair Sixto Brillantes Jr said the poll body has accredited C-Care, or the Citizens' Coalition for ARMM Electoral Reforms, as a citizens' arm for the 2013 elections.
The Comelec already accredited C-Care in previous elections, but 2013 is different because it's the first time the country holds ARMM elections alongside national and other local polls.
Poll watchdogs have closely watched ARMM as a place where rampant cheating happens.
In an unprecedented move this year, however, Brillantes led the slashing of the ARMM voters' list to 1.3 million from an original 1.7 million. He said this was a far cry from previous elections when the number of ARMM voters even increased – favoring candidates who used the bloated numbers to cheat.
Earlier, the Comelec already accredited 3 citizens' arms:
the Parish Pastoral Council for Responsible Voting, a Catholic group, which the Comelec accredited in November;

the National Citizens' Movement for Free Elections (Namfrel), which the Comelec accredited in November;

and One Vote, a coalition of mostly religious organizations from various Protestant denominations, which the Comelec accredited in January
In an interview on Rappler's #TalkThursday, PPCRV communications head Ana de Villa-Singson said watchdogs like them will need more than volunteers. Singson said they need voters who "vote [according to] conscience."
"When you buy a car, you take days, months to think about it... If you're choosy about everything else, why not the candidates and the future that they can create or actually destroy for you," Singson said in an interview with Rappler executive editor and CEO Maria Ressa.
Singson said she's alarmed because "entire barangays are being bought." "So for me the big difference is the strong requirement for examination of conscience." – Rappler.com