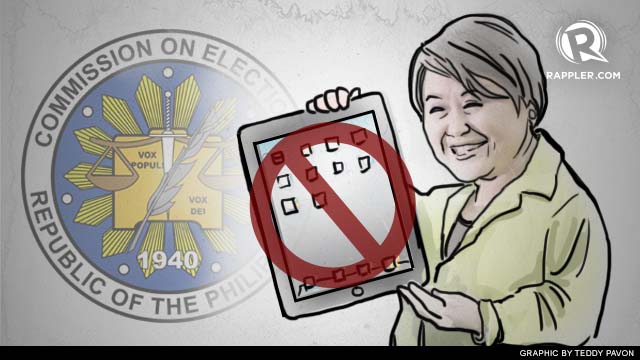 MANILA, Philippines – Sorry, but it's not my fault.
While she apologized, senatorial candidate Jamby Madrigal on Wednesday, February 20, blamed her young volunteers for hosting a prohibited social media gimmick. It offered an iPad as the prize – and meant disqualification as a possible sanction.
The Commission on Elections (Comelec), which pointed out her supposed offense on Tuesday, February 19, welcomed her apology but said she is not off the hook.
"Sen Madrigal apologizes to the Comelec for what the volunteers must have done. She wants to assure the Comelec and the public that such incident will not be repeated. From here on, she will make sure that her campaign team will follow the elections law," said Madrigal's lawyer, Ernesto Francisco, in a statement released by Liberal Party campaign manager Franklin Drilon.
Clueless candidate?
Madrigal's camp is clueless as to "where the iPad came from," Francisco claimed.
Did another person, perhaps a volunteer, sponsor the iPad? If indeed another person did, this would mean he spent between P16,000 to P37,000, depending on the iPad model, for Madrigal's campaign.
And he did so out of good will, without letting the candidate know it.
The volunteers hosted the iPad game, however, through Madrigal's official Facebook and Twitter accounts. On Twitter, the post about the iPad appeared on February 15.
It lingered for 4 days – with Madrigal supposedly in the dark about the details – until the Comelec called her attention to it. "When she heard about the incident, she immediately instructed her volunteers to immediately remove it," Francisco said, noting that Madrigal "has no intentions" of violating election laws.
Probe ongoing

Comelec chair Sixto Brillantes Jr clarified on Tuesday, however, that if she takes down the illegal campaign materials, the Comelec may not push through with the charges after all. "Kasi hindi pa naman siya namimigay ng premyo so far," he explained. (Because she still hasn't given out prizes so far.)
Nevertheless, Comelec spokesman James Jimenez said the investigation "has to play itself out."
The Omnibus Election Code, under Section 97, prohibits lotteries and games, among other things, "for the support of any candidate from the commencement of the election period up to and including election day."
Section 261 (a) of the law also says "any person who gives, offers, or promises money or anything of value... in order to induce anyone or the public in general to vote for or against any candidate" is guilty of vote-buying. – Rappler.com