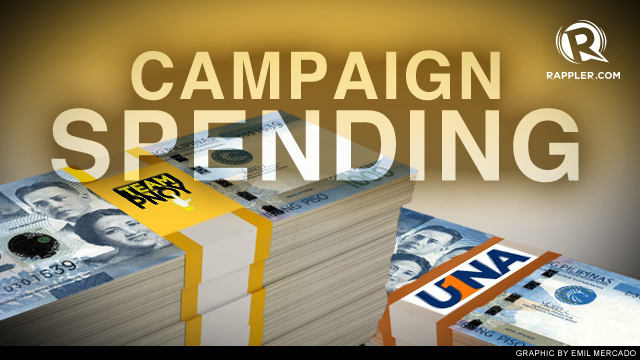 MANILA, Philippines – If their kickoff sorties were movies, it took much more to produce the blockbuster by the Liberal Party-led Team PNoy than its counterpart hit by the opposition United Nationalist Alliance (UNA).
Topbilled by President Benigno Aquino III, the kickoff sortie by Team PNoy required P1,891,120 to produce, according to a document submitted by the LP to the Commission on Elections' (Comelec) Manila office. Team PNoy introduced its senatorial bets in Plaza Miranda, Manila.
UNA's kickoff sortie in Cebu – starred in by Vice President Jejomar Binay and the coalition's two other "kings," former President Joseph Estrada and Juan Ponce Enrile – reportedly cost less than half of this amount.
UNA spent only around P842,224 for its kickoff sortie held in Plaza Independencia, Cebu, based on the report it submitted to Comelec's local Cebu office.
If both camps' expense reports are to be believed, UNA spent only 44.5% of LP's expenses last February 12.
A separate item in UNA's report, however, showed that businessman William Gatchalian shouldered P946,625 in hotel accommodations and various contributions.
LP, UNA meet deadline
In any case, the good news is that both camps met the deadline set by the law. (Since Team PNoy is not registered as a coalition with the Comelec, it was the LP that filed the financial report.)
The Omnibus Election Code, under Section 88, requires any political party or candidate to "notify the election registrar concerned of any public rally... and within 7 working days thereafter, submit to the election registrar a statement of expenses incurred in connection therewith."
In a phone interview with Rappler, Legal Network for Truthful Elections (Lente) acting executive director Luie Guia said compliance with this deadline says a lot about the candidates.
"Dito natin makikita ang baseline kung paano mag-comply ang mga kandidato natin, kung nagko-comply sila sa mga disclosure requirements ng batas on campaign finance," Guia said. (This is where we'll see the baseline of how our candidates comply with the law, if they comply with the disclosure requirements of the law on campaign finance.)
Election watchdogs say it's important to monitor campaign expenses – and funders – because politicians tend to engage in corruption to recover what they spent.
Last February 12, the start of the campaign period for national candidates, LP and UNA tried to upstage each other, with Aquino claiming his candidates will continue his legacy, and Binay selling his own bets as solutions to poverty. (Watch the video report below.)
For more, watch all the speeches in LP's sortie through this link, and UNA's through this link – in HD. – Rappler.com
stack of money image from shutterstock