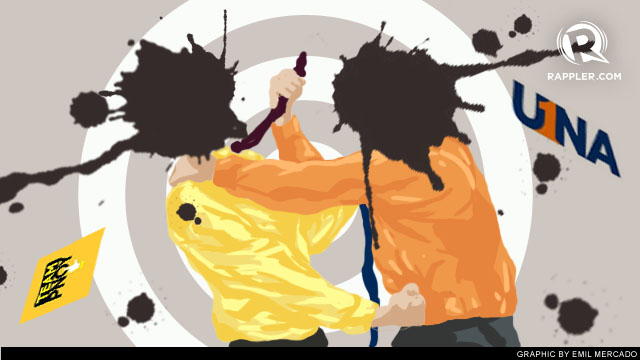 MANILA, Philippines - There is no stopping the political bickering between major party coalitions despite appeals from senatorial candidates themselves to raise the level of campaigning for the May elections.
Case in point: latest statements regarding the decision of United Nationalist Alliance (UNA) to junk the 3 "common candidates" they share with the Liberal Party (LP).
UNA spokesperson Toby Tiangco on Saturday, February 23, called LP a "sinking, stinking ship of overripe balimbings."
Tiangco hit Rep Ben Evardone and "other LP leaders and members" for now being a member of the Liberal Party when they were once the allies of former president Gloria Macapagal-Arroyo. In 2010, President Benigno Aquino III had anchored his presidential campaign on an anti-Arroyo platform.
"We would like to thank Rep. Evardone for giving us the correct term to describe the LP coalition. The LP leaders and mouthpieces are fools if they think the people cannot see the obvious: that their alliance with NPC is practically dead. For this, they only have their arrogance to blame," he said in a statement.
Kiss of death
Earlier, Evardone likened the opposition to a "sinking ship" after it decided to drop reelectionist senators Loren Legarda and Francis Escudero, as well as former Movie and Television Review and Classification Board chair Grace Poe from its senatorial slate.
"Nobody wants to be with them," Evardone said Friday. "It has come to a point that being identified with UNA is a 'kiss of death,'" he added.
Earlier, during the LP proclamation rally, no less than President Benigno Aquino III warned against "pretenders" in the UNA slate. UNA candidates took offense, and no less than Vice President Jejomar Binay countered, tagging the LP "elitist."
Then Tiangco followed through, accusing LP of offering "yellow immunity" to its candidates even if they had committed anomalies under the Arroyo administration. It was a swipe at LP spokesman Miro Quimbo who was chair of PAG-IBIG at one point. Tiangco said he should be held responsible for the Globe Asiatique housing scam, to which Quimbo replied he had left the agency when the bulk of the loans were taken out of PAG-IBIG.
Stop word war
Amid the political mudslinging between party spokespersons, at least 3 senatorial bets have called on their fellow candidates and the voters to focus on issues, rather than personalities or word wars. Two of the candidates are from LP itself.
LP senatorial candidate Ramon "Jun" Magsaysay Jr on Saturday appealed to voters to "study the profile of their candidates, their characters and platforms of government" rather than concentrate on attacks over the fate of the 3 common candidates.
Aurora Rep Sonny Angara also issued the same call Friday.
Independent candidate and Bayan Muna Rep Teddy Casiño earlier said he was "disappointed" over the "low level" of campaign among political coalitions.
"Siguro wala naman kasi talaga silang masabi tungkol sa kanilang plataporma kasi pare-pareho din naman kaya kung anu-ano na lang ang ginagawan nila ng istorya," the Makabayan bet said. (Maybe they have nothing to say about their platforms because they are saying the same things that's why they are just creating various stories.)
"Eh ang lumalabas parang si Presidente Aquino at Bise Presidente Binay ang tumatakbo. O kaya si Toby Tiangco at Frank Drilon. Ano ba yan," he added. (It appears that it is President Aquino or Vice President Binay who are running. Or Toby Tiangco and Frank Drilon)
It remains uncertain whether any of participants in the ongoing campaign will, in fact, heed the calls. - Rappler.com