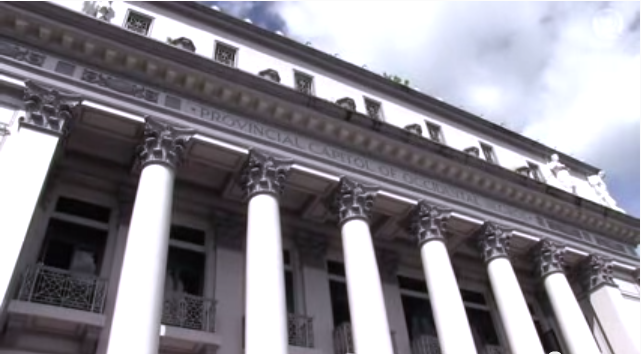 BACOLOD PROVINCIAL CAPITOL. Those who get to rule from this historical landmark are often anointed by landlords, particularly by Danding Cojuangco, considered the political kingpin of Negros Occidental.
MANILA, Philippines - Landlords still influence the outcome of local elections.
This is according to 48-year-old Jun Garzon, a sugar worker in Negros Occidental.
"Sabi sa mga tao botohin ang aking guinpadalagan nga candidate," Garzon said. (The haciendero tells people to vote for his candidate.)
In Negros Occidental, the old feudal system that dates back to the Spanish colonial times still holds true: the hacienderos, whose power comes from their ownership of vast lands and control over thousands of workers, dictate who wins in elections.
Home to acres of sugar plantations controlled by 3 sugar planters confederations, the province provides nearly half of the country's sugar demand. But the planters also provide social services and financial assistance to their workers.
Garzon, who has worked in a plantation for more than two decades, said he votes for candidates backed by landlords if they are kind and generous to people in need -- like his family.
Of the 32 towns and cities in Negros Occidental, 21 have been considered by the National Anti-Poor Commission (NPAC) as being among the poorest local government units (LGUs) in the country.
Hacienda votes
Landlords and political clans are natural allies in the province.
"Negros is still very clannish. Most of the haciendas are still owned by big families, the Lacsons, the Ledesmas. (Businessman Eduardo "Danding") Cojuangco is a major factor in Negros politics," local political consultant and former journalist Mate Espina said.
Through their encargados or hacienda administrators, landlords mobilize hacienda votes, a form of bloc voting in Negros Occidental.
"When you say hacienda votes, the land owner would choose which politician to support and then dictate upon the workers (who to vote for). There is a list," Espina said.
Espina said that a candidate assumes that votes will be delivered if he or she is backed by a landlord.
"Working (with) politicians in the past, there are no more negotiations. Sometimes, (there's) no more campaigning in the haciendas. They will campaign directly (with) the landowner," Espina said.
Rifts in the local elite
But politics is evolving in Negros. The crisis in the sugar industry, the emergence of an educated younger generation, and even the involvement of the Catholic Church in social issues have influenced the behavior of voters in the province.
If a haciendero would say, "Vote for this politician or else we will destroy your house, I think di na yan effective (it's no longer effective because) families would prefer to live in the city (rather than be) forced to vote for a particular candidate," student journalist Ken Jee Acosta said in a group discussion with a cross-section of Bacolod civil society conducted by Rappler.
Divisions within the political elite have relatively weakened the monopoly of the ruling local party controlled by landlords.
For the first time, the political dynasties are not on the same side in the upcoming 2013 elections. Cojuangco's Nationalist People's Coalition (NPC) has split from the ruling United Negros Alliance.
"This is the first time that most mayors will be running against someone because of the rift that happened in the political party," Espina said.
Crack on political ceiling
Civil society groups in Bacolod believe the split is a mere tear in the political fabric of the elite.
"It's a fact in Negros, there is a political dynasty (that has) been here I think for more than a hundred years. When we are talking about provincial political fight, it's a really a fight (between) two families," Francis Yulo of the group Tuloy Pinoy Negros said.
Some sectors in Bacolod also feel that until today, alternative and independent candidates cannot match the resources and machinery of candidates backed by hacienderos.
"In SK for example, a lot of the officers in the Sangguniang Kabataan are sons and daughters of political leaders. And so some young people think that politics is for those who are privileged, those who have names already. If we are not popular in our community, we don't have a chance or the opportunity to be politicians," Epi Ma. Kassandra Dajao, former editor-in-chief of a student paper said.

"So we serve in our own private ways, so we don't need to be politicians to serve," a cynical Dajao added.
Anti-dynasty measure
Without a law that discourages political dynasties, emerging clans merely challenge old ones, leaving voters with no choice but to vote for what they consider the lesser evil.
The Constitution bans political dynasties, but the Supreme Court cannot act against dynasties in the absence of an enabling law. Bayan Muna's House Bill No. 3314, also called the Anti-Political Dynasty Bill, has been gathering dust in the Lower House since 2004.
"Ito ang klase ng pulitika na ang nakakaangat lang at parang ang nabibigyan lang ng pagkakataon na mapunta sa pwesto ay yung mga dati nang nandiyan o kaya yung kanilang mga kamag-anak," Bayan Muna Representative Teddy Casiño, author of the anti-dynasty measure, lamented. (This is the kind of politics that elects only the privileged, the incumbent, or their relative.)
Some groups cautioned against generalizing about political clans in the province.
"Just because you belong to a clan (you are no longer qualified to run). The proposed law is (very strict). I feel that we just have to learn how to choose good public servants," Yulo said.
But other advocates for new politics in Negros Occidental say a law will be a good start in ending the landlords' and the dynasties' monopoly on power. - Rappler.com