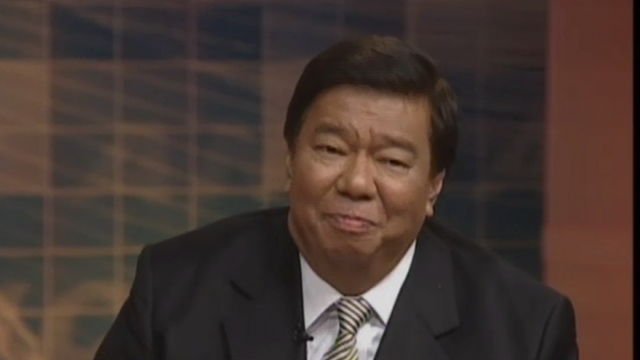 ALL FOR HIM. UNA says a 12-0 win for Liberal Party will help Drilon get the Senate presidency. Screenshot from ANC.
MANILA, Philippines – A 12-0 sweep for the Liberal Party in the 2013 midterm elections will help Sen. Franklin Drilon's amibition to clinch the Senate presidency, the United Nationalist Alliance (UNA) said on Sunday, February 24.
UNA said a 12-0 sweep would ultimately benefit Drilon—who was tagged as the one behind moves to allegedly unseat Senate President Juan Ponce Enrile—not President Benigno Aquino III.
"The 12-0 battle cry is not for the President, it is for Drilon. Now we know that the motivation is pure lust for power, and not selfless support for the President," UNA campaign manager Toby Tiangco said.
Tiangco's statement came after Sen. Aquilino 'Koko' Pimentel III referred to Drilon as the future Senate president in a campaign sortie in Iloilo on February 23.
Tiangco said Drilon, who is also the campaign manager of Liberal Party, is calling out for a 12-0 win for LP to get the necessary votes in his bid to reclaim the top seat in the Senate, a position he once held under the time of former President Gloria Macapagal Arroyo. Drilon was Senate president from 2001 to 2006 before he was replaced by Sen. Manuel Villar.
Drilon was accused of leading moves to unseat Enrile as early as December 2012.
Enrile volunteered to resign in January but his allies in the Senate outvoted those who wanted him replaced. He made the motion to leave his post following a squabble with the minority over the P1.6-million alleged cash gifts he gave senators in December.
Tiangco also chided Pimentel for supporting Drilon's bid for Senate presidency, saying he signed a declaration of unity then with Enrile in forming UNA.
Pimentel, president of Partido Demokrating Pilipino-Lakas ng Bayan, left UNA in June 2012 however and joined LP's senatorial slate after UNA adopted former Sen. Juan Miguel Zubiri as candidate for the 2013 elections.
PDP-Laban's chairman, Vice President Jejomar Binay, is also one of UNA' stalwarts.
"For Sen. Koko, medyo may konting sentimyento ang ilang miyembro ng PDP-Laban (there's negative sentiment among PDP-Laban members) and they were not comfortable with his endorsement of Drilon as next senate president. It was strange and insensitive to some extent, and the endorsement may have alienated many of his supporters," Tiangco said.
Pimentel and Zubiri never saw eye-to-eye after the 2007 elections, where Pimentel claimed Zubiri benefited from alleged massive cheating in Mindanao. – Rappler.com