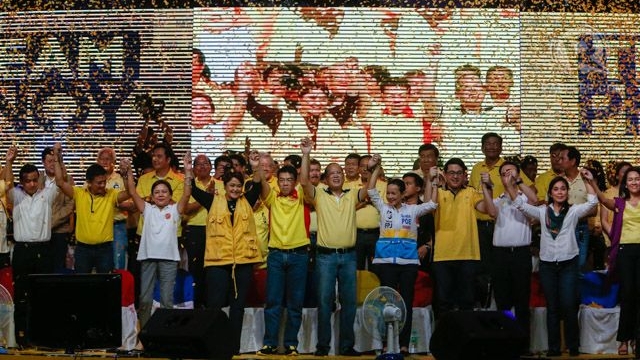 IN TROUBLE. President Benigno Aquino III's senatorial slate is in trouble over an allegedly illegal poster. Photo by John Javellana
MANILA, Philippines – Remove your illegal poster, the poll body told all the President's bets.
Commission on Elections (Comelec) legal department head Esmeralda Ladra on Monday, February 25, said the poll body has written all 12 senatorial bets of Team PNoy, a Liberal Party-led coalition, for an alleged campaign violation.
Ladra said a poster with their group photo was found on an electric post, an off-limits place for posters, located in a Parañaque City subdivision. Under Comelec rules, the poll body will charge them with an election offense if they fail to remove the illegal poster within a 3-day grace period.
She said the Comelec will also charge two party-list groups – Piston and Kabataan – for breaking campaign rules. She explained that the two party-list groups failed to take down their illegal posters even after the grace period.
"Please make sure that all your posters will be placed in common poster areas," Ladra said in a mix of English and Filipino.
Comelec Resolution No. 9615, which tackles this year's campaign rules, prohibits the posting of campaign or propaganda material "outside authorized common poster areas, in public places, or in private properties without the consent of the owner."
The Comelec bans the posting of campaign materials on electric posts, among others. (See downloadable infographic below.)

The Comelec has vowed to charge – even disqualify – violators who fail to remove illegal posters even after receiving an official notice.
Last week, the poll body said Jamby Madrigal, an administration bet, could face disqualification over a Twitter game offering an iPad as the prize. Madrigal apologized, but also blamed her young volunteers for the potential election offense. – Rappler.com