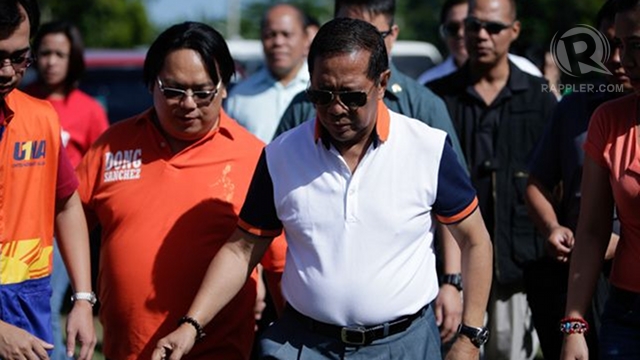 'BIG DIFFERENCE.' Vice President and UNA stalwart Jejomar Binay says there's a big difference between the SWS survey and other surveys. Only 3 of his UNA bets made it to the magic 12 in the SWS survey. File photo by John Javellana
MANILA, Philippines (2nd UPDATE) – "How can I comment if I do not believe it?"
Vice President Jejomar Binay questioned the results of the Social Weather Stations (SWS) senatorial survey showing only 3 out of his 9 bets in the opposition United Nationalist Alliance (UNA) made it to the so-called Magic 12.
A surprised Binay told reporters he was unconvinced about the February 15-17 survey showing only his daughter, Nancy, San Juan Rep JV Ejercito, and resigned Sen Juan Miguel Zubiri in the top 12.
"'Di nga ako makapaniwala." Binay told reporters in Caloocan. (I cannot believe it.) "Paano ako makapagcomment kung 'di nga ako makapaniwala?"
Binay said he is wondering why the SWS survey results greatly differed from other surveys. The Vice President though did not mention the other surveys he was comparing the SWS poll with.
"Tingnan natin kasi ang hirap makasunod sa survey kasi ang laki ng diperensya. Meron napunta sa pangatlo, pang-apat sa susunod na ibang survey, pang-15. Siguro dapat ilahad ang batayan ng survey na iyan." (Let's see because it is hard to have succeeding surveys with a big difference. Some went to 3rd place, 4th place in the next survey, 15th. Maybe they should explain the basis of that survey.)
Binay added that the SWS survey does not reflect the ground support UNA gets in sorties.
"Sa aming bahagi, ang ganda ng kampanya. Sumama ka kaya para makita mo kung gaano karami ang pumupunta sa rally namin," Binay quipped in response to a reporter's question. (On our end, our campaign is doing well. You should come with us so you see how many join our rallies.)
The UNA founder also cited his come-from-behind victory in the 2010 vice presidential race to question the survey.
"Iyon nga ang problema natin. Para bang noong halalan noong 2010 noh, sa survey ako 2, 4, ganoon. Sabi nga ni [Senate President Juan Ponce] Enrile, magugulat sila dahil hindi tugma ang survey sa ating nakikita." (That is our problem. It's like in the 2010 elections, I was number 2, 4 in surveys. Sen Enrile said they will be surprised because the survey does not match what we see.)
But yes to Nancy!
For all his disbelief, Binay said he agreed with the SWS finding showing that his daughter Nancy rose from rank 12 in January to rank 7.
"'Yun din ang pinagtataka ng iba pero ako naman, naniniwala dito. Tingnan na lang natin." (That's what other people wonder about but I believe this. Let's just see.)
Besides Binay's daughter, Ejercito ranked 9th-10th in the survey, down from rank 4 in January. Zubiri was also at rank 11th-12th, down from rank 7.
On his Facebook page, Ejercito said, "Though my rating in the recent SWS survey went down several notches, I am still hopeful that we can pull it through. With the continued outpouring of support everywhere I go, and with your continued trust and confidence, I am still confident that victory is possible."
Two UNA senatorial candidates, Cagayan Rep Juan Ponce "Jack" Enrile Jr and Sen Gregorio "Gringo" Honasan II fell out of the top 12.
The survey was conducted after the start of the official campaign period for national candidates.
The results of the poll were also released a week after UNA junked its 3 guest candidates with the LP: Sen Loren Legarda, Sen Francis Escudero, and former censors chief Grace Poe.
Trending, poll methods
In a separate statement, UNA campaign manager Navotas Rep Tobias "Toby" Tiangco also questioned the survey results, warning that the ruling Liberal Party (LP) will use these to start "trending" election results.
Tiangco also criticized the survey method of SWS.
"With all due respect to SWS, 3 days are not enough to capture voter sentiment or to predict outcome between now and election day. It is expected that the camp will use surveys upon surveys to establish a trend and condition the minds of the voters," said the UNA secretary-general.
In a phone interview, Tiangco told Rappler that SWS should disclose the following information about the survey, as required by Commission on Elections Resolution 9615:
which party or candidates subscribed to the survey
who commissioned the survey
the geographical breakdown of the survey results
Tiangco said that compared to past months, UNA did not subscribe to the SWS February survey because the price was raised from P1 million to P1.9 million.
"This is the same Comelec resolution mandating the poster size, the areas where you can post the survey. Now if candidates are expected to follow that, shouldn't SWS follow as well to ensure the survey is not used for trending? It is the duty of SWS to do that, whether or not we ask for it."
In his press statement, Tiangco added that it is still early for the LP to celebrate.
"It is too premature for the LP to gloat. The fact remains that the LP has barely made it to the top 12 in the SWS survey of February 15-17, and the bigger fact remains that the top 12 is dominated by non-LP candidates and UNA candidates."
The statement was a reiteration of UNA's criticism that most of the members of the administration slate Team PNoy who are doing well in surveys are not actual members of the LP.
The LP members are former Sen Jun Magsaysay, former Sen Jamby Madrigal, and Bam Aquino, the president's cousin. In the SWS survey though, Aquino's numbers rose and made it to the top 12 for the first time, placing 9th-10th.
Yet this early, UNA already warned of cheating, saying it has become a "principal plank" with "operators on board the LP."
"It is now obvious that these rabid Arroyo defenders, apologists and operators were enlisted for their expertise in fraud, special operations and black propaganda. So this is where the LP's 'daang matuwid' is taking us: back to the Arroyo ways of tampering with the people's mandate," Tiangco said.
"Expect the LP to begin its 'trending' operations and pursue their mudslinging not only against our candidates but our leaders."
The UNA criticism is a departure from its previous press releases. Last December 2012, Tiangco hailed the results of SWS' November 29 to December 3 survey showing 8 of its candidates in the top 12, including the then guest candidates.
"The results of both SWS and Pulse are encouraging for our candidates," Tiangco said in December.
Busy campaign schedule
The February survey comes as UNA tightens the schedule of its sorties and rallies.
This week, the opposition slate will visit the 3rd district of Quezon City, Cavite, and even Mindanao provinces over the weekend. In past weeks, UNA did not schedule weekend sorties for the slate.
Tiangco and UNA media head Sheryll Mundo said both Binay and former President Joseph Estrada are expected to join the Mindanao sorties tentatively set in Bukidnon, Cagayan de Oro, and possibly Iligan.
Mindanao is believed to be a bailiwick of Estrada, and the candidates are banking on his presence in the sorties to help them campaign.
Estrada has limited time to campaign with the UNA senatorial bets as he is also gearing up for his own candidacy for mayor of Manila. The campaign period for local candidates begins on March 29. – Rappler.com