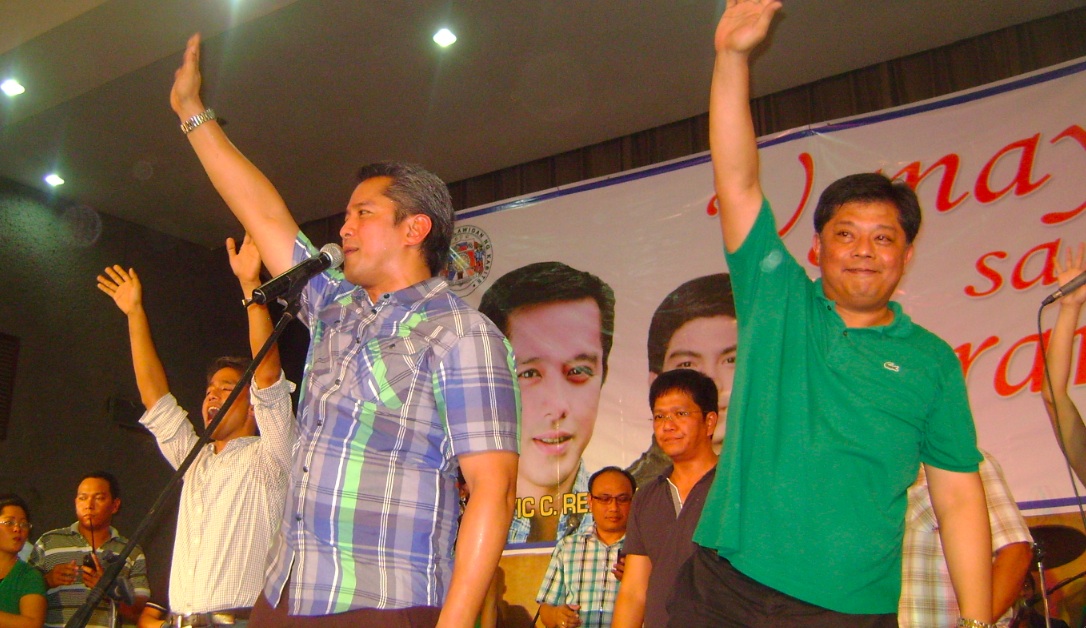 LOCAL KINGPINS. Estradas, Binays, UNA candidates count on personal ties with the Remullas
MANILA, Philippines – The opposition coalition is not a dominant player in Cavite politics but it is banking on personal ties with leaders of the vote-rich province.
Vice President Jejomar Binay's United Nationalist Alliance (UNA) heads to Cavite on Thursday, February 28, in a bid to strengthen support for its senatorial slate trailing in a recent Social Weather Stations survey.
UNA will hold rallies and motorcades in Dasmariñas City, General Trias, and Trece Martires City.
Unlike the ruling Liberal Party (LP), Lakas-CMD and the Nacionalista Party (NP), the alliance is fielding just a few candidates in the mayoral level, and none in the congressional and gubernatorial races. Still, Cavite is crucial to UNA.
"It's a province near Metro Manila, and one of the biggest provinces in terms of population. If you take out Cebu City, Cavite is bigger than Cebu province," UNA campaign sortie manager Henry Caunan told Rappler.
Cavite has over 1.6 million voters. Excluding the National Capital Region, it comes second only to Cebu in the number of registered voters.
Cavite also has one of the hottest local races for 2013, focused on the gubernatorial face-off between Gov Juanito Victor "Jonvic" Remulla of Lakas, and 3rd District Rep Erineo "Ayong" Maliksi of the LP.
Remulla is affiliated with the NP but is with Lakas along with his running mate, Jolo Revilla, son of Lakas Chairman Sen Ramon "Bong" Revilla Jr. Maliksi's running mate is Jay Lacson, son and chief of staff of Aquino ally Sen Panfilo "Ping" Lacson.
The province shows the different dynamics of UNA's rival, Team PNoy, in the local level. While LP and NP are allied in the senatorial race, their candidates are battling it out in Cavite.
The administration declared Cavite a "free zone" or a locality where parties coalesced at the national level do not observe the "equity of the incumbent" rule locally, and instead field candidates against each other.
While the LP's President Benigno Aquino III win with nearly half a million votes in Cavite in 2010, it was Binay who topped the vice presidential race.
"We consider this an opposition province because in 2010, VP Binay won in all municipalities and cities in Cavite. Even if we did not have a lot of local candidates then, VP still won," said Caunan.
With UNA not in contention locally, Caunan said its candidates will navigate through their own web of personal ties to Cavite's leaders.
"Kanya-kanya iyan, depende sa diskarte. Magkakampanya kami, kanya-kanyang kampanya sa mga lider." (It is up to each candidate to make their own strategy. Each one will campaign with the local leaders.)
Erap and Remullas, Binay 'friend of all'
Caunan and UNA campaign manager Navotas Rep Tobias "Toby" Tiangco said the alliance will maintain its policy not to meddle with local races.
Still, UNA leaders' ties may prove beneficial to some candidates.
Caunan cited the case of San Juan Rep JV Ejercito. "As far as I know, JV is close to the Remullas because of Erap."
Ejercito's father, former President Joseph Estrada, is a long-time ally of Cavite's Remulla clan.
Newsbreak reported that Remulla patriarch, former Gov Juanito Remulla, and his local Partido Magdalo delivered the province's vote to Estrada's presidential candidacy in 1998. Estrada later appointed him Presidential Adviser on Local Government Affairs.
Estrada also named Remulla's son, Cavite 7th District Rep Crispin "Boying" Remulla, to the Presidential Management Staff. At one point, Crispin Remulla became spokesperson of Estrada's party, the Pwersa ng Masang Pilipino (PMP).
Last year, in a town gathering in Silang, Estrada endorsed Jonvic Remulla before a crowd of thousands, saying Cavite will always be in good hands as long as the Remullas are at the helm.
As for Binay, Caunan said he is allied with the local political families.
"They are all friends of VP: the Remullas, Revillas and Maliksis. That's one reason we don't have an UNA candidate in many races," Caunan said.
"So for example, Nancy (Binay's daughter) can ask support from both the Maliksis and the Remulla group."
'Special relationships'
In a Cavite rally of the Partido Magdalo and Lakas last September 2012, NP Spokesperson Crispin "Boying" Remulla said the local conflict between LP and NP may affect the senatorial race in Cavite.
"It would be a conflict of sorts. We would rather have JV Ejercito stand here with my fellow NP people and maybe [Sen] Gringo Honasan than the LP people," Remulla said in reference to the two UNA candidates.
Besides the two, Remulla also cited UNA senatorial bet former Sen Ernesto Maceda as a candidate the NP is close to and is welcome to local party leaders.
Remulla said, "It will also depend on the local politics. There are some municipalities that have special relationships with the senators. Who are we to stop them?"
UNA visits Cavite after holding sorties in the 3rd district of Quezon City. This weekend, the alliance is set to head to Cagayan de Oro, Bukidnon and Iligan, along with its 3 top leaders: Binay, Estrada, and Senate President Juan Ponce Enrile.
The sorties come after the release of an SWS survey showing only 3 out of UNA's 9 candidates in the so-called Magic 12.
Caunan, though, said the tighter schedule was not made in response to the survey. He said that in past weeks, UNA leaders' personal commitments forced the group to have many days off in the campaign.
"Pero ngayon, dire-diretso na. Wala nang pahinga." (But now, we'll campaign straight. No more rest.) – Rappler.com