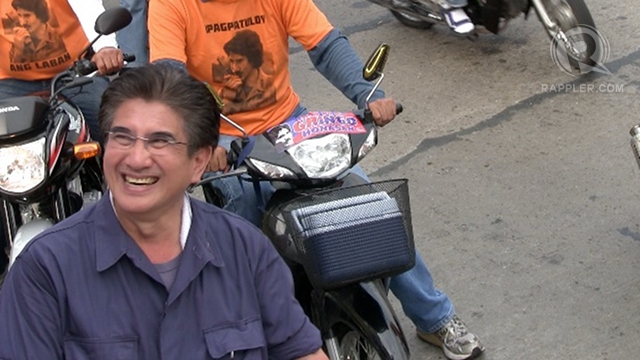 'NO BASIS.' Sen Gregorio Honasan II says the SWS survey showing a decline in the ratings of UNA candidates has no basis and is not verified on the ground. Honasan campaigns in Quezon City along with the UNA senatorial slate. Photo by Ayee Macaraig
MANILA, Philippines – The opposition United Nationalist Alliance has no plans of changing its campaign strategy despite a survey showing its candidates are trailing behind the administration slate.
Ayee Macaraig follows UNA's sortie in Quezon City.
She files this video blog.
A day after it is walloped in the surveys, what changed in the opposition camp?
Nothing.
The United Nationalist Alliance says it will not change its game plan, strategy and messaging in the campaign even after a Social Weather Stations survey shows only 3 out of its 9 candidates made it to the Magic 12.
UNA campaigns here in vote-rich Quezon City, convinced that the turnout of voters is enough to dispute the results of the survey.
But while UNA says the survey is not accurate, it says the decline of the alliance stems from attacks on its top leaders: Vice President Jejomar Binay, former President Joseph Estrada, and Senate President Juan Ponce Enrile.
NANCY BINAY
UNA SENATORIAL BET
Si Sen Enrile diba, yung sa Port Irene, nili-link sa kanya ang nangyayari sa Port Irene ngayon. Kay President Erap, lumalabas ang sa Sandiganbayan na kailangan niya magbayad. It's a process of elimination. Ang dalawa nasimulan na, isa na lang ang natitira and that is my father.
SEN GREGORIO HONASAN II
UNA SENATORIAL BET
How can you change your strategy on the basis of something that is not verified, that has no logical basis, no rational basis, when you try to reconcile it, to lend it more credibility on the ground?
UNA is campaigning here in vote-rich Quezon City. Quezon City has over one million voters.
It is fielding former congressman Matias Defensor as candidate for the congressional race in the 3rd district, up against Bolet Banal of the Liberal Party.
UNA is convinced it can win here in QC even if the city is led by the Belmonte family of the Liberals.
UNA says Binay won here in 2010 and in other cities in Metro Manila except Marikina.
Even if it says it does not believe in surveys, UNA will intensify its campaign after the release of the SWS poll.
On Thursday, it visits Cavite and it will head to Mindanao this weekend.
Ayee Macaraig, Rappler. – Rappler.com