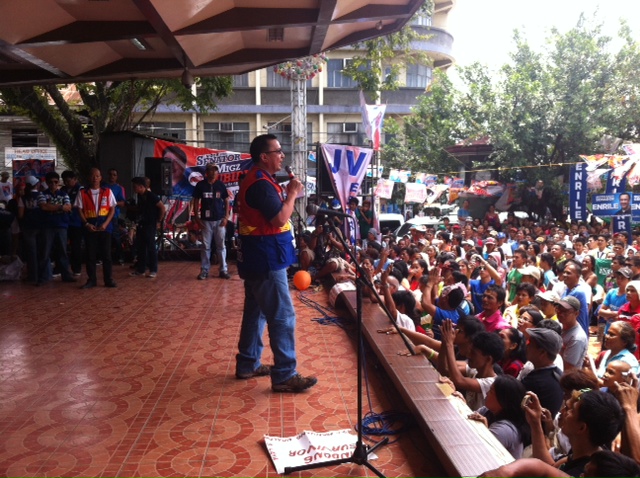 BACK IN SORTIES. Jack Enrile re-joins UNA bets in Iligan City after missing the campaign for two weeks. Photo by Ayee Macaraig
ILIGAN CITY, Philippines – Where is Jack Enrile?
For two weeks, this has been the question in opposition sorties. Now, the Cagayan representative finally joined his fellow opposition senatorial candidates on the campaign trail.
Enrile climbed the United Nationalist Alliance's (UNA) campaign stage in a sortie in Cagayan de Oro City on Sunday, March 3. He also joined the rally in Iligan on Monday, March 4, even dancing on the motorcade as he threw freebies for onlookers.
The Cagayan lawmaker was last present in UNA events in Cebu and Bohol at the start of the campaign period on February 12 and 13.
After the Cagayan de Oro City rally, Enrile told reporters he skipped two weeks of UNA events because he fell ill with and had prior commitments.
He said he campaigned on his own in Quezon City and Davao before heading to Cagayan de Oro.
"We don't have activities this week and now we are fully concentrated for the next two months to join the UNA sorties," Enrile said.
Enrile said he has also been busy shooting new ads.
Asked if his absence had anything to do with the dip in his survey ratings, he said, "'Di naman po, 'yun lang ang plinano namin at ngayon natutuwa ako bilang kandidato sa lalabas na ads." (No really, it's just that we already made plans and now I am happy as a candidate that our ads are coming out.)
Read: 'I shall prevail' --Jack Enrile
Enrile's ads come as his numbers dip in the surveys. In the latest Social Weather Stations (SWS) poll, his rank went down to 13 in February from 8-9 a month earlier.
"[There's no connection] whatsoever. I believe the warmth of the reception they showed us in UNA, in my sorties in Quezon City shows how much they welcome Jack Enrile and UNA. In our view, the LP will just be shocked."
"The survey is a snapshot in one moment in time. The basis is the last survey on election day," Enrile said in Filipino.
Enrile said he is still getting used to the stress of hitting the campaign trail. After the proclamation in Cebu, he was down with pneumonitis for 8 days, saying campaigning under the heat of the sun and attending a meeting in an airconditioned room right after did not do him well.
'Family decision to let JPE rest'
Unlike in Cebu, Enrile no longer has his father, Senate President Juan Ponce Enrile, to campaign with him now.
The elder Enrile skipped UNA's first Mindanao leg because of macular degeneration of the right eye.
"Actually, my father and I already talked about that. He is 89 years old. We have to accept nature's judgment. He has an illness, he has problem seeing with his right eye so the family agreed to ask him to rest because we want him to live longer," Enrile said.
Enrile said he does not mind campaigning on his own. After all, he has been doing it ever since he joined politics.
"I have been on my own since the beginning of my political career. My father has never campaigned for me. It was by design, mutual agreement between him and me. If he pushed through, this would have been the first campaign that he will join me in the sorties."
The younger Enrile added, "Maybe sometimes he will show up if he feels like it or he is in good health but now we decided as a family to let him rest."
'Enriles used to being underdogs'
Enrile also spoke of attacks made against his father.
The Senate President has been the subject of a series of controversies: his selective release of Senate funds, his alleged involvement in the illegal importation of used vehicles in Port Irene, Cagayan, and a Commission on Audit report saying he used pork barrel for a bogus non-government organization.
His son said, "Obviously, it is the silly season of politics. It's campaign season. Anything goes. It is basically a free zone in terms of hitting candidates. I expect it to be unrelenting, continuous and I just ask that voters look at the candidates and see what they have done, their advocacies."
On Port Irene, Jack Enrile said the Supreme Court already ruled against the importation of used vehicles.
"If there are people who have documentation of smuggling there, I urge them to take it up with me, with the Senate President with the governor, with the mayor, bring the documentation and let's deal with it and if people are still importing despite the ruling of the Supreme Court and it is already something that has to be addressed by the local authorities."
Asked if the issues affect his candidacy, Enrile said, "Kasama po iyan sa laban na ito. Kaming mga Enrile sanay kaming dehado. Sanay kaming nanggagaling sa baba and we work our way up." (That is part of the territory. We, Enriles, are used to being underdogs. We are used to starting at the bottom and working our way up.) – Rappler.com