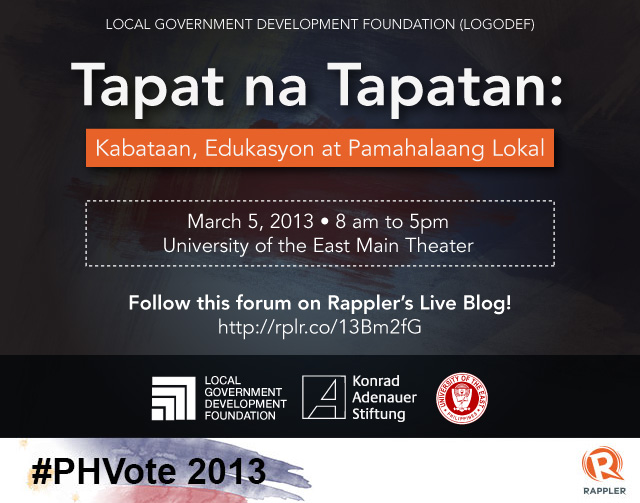 MANILA, Philippines - What do senatorial candidates intend to do to bring about educational reforms and empower local government units?
Find out in Tapat na Tapatan: Kabataan, Edukasyon at Pamahalaang Lokal -- a senatorial forum organized by the Local Government Development Foundation (Logodef), in partnership with the University of the East and Rappler #PHvote. It will be held at the UE Main Theater from 8 a.m. to 5 p.m. Tuesday, March 5.
Candidates from the United Nationalist Alliance, Ang Kapatiran Party, Democratic Party of the Philippines and Bangon Pilipinas, as well as the independent bets are expected to attend the forum.
In the lead up to the event, Logodef conducted a mock poll among 1,600 respondents in 4 schools at Manila's university belt -- with interesting results. After the forum, another round of mock polls will be conducted.
Here are the speeches of the candidates:
We'll upload the rest of the videos as soon as we have them ready.
View the live-blog of the event here: