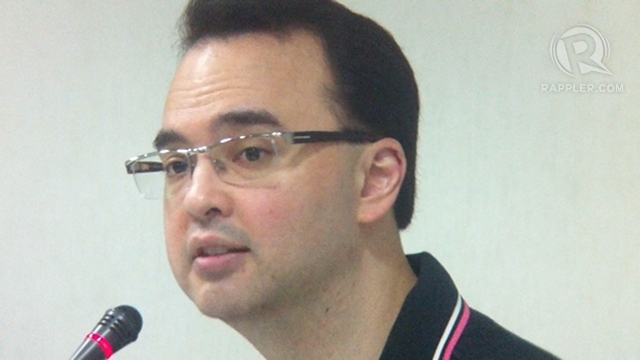 MANILA, Philippines - More airtime please.
Sen Alan Cayetano, who is seeking re-election under President Benigno Aquino III's Team PNoy, urged the Commission on Elections (Comelec) on Friday, March 8, to reverse its ruling on candidate airtime restriction, calling ad limits "anti-poor."
In a statement, Cayetano said now that Aquino announced the replacement of former Comelecc commissioners Rene Sarmiento and Armando Veloso, it now has a quorum and should decide to remove the advertising limits for candidates of 120 minutes for television and 180 minutes for radio.
On Thursday, March 7, Aquino appointed former Ambassador Macabangkit Lanto and Atty. Bernadette Sardillo as the new Comelec commissioners.
"With 180 minutes for all radio stations nationwide, that means candidates only have four 30-second spots for 80 provinces. Considering that we would also need to allot a great percentage of the 180 minutes to national issues, how will we get our message to our voters in the provinces and our stand on local issues with that limited amount of time?," the statement read.
He also said the limits will lessen the opportunities for voters to get to know their candidates and vote wisely, since media is the most effective way to educate voters.
"I am not merely pushing for more leeway for candidates to advertise themselves during the campaign, I am fighting for the right of the people to be informed and to make the right choice when they vote," he said.
"I am pushing for a more mature system of elections where in leveling the playing field means we focus more on enhancing people participation rather than increasing regulations."
Cayetano added that he understands Comelec's attempt to level the playing field among candidates but said it should focus instead on campaign spending and where these funds come from. He also said spending on sorties will cost more than just spending on a 30-second ad.
It is unlikely however that Comelec would reverse the resolution, and that the lack of two commissioners played a part in the Comelec's refusal to do so. The commission has signed resolutions even with only 5 commissioners and said it will defend the airtime limits before the Supreme Court.
Cayetano is not the first party to ask for a reversal on the ruling from Comelec. The Kapisanan ng mga Brodkaster ng Pilipinas and broadcast giant GMA-7 earlier asked the High Court to stop the Comelec from implementing its airtime rules.
They failed to get a temporary restraining order. - Rappler.com