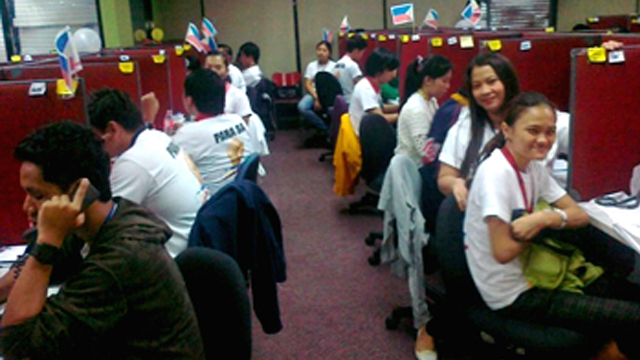 SUPPORT CENTER. Call center agents deployed for the 2010 elections. Photo from Comelec-EID
MANILA, Philippines - Elections supplier Smartmatic-TIM, whose performance in the country's first automated polls in 2010 has been heavily criticized by several quarters, has been awarded its sixth supply contract for the 2013 elections.
The newest contract will have Smartmatic and its venture partner running the call center that will provide operations and technical support services to field personnel of the Commission on Elections who will be manning the vote counting machines.
In a press release posted on its website on Tuesday, March 11, Smartmatic-TIM announced that its joint venture with LRA Pacific Management Consulting Inc. won the contract for the provision for National Support Center (NSC) after submitting the lowest bid.
The contract, awarded on March 2, amounts to P111,555,454. The original budget pegged by Comelec for the project was P131,040,000.

The bidding for the contract for NSC was initially declared a failure in January after the lone bidder, SPI Global, failed to meet the documentary requirements. Smartmatic, which failed to beat the bidding deadline, submitted a motion for reconsideration.

Smartmatic also bagged the contract for the NSC in the 2010 elections. At the time, the call center was managed by LRA Pacific and utilized 690 call center agents.

A former LRA Pacific official, however, came out after the 2010 polls, revealing that Smartmatic-TIM hid many "irregularities" from the public.

With this latest contract, Smartmatic has referred to itself in its press release as "the elections company."

The 5 other contracts that the Comelec has awarded to Smartmatic are:
precinct count optical scan (PCOS) machines (the same machines it provided in 2010)
election results (ER) transmission services - P405.4 million
transmission modems - P154.5 million
compact flash (CF) cards main - P46.5 million (it also provided the CF cards in 2010)
CF cards worm - P46.5 million
The bidding for the ER transmission services and CF cards failed twice, leading Comelec to undergo negotiations with Smartmatic. - Rappler.com