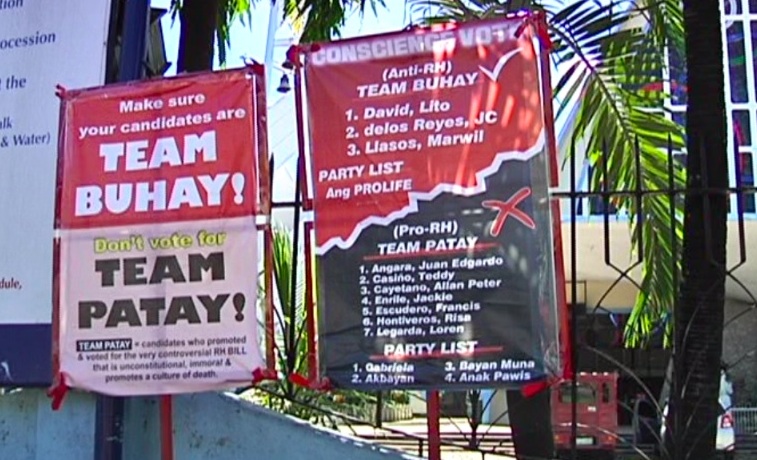 TEAM BUHAY, TOO. The tarpaulins in the Diocese of Cebu endorse another set of anti-RH senatorial candidates. Photo courtesy of News5 Cebu (Aksyon Bisaya)
MANILA, Philippines – When tarpaulins endorsing Team Buhay first appeared, in the Diocese of Bacolod, they listed candidates from the two major slates battling it out in the 2013 elections.
The pro-life senatorial candidates, in the eyes of the Catholic church, are those who, in their capacity as senators or congressmen, voted against the reproductive health (RH) law.
Five other dioceses later announced they will launch similar campaigns. The impression was, they would have the same names on their so-called pro-life list: Antonio Trillanes IV, Aquilino Pimentel III, Cynthia Villar, Gregorio Honasan, Joseph Victor Ejercito-Estrada, and Mitos Magsaysay.
When anti-RH tarpaulins sprouted in Cebu weeks later, however, the names listed under Team Buhay were different: Lito David, JC delos Reyes, and Marwil Llasos. They are the 3 senatorial candidates of Ang Kapatiran party, an organization whose platform is clearly based on Catholic teachings.
The Diocese of Cebu was quick to clarify that only lay people could produce those tarpaulins, not the church leadership.
Perhaps Ang Kapatiran and those who believe in its cause have just decided to become more aggressive.
As early as February 22, a day after the Bacolod diocese announced who are on its Team Buhay, Ang Kapatiran bet Llasos tweeted:
Llasos, however, obviously knew the reason behind leaving Ang Kapatiran bets out of the Team Buhay endorsement tarpaulins:
He continued:
The Catholic faithful who were responsible for the posters in Cebu obviously remembered, and pushed for Ang Kapatiran bets this time.
Some 60 priests in the Diocese of Dipolog are meeting soon on whether to display the same campaign materials endorsing anti-RH candidates. Will they be adopting Bacolod's Team Buhay list, or follow Cebu's list? – Rappler.com