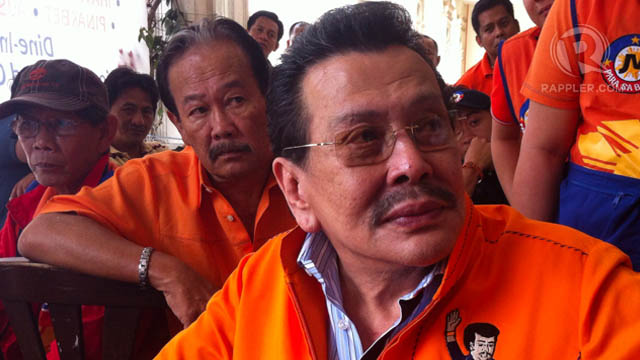 EASTER PROCLAMATION. Former President Joseph Estrada will kick off his campaign on Easter Sunday in Liwasang Bonifacio, Manila. Photo by Ayee Macaraig
BAGUIO CITY, Philippines – Holy campaign.
Former President Joseph Estrada will kick off his bid to be mayor of the country's capital with a different kind of greeting.
"You watch our proclamation on Easter Sunday. Happy Easterada! [There's] Domingo de Ramos, Sabado de Gloria, Happy Easterada!"
Estrada told reporters here on Sunday, March 17, he will open the campaign period for local candidates on Easter Sunday or March 31. The campaign period officially starts on March 29, falling on Good Friday.
The former President revealed his proclamation rally will be held at the Liwasang Bonifacio in Manila. Estrada said the program will start at about 4 pm.
He is in Baguio City to lead the opposition's campaign rally Sunday afternoon, coinciding with the sortie of the administration slate.
Estrada seeks to end his political career where he started: as city mayor. This time though, he is running to be mayor of Manila, up against incumbent mayor and his former ally Alfredo Lim of the ruling Liberal Party.
Joining Estrada on Easter Sunday are his running mate, Vice Mayor Francisco "Isko Moreno" Domagoso and city councilors who are members of his Pwersa ng Masang Pilipino (PMP).
Still hitting UNA campaign trail
Estrada's mayoral bid raised concerns he might not be able to campaign for senatorial candidates of his opposition United Nationalist Alliance (UNA). He is one of UNA's top endorsers and stalwarts, along with Vice President Jejomar Binay and Senate President Juan Ponce Enrile.
The former President said though that he will make time to campaign for UNA despite his own battle against Lim.
"Just the schedule, the schedule, It's a matter of scheduling," Estrada said.
During his proclamation and campaign, Estrada said he will highlight the need for clean polls in Manila and other parts of the Philippines.
"Well you know one of our challenge is for the President to see to it he is the President, he can direct all these people, the Comelec and all the police, the military to see to it that there will be peaceful election, clean and honest elections."
Estrada reiterated his call to make election cheating a heinous crime, saying it happens all the time but nobody gets punished. He is pushing for life imprisonment as penalty.
"It's oppressing the will of the people so this is the challenge to the president, especially with the PCOS machine, baka ma-hocus PCOS," he quipped.
'Malate and Ermita, not plunder'
Earlier this week, Estrada and Lim engaged in ugly debates, bringing up personal attacks against each other. They also dwell on their history, digging up their rivalry that began when Lim turned his back on Estrada during EDSA 2.
Estrada said he is still open to debating with Lim in the future, provided that the discussions focus on issues and platforms.
"That ano is very unruly. We did not talk about the issue, the issue there is about Malate and Ermita tapos pumunta na dun sa plunder. Ang layo eh," Estrada said in reference to the "Thrilla in UP Manila" debate last Wednesday. (The issue was about Malate and Ermita but it went to plunder. That's so far.)
The former President reiterated that he will focus on addressing Manila's high poverty incidence, unemployment and peace and order problems if elected. He has criticized the city's leadership, citing a study of University of the Philippines professors and data from the Commission on Audit and Philippine National Police.
Despite their bitter rivalry, Estrada said he is not closing his door to a possible reconciliation with Lim.
"Pag-aaralan ko nga iyan. Tatlong beses ko na ngang pinatawad yun eh. Tingnan natin." (We are studying that. I already forgave him 3 times. We will see.) – Rappler.com