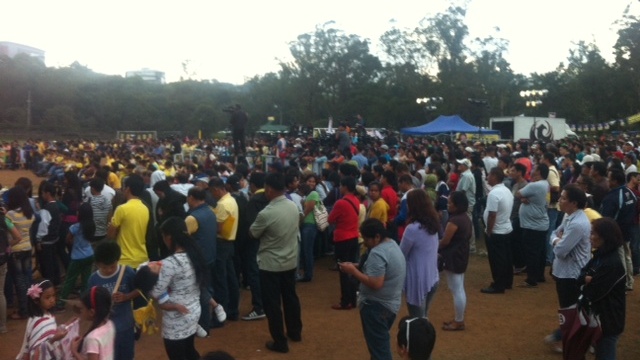 TEAM PNOY SUPPORTERS. Team PNoy campaign manager Franklin Drilon said the crowd at their rally looked small because of large venue. Photo by Natashya Gutierrez.
BAGUIO CITY, Philippines - "The place is big."
This was the explanation of Team PNoy campaign manager Franklin Drilon for the seemingly sparse crowd at the coalition's rally here on Sunday, March 17.
Drilon estimated the crowd at 3,000, but said it looked smaller than it actually was because the Melvin Jones Field is spacious. He said it was their local allies that chose the location, which is the size of two football fields.
The attention to crowd size, specifically in Baguio City, is because the opposition, United Nationalist Alliance (UNA), is holding its own rally at the Baguio Convention Center. This is the first time since the campaign started that both coalitions are holding rallies in the same city simultaneously.
UNA has criticized Team PNoy for being unable to gather crowds as big as theirs, but Team PNoy has brushed off the claims as unimportant.
Senatorial bet and social entrepreneur Bam Aquino told reporters crowd estimates do not matter.
"Comparing attendance is old politics. New politics focuses on platforms and who can deliver them," he said.
Drilon too has said surveys matter more than crowd size. Team PNoy has dominated surveys so far, despite smaller attendance in their sorties compared to UNA.
Excuses
While Team PNoy has repeatedly dismissed the value of crowd sizes, several members of the coalition could not help but defend the size of the crowd in Baguio.
Drilon attributed it to venue size, while senatorial bet Alan Peter Cayetano acknowledged the minimal turnout jokingly.
"The crowd today is small because of President Aquino," he said in Filipino. "People are shopping in ukay-ukay (thrift shops)…. because the economy is good."
Drilon also emphasized Team PNoy's crowd was not paid.
"I just don't know with UNA," he said.
As the night went on, and President Benigno Aquino III joined his slate, the crowd thickened somewhat, but it was still far from filling up the field, which is usually used for large concerts by famous celebrities.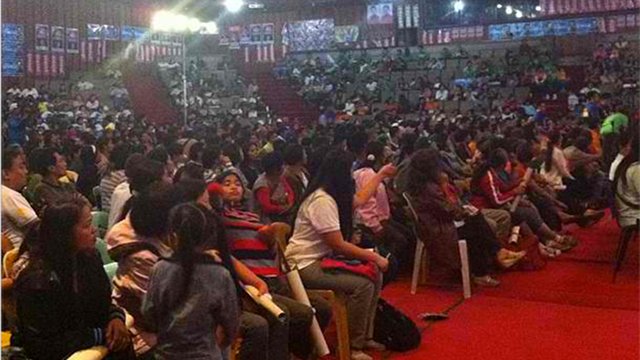 UNA CROWD. The United Nationalist Alliance also failed to fill up their venue at the Baguio Convention Center. Photo by Ayee Macaraig.
UNA on the other hand, which has boasted huge crowds, appeared to have the same crowd attendance in their rally, if not less.
Tiangco has been quoted as saying, "Elections are always about numbers. If the sorties' turnout is not indicative, why hold sorties in the first place? They should just sleep in the house then instead of tiring themselves."
UNA Secretary General Toby Tiangco estimated their Baguio crowd to be at 2,000. He also told reporters they moved their rally from Malcolm Square, a bigger outdoor venue, because of weather concerns. But UNA still failed to fill up the convention center where they held their sortie, despite the venue being smaller.
Former president Joseph Estrada was present at UNA's rally, but Vice President Jejomar Binay, one of the stalwarts of the party, was absent because of a planned trip to the Vatican the next day.
Neither coalition had complete slate of senators present. - Rappler.com