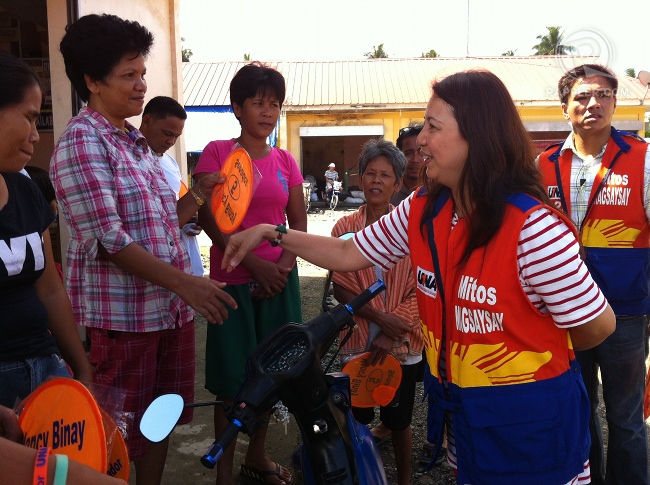 UNA senatorial candidate Mitos Magsaysay during a campaign sortie in Compostela Valley, March 19, 2013. RAPPLER/Ayee Macaraig
COMPOSTELA VALLEY, Philippines – Shaking hands and greeting voters are all opposition senatorial candidates can do here.
Wary of violating Commission on Elections rules, senatorial bets of the United Nationalist Alliance (UNA) resorted to quick tours of public markets instead of giving relief goods to residents of Compostela Valley.
"Hello po, Nancy Binay po, Maayong buntag (Good morning)," went the vice president's daughter as she shook the hands of vendors in Maco, Mabini and Pantukan towns.
UNA is visiting Compostela Valley on Tuesday, March 19, one of the provinces hardest hit by Typhoon Pablo. Pablo ravaged Southern Mindanao in December 2012, killing more than 1,000 people. It is the first stop in UNA's Southern Mindanao campaign leg.
Yet more than donations, what do aspiring senators plan to do to avoid a repeat of the devastation?
Some candidates focused on attacking the Aquino administration, particularly supposed inefficiency of the Department of Social Welfare and Development (DSWD) in distributing aid.
Others stressed the importance of appropriating and spending funds well, and passing legislation.
"Dapat imbestigahan si [DSWD Secretary] Dinky Soliman, kung saan nagpunta ang bilyon-bilyon binigay sa kanya, mga foreign donations. Wala pang definite accounting. Nangako siya magbibigay ng tulong until the end of March, February pa lang, naubos na ang tulong," former Senate President Ernesto Maceda told reporters. (Dinky Soliman should be investigated, where the billions in funds went, the foreign donations. There is still no definite accounting. She promised to give aid until the end of March but even in February, the aid was already lacking.)
"When we get to the Senate in June, we will call for a full investigation on how Typhoon Pablo relief has been handled," Maceda added.
Zambales Rep Milagros "Mitos" Magsaysay agreed that the DSWD should be held accountable. She said it should not be TV networks and non-government organizations but the government that should take the lead in relief work.
"Ilang buwan na ang Pablo, wala pa ring visible rehabilitation, na nag-normalize na buhay ng mga tao. Kaninong kasalanan yun? Gobyerno. May calamity fund, may presidential social fund, 'di mo naman pwede sabihing kulang ang pera." (Pablo happened months ago but there's still no visible rehabilitation or signs that people's lives are back to normal. Whose fault is that? The government. There is a calamity fund, presidential social fund so you can't say there's no budget.)
Magsaysay said President Benigno Aquino III has P500 billion he can realign to any project. She said even the pork barrel that she has been deprived of can be used for rehabilitation.
"Alam mo bottomline naman, tutukan lang ang budget taon-taon kung saan nilalagay ng PNoy administration, ang budget nila for DSWD, at ano ang concept nila for rehabilitation of Typhoon Pablo," Magsaysay told Rappler. (The bottomline is just focus every year on where the administration allocates the budget, the DSWD budget, their concept for the rehabilitation for Pablo.)
Survivors of Pablo ransacked the DSWD office and held protests weeks ago over the allegedly substandard delivery of relief services in their towns. A protest leader was shot dead on March 4.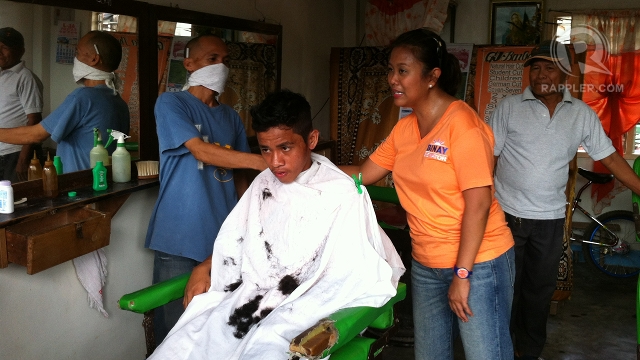 Tingting: It depends on Binay's plan
Former Tarlac Gov Margarita "Tingting" Cojuangco said UNA candidates have individually contributed to typhoon victims.
Asked what long-term program UNA has for rehabilitation, Cojuangco said, "I think because VP Binay is in charge of housing, I'm sure that's in his plan but since we're not into housing, he has not discussed that with us."
Resigned Sen Juan Miguel Zubiri said he and former Sen Richard Gordon, chairman of the Philippine Red Cross, already visited Compostela Valley a week after Pablo and already gave relief goods.
"We'll do an assessment damage but I don't want to politicize it."
Nancy Binay had a different answer.
"I guess here in Compostela Valley, we should start land use planning. At least now we already identified the danger zones. From there, the government can start rehabilitating," Binay told Rappler in Filipino.
Some netizens reacted to the candidates' statements:
President Aquino has certified the National Land Use Act as urgent in February 1 but Congress has yet to pass the bill. Languishing in Congress for almost two decades, it seeks to categorize land into categories like settlements to pinpoint areas for safe for housing.
After Pablo, national and local government officials acknowledged that houses and even evacuation centers were situated in flood-prone areas.
The typhoon initially prompted the Commission on Elections to consider postponing the polls in Pablo-hit areas, possibly affecting the senatorial race with the provinces having over two million voters.
Yet in January, the Comelec Region 11 said the elections will not be postponed and it may just set up temporary voting centers if needed. – Rappler.com