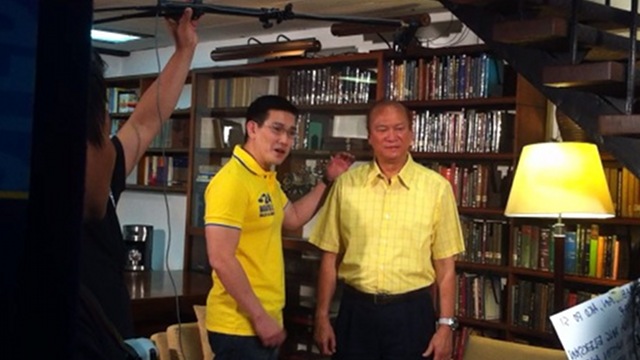 BE CAREFUL WITH YOUR VOTE. Actor Richard Yap, or 'Ser Chief', shoots a political ad with senatorial bet Ramon Magsaysay Jr on Sunday, March 25. Photo by Natashya Gutierrez.
MANILA, Philippines - Has Team PNoy bet Ramon Magsaysay Jr found the help he needs in his quest for a senatorial seat?
Popular actor and commercial model Richard Yap, more popularly known as "Ser Chief" of the ABS-CBN hit teleseries "Be Careful with my Heart," has agreed to endorse the former senator for free.
On Sunday, March 24, Yap joined Magsaysay as the two filmed a commercial together that shows Yap asking voters to vote for Magsaysay on May 13.
Magsaysay is the only candidate Yap, or "Ser Chief," is endorsing. (Jun Magsaysay: Heeding the call to serve)
"I think this country needs change and with Sen Ramon Magsaysay Jr, he can do that for us. We need someone who has integrity and the track record to do what he's supposed to do," Yap told Rappler.
The 74-year-old senator, who served in the Senate for 12 years from 1995-2007, is lagging behind other candidates in surveys. He is one of 3 senatorial candidates from the President's slate who has yet to make it to the so-called Magic 12, based on latest opinion surveys. (The other two are former Akbayan Rep Risa Hontiveros and former senator Jamby Madrigal.)
Magsaysay's camp hopes Yap's endorsement will help increase his awareness among the public.
Yap, one of the most sought-after endorsers today, has been asked by several politicians to help them in their campaign, according to a staff of Yap. But Yap has refused.
"It's not all about the money. Sometimes we need to look much further than that, if we want this country to be a great country.. it's our responsibility to put people who can help the Philippines," Yap explained.
Yap added, "It's a voluntary thing. I don't endorse anyone unless I believe in them. I have had other inquiries but I don't give out my services just to endorse people."
The actor's endorsements can cost anywhere from P1-M to over P3-M depending on the media platform.
Pro bono
Magsaysay was in good spirits surrounded by family and friends during the shoot at the Ramon Magsaysay Center in Pasay City.
A small, no-frills affair, the shoot was set up simply -- using only one SLR camera and a crew of 4. The director, Bongo Ferraren, is a longtime friend of Magsaysay. Ferraren works in the independent film industry along with the likes of Mark Meily, Paul Soriano and Mike Planas.
Like Yap, Ferraren said he offered his services for free.
After the candidate's staff and media advisers decided they should venture into celebrity endorsements, they discussed options for endorsers and decided on Yap.
"We've been looking for personalities who are not politicians, not too young, but cut across the broader population, and most of them decided on Richard Yap. I think he personifies simplicity and humility even. He exemplifies a lot of Filipinos," Magsaysay said.
Magsaysay said he first met Yap at an event in February. When approached later on, Yap agreed to help out.
"I was very much touched because there are no conditions. He's like a friend… we're very lucky that he came forward," Magsaysay said.
He also praised Yap for his efforts, who he said he would work with in the future on a common advocacy, likely on education and the youth.
"I think this is the essence of a Filipino who wants to look at the background of each candidate and he gets to relate it. He felt [that the] advocacies he would like to go into I also represent," he said.
Aside from Yap, actor Dingdong Dantes has also expressed his interest in volunteering to help Magsaysay.
The political ad is set to air in April. Magsaysay, who is running his campaign on a tight budget, still has much airtime left and has yet to consume most of his hours. - Rappler.com