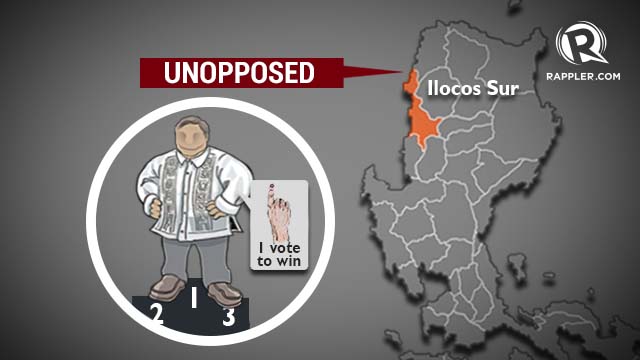 MANILA, Philippines – Among the country's 80 provinces, Ilocos Sur has the biggest number of mayoral aspirants running unopposed in 2013 elections.
The number of lone candidates – 18 – is double the number from 2010. They are in more than half of the province's 34 cities and municipalities.
Next to Ilocos Sur, the provinces with the most number of unopposed mayoral bets are Maguindanao (13), Isabela (10), Sulu (9), and Ilocos Norte (8).
Unopposed candidate need only one vote to win.
(Infographic: More unopposed candidates in 2013)
This is the second election year in a row that Ilocos Sur topped the provinces in terms of number of unopposed candidates for mayor. Newsbreak research in 2010 showed that mayoral aspirants in 9 out of 34 cities and towns had no rivals; 11 vice mayoral bets were also unopposed.
At the time, the provinces with the most number of mayoral bets, aside from Ilocos Sur, were Abra, Ilocos Norte, and Maguindanao
This year, of the 18 unopposed bets in Ilocos Sur, 14 are re-electionists. The rest are seeking to replace their relatives.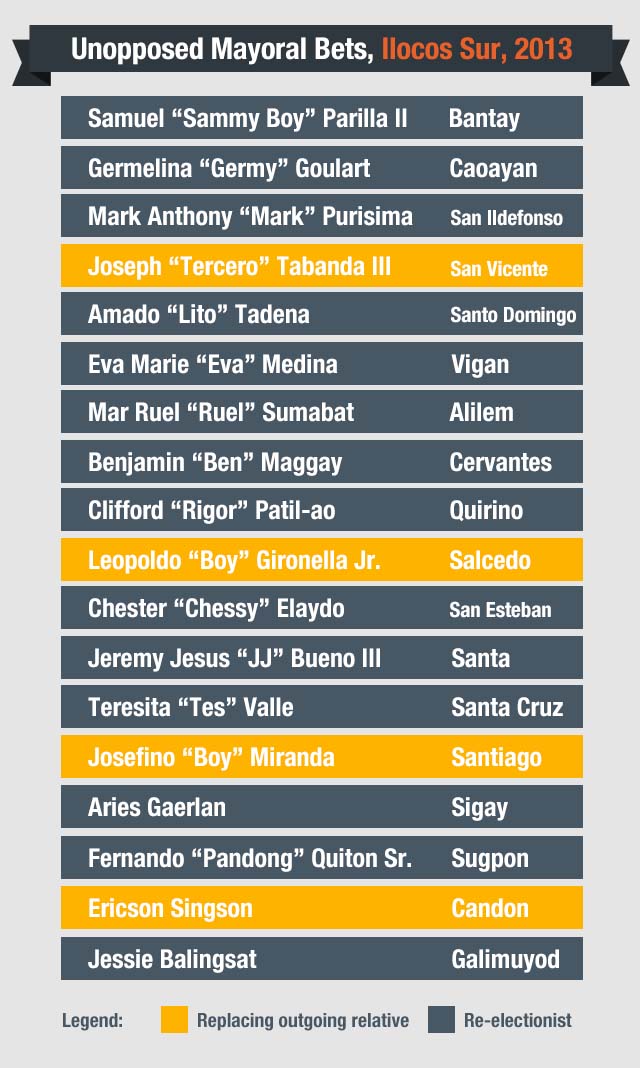 Eva Marie Medina ran as a lone mayoral candidate in 2007. It was reportedly the first time a mayoral candidate ran unopposed in Vigan. She replaced her husband, Ferdinand Medina.
Of these 4 who want to succeed outgoing mayor relatives, 3 are incumbent vice mayors.
Joseph Tabanda III will replace his mayor wife Nancy in San Vicente town. Nancy, for her part, is running as his vice mayor, also unopposed.
In Salcedo, Vice Mayor Leopoldo Gironella Jr will replace his father, Mayor Leonofre Gironella.
In Santiago, Vice Mayor Josefino Miranda will swap positions with his son, Mayor Michael Miranda; Michael is running as his father's vice mayor, also unopposed.
Ericson Singson is replacing his brother Allen Singson as Candon mayor.
Ilocos Region police chief, Chief Supt Ricardo Marquez, said recently that Ilocos Sur elections are so far considered relatively peaceful due to the high number of unopposed mayors. Intense rivalries are expected to give rise to armed confrontations during the campaign. – with Miriam Grace A. Go/Rappler.com