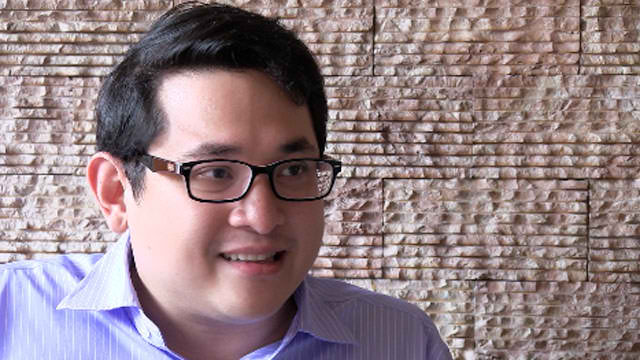 MANILA, Philippines – To senatorial candidate Bam Aquino, not a law but a revamp of political parties in the Philippines will solve the problem of political dynasties.
When parties are strong – no longer built on personalities but on defined stances on issues – surnames will not matter anymore, he said when he guested on Rappler's #PHvote series of interviews.
Aquino is one of the senatorial candidates who are being criticized for coming from political families and thus supposedly concentrating powers on a few. He is a first cousin of the President, and, if he wins, will be the 6th Aquino to become senator.
"We don't have that [strong party system] now. So what we have are basically parties built on personalities and family names. But I really feel that if parties can mature and become stronger down the line, the discussion on last names won't be as important. It'll already be, what's the party's stand on issues," he said.
He cited the United States as an example: "For the Democrats, they have the Kennedys; for the Republicans, they have the Bushes. And yet it doesn't seem to be that much of an issue because they have clearly defined what it means to be a Democrat, and what it means to be a Republican."
The Liberal Party (LP) bet acknowledged that the country is still far from that point, but expressed optimism it could get to that point "little by little." He said his party, for one, may soon take in non-politician members – journalists, businessmen, doctors, lawyers.
Names and loyalties
When he first announced his candidacy, Aquino received much flak for his supposed lack of experience and for riding on his cousin's popularity.
At 35, he is second youngest senatorial candidate, and the youngest from the President's slate. It is his first time to run for a government position.
The criticisms against him have shifted, although it still has something to do with his last name and its affiliations. Is his loyalty party with former President Gloria Macapagal-Arroyo? His father and aunt were close advisers of Arroyo. Bam himself was an appointee, as commissioner of the National Youth Commission from 2001 to 2006. The Nationalist Union of the Philippines, a party formed by Arroyo loyalists, have declare they will carry Bam's candidacy.
While he Aquino did not leave the Arroyo administration immediately when scandals of corruption and electoral cheating relating to her broke, he denied he was an ally of the unpopular leader. He said he left as soon as he finished his term in 2006.
He said the accusations against are orchestrated black propaganda meant to arrest his rise in the surveys. They are irritating, Aquino admitted.
"If the accusations are true, would PNoy, the number one enemy now of President Arroyo, pick me? Would the LP...actually choose me in the slate? Would people like Risa Hontiveros, Jun Magsaysay...stand side by side with me? Of course not, right? So it's an easy claim to disprove, [but] sometimes it's annoying when they throw whatever they can at you," he said.
His argument highlights yet another question that critics have for him: How can voters be assured Bam will not simply be President Aquino's puppet?
"The truth is, in history, if you look at the Aquinos' different stands on issues, there was never a time when we acted as a monolitihic group. We all had our own issues. We all focused on different areas and we all had our own stands. Sometimes they didn't necessarily agree with each other," he said.
Aquino became the first LP member to crack the Magic 12 in surveys, and has remained in the so-called winning circle so far. But with the possibility of another Aquino in office, fears of using the Aquino family power for personal gain have been raised.
He said: "Honestly if you talk about a dynasty as having one place or a business interest that they are protecting, I can't really see that we fell into that trap or we are those types of people. What I see is that we have a history of public service and many of us younger ones are inspired by our relatives who gave so much to the country." - Rappler.com
---
More from Rappler's 2013 Philippine elections coverage: