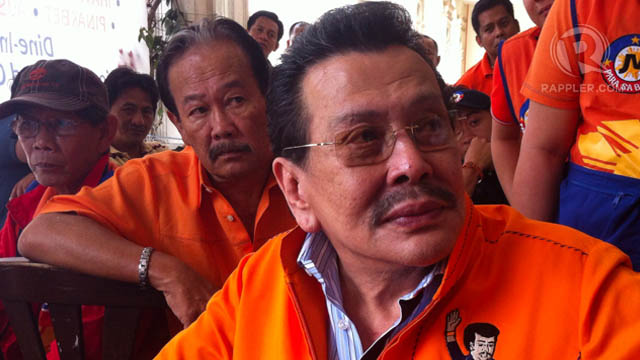 EASTER PROCLAMATION. Former President Joseph Estrada kicks off his campaign on Easter Sunday in Liwasang Bonifacio, Manila. Photo by Ayee Macaraig
MANILA, Philippines - In typically colorful fashion, graft-tainted former Philippine president Joseph Estrada launched his campaign for mayor of Manila Sunday, March 31 in what he described as his "last hurrah" in politics.
The one-time movie actor, who turns 76 on April 19, said he wanted to end his political career as the mayor of a city where he was born and in whose sprawling slums he remains hugely popular.
"I was born in Manila, I first became a famous actor in Manila, so my career has come full circle," Estrada told AFP in an interview before addressing thousands of supporters donning shirts in his trademark orange.
"But this is my last hurrah in politics. I just want to clean up Manila and put its affairs in order before retiring," he said.
Estrada said his first priority was to bring urban renewal in the capital city of 1.6 million people, many of whom live in slums plagued by petty crime.
He said he also planned to fight rising criminality and end alleged corruption at city hall.
The self-confessed former womanizer and heavy drinker said he could "still jog a kilometer thrice a week" and was healthy enough for the day-to day-rigours of running one of the country's busiest city halls.
"My public service to the people has no boundary," he said. "The poor did not leave me and supported me all the way. I am returning the favor."
If he won, Estrada said he would continue his programs for the poor that were halted when an uprising ousted him as president in 2001, halfway through his 6-year term.
Following a marathon trial, he was convicted in 2007 of corruption for plunder and taking kickbacks worth tens of millions of dollars while president. He was however quickly pardoned by his successor Gloria Arroyo.
Estrada consistently maintained that his ousting was a conspiracy involving the influential Catholic church and the elite who feared his populist ideas.
He ran again for the presidency in 2010, coming in second behind Benigno Aquino in a field of 10 candidates -- proving that he remains among the country's most popular politicians despite his conviction.
But his return to politics could be thwarted by an equally colourful opponent, Alfredo Lim. The incumbent mayor, known as "Dirty Harry", led a high-profile campaign to shut down Manila's strip bars in the 1990s.
The rivalry is one of the closely watched in the May elections, when the Philippines elects candidates for more than 18,000 posts, from mayors and governors to members of the House of Representatives and the Senate. - Rappler.com