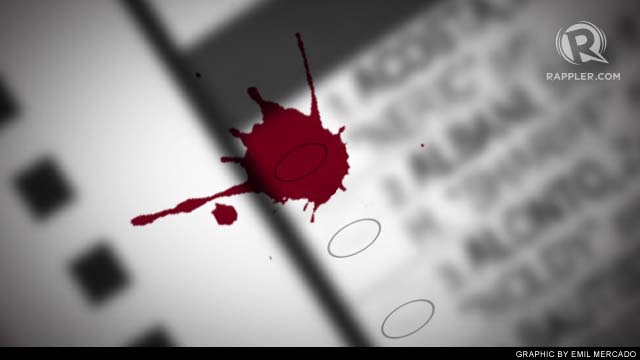 MANILA, Philippines - A day before the administration's senatorial slate wasn set to visit Laguna province, two supporters of the Liberal Party (LP) were attacked by gunmen in San Pablo City.
Ronald Acbang, a kagawad from Barangay San Crispin, was killed, while Rolden Mercado was seriously injured after they were fired at by men riding in tandem on Thursday, April 4.
The victims are campaign workers of lawyer Hizon Arago, LP's mayoral bet in San Pablo.
Acbang, who was on duty, was killed first using a caliber 45 pistol. Barely two hours later, Mercado, who is part of Arago's postering team, was also shot by men in motorcycles with the same caliber pistol.
Team PNoy is set to visit Laguna on Friday, April 5. The province has 1.5 million registered voters for 2013, the fifth highest in the country.
Campaign manager Franklin Drilon condemned the violence and called on the Philippine National Police to arrest the perpetrators.
"We denounce any form of political violence and the unnecessary loss of lives during elections," he said in a statement. "We will support all efforts by the Commission on Elections and law enforcement agencies to see to it that unfortunate incidents like this will not happen again."
Arago too urged police to resolve the case swiftly and said he is even more motivated to fight for the people of his city. He said he is ready to put his life on the line to fight for change in San Pablo.
"Let us give clear justice to the death of those in our group who have lost their lives just for change in San Pablo," he said.
A series of killings
This was not the first time that supporters of Arago and his family had been killed. Last year, Arago's personal driver – who used to work for San Pablo Mayor Vic Amante – was also shot dead by men on motorcycle.
Arago is the father of 3rd district Laguna Rep Maria Evita Arago. He is running against San Pablo City administrator Amben Amante, son of Mayor Amante.
The Amantes of San Pablo have been linked to killings in the past, allegedly caused by narcopolitics in the area.
In 2012, Edwin Amante, younger brother of Mayor Amante, was linked to the killing of Laguna Board Member Reynaldo Paras and his bodyguard-driver, Geovanni Dumaraos.
Paras supposedly asked for help from the police before they were killed, because they received death threats from Edwin Amante.
The police also caught, through separate operations, Joel Amante, Michael Amante, and Minda Amante – members of the Amante Drug Group and all of whom arerealted to Mayo Amante and City Administrator Amben Amante.
Their cases are still unresolved.
Amben Amante is running under the opposition United Nationalist Alliance. – Rappler.com