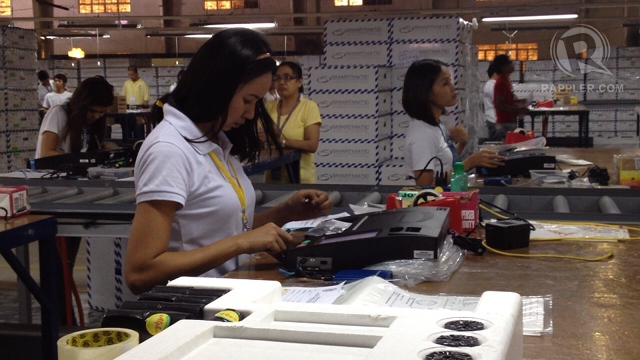 PCOS ASSEMBLY. A Comelec employee helps assemble ballot-counting machines in Cabuyao, Laguna. Photo by Rappler/Paterno Esmaquel II
LAGUNA, Philippines – Less than 30 days left.
From the recently concluded ballot-printing, eyes turn to a warehouse in Cabuyao, Laguna, where Commission on Elections (Comelec) employees assemble 78,168 ballot-counting machines for over 52 million voters.
In a press conference in Cabuyao on Friday, April 5, Comelec chair Sixto Brillantes Jr said all precinct count optical scan (PCOS) machines should be out of the warehouse by April 30. By then, the PCOS machines should be deployed to various cities and municipalities.
Rappler's computation showed that based on the minimum production rate, the Comelec may fail to meet the April 30 deadline. The Comelec, however, said other factors come into play.
More than half needed
The Comelec, as of Friday, has assembled less than half of the needed PCOS machines.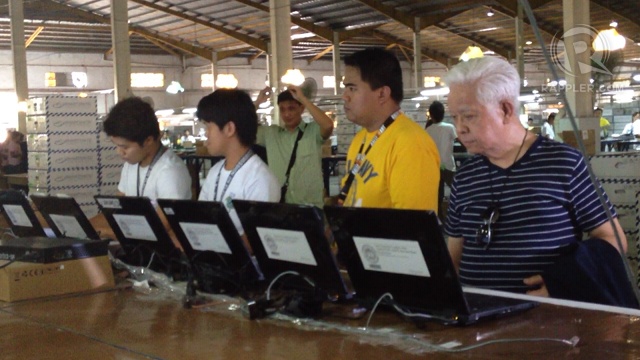 WAREHOUSE TOUR. Comelec chair Sixto Brillantes Jr (right) tours reporters in the Comelec warehouse in Cabuyao. Photo by Paterno Esmaquel II
It has brought 16,457 PCOS machines to various provinces since deployment began last March 16. Meanwhile, it is preparing to deploy some 20,000 machines that have been finished.
This means the Comelec has finished assembling 36,457 PCOS machines, or 46.63% of the number of machines needed on May 13.
In 25 days, the Comelec has to finish 41,711 more machines.
How capable is it?
Celia Romero, director of the Comelec's administrative services department, said employees finish a minimum of 1,250 PCOS machines a day.
If we go by this minimum, Comelec employees will only finish 31,250 machines by April 30, the deadline set by the Comelec.
Based on this computation, the Comelec will need up to May 8 to finish all the needed PCOS machines. That's 5 days away from the May 13 elections.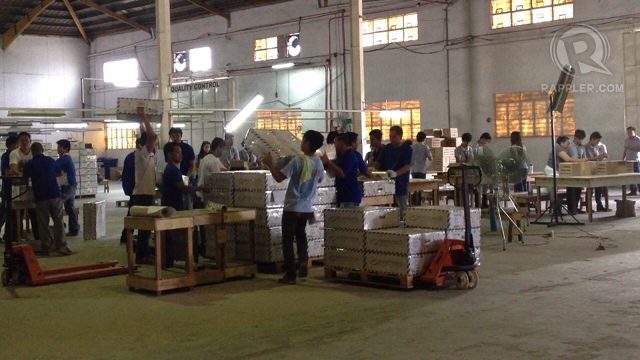 ROUND-THE-CLOCK. Comelec employees work 24/7 to finish assembling PCOS machines by April 30. Photo by Rappler/Paterno Esmaquel II
Confident poll body
Brillantes said the PCOS machines should make it on time for their final testing and sealing on May 6. During this process, election inspectors check a PCOS machine's contents, show the public it is sealed, and allow 10 voters to test it, among other things.
The Comelec, however, remains confident it will meet the deadline for deployment.
Romero explained 35,000 PCOS machines have undergone a firmware upgrade, which comprises 30% of the work. "'Yung natitira, 60% na lang ang natitira doon sa production line," Romero said. (What remains is 60% of the work needed in the production line.)
Brillantes added that 5 assembly lines now work on the PCOS machines – 24 hours a day. He said the Comelec increased the number of assembly lines from the initial two, which later became 3.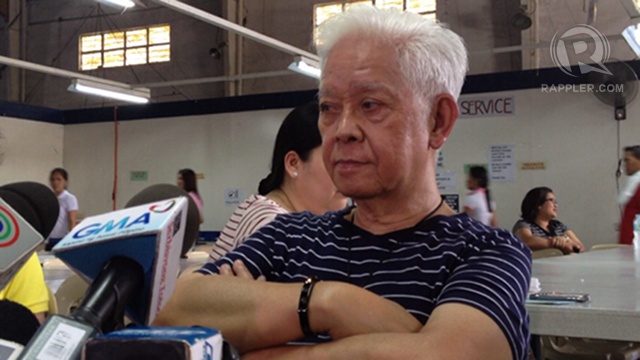 CONFIDENT CHIEF. Comelec chair Sixto Brillantes Jr guarantees the PCOS machines will meet the April 30 deadline. Photo by Rappler/Paterno Esmaquel II
Brillantes told reporters: "Sa tingin ko naman, abot na abot kami." (I think we will surely meet the deadline.) – Rappler.com