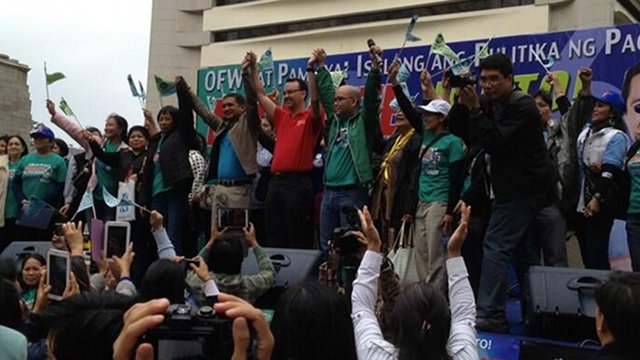 Photo from Sen Alan Cayetano's Twitter account
MANILA, Philippines - Re-electionist Sen Alan Peter Cayetano of administration ticket Team PNoy and independent senatorial candidate Bayan Muna Rep Teddy Casiño campaigned together in Hong Kong on Sunday, April 7.
They joined the rally of Filipino migrants group Migrante, which is seeking party list seats in the House of Represetantives.
Casiño's Bayan Muna and Migrante are allies under the umbrella Makabayan party -- an accredited coalition of Leftist party list groups.
Hong Kong has the most number of overseas voters. According to the Commission on Elections (Comelec), 122,820 Filipinos are eligible to vote in Hong Kong. In 2010, there were 95,000 registered overseas absentee voters (OAV) there, and about 35,000 voters -- or about 37 percent -- cast their votes.
It was a full day for Casiño. He attended a mass at Central, Hong Kong's central business district. After the mass, he jogged with Migrante officers and members towards known Filipino hangout place Chater Road West to introduce himself and court the votes of OFWs there. It was followed by a program, where Migrante endorsed both Casiño and Cayetano.
"I vow to continue our fight in the Senate, to uphold and protect the rights of Filipino migrant workers and to create local opportunities for them by developing national industries and creating jobs with adequate wages," Casiño said.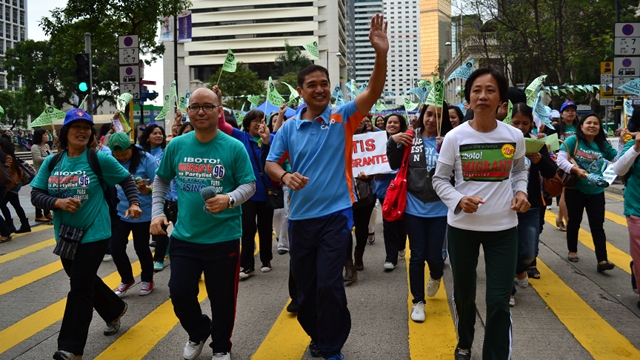 Bayan Muna photo
Cayetano also held his own "PTK Listening Tour" in Hong Kong. PTK stands for "Presyo, Trabaho, Kita" or prices, jobs, and income. These are issues that Cayetano said he will watch.
Cayetano belongs to the Nacionalista Party of Senator Manuel Villar, the presidential candidate that Makabayan party endorsed in 2010.
The Nacionalista Party was supposed to adopt Casiño as guest senatorial candidate for the May 2013 polls, but the party decided to coalesce with the ruling Liberal Party instead.
But Cayetano is not included in the initial list of 5 "adopted" candidates of Makabayan. Aside from Casiño, the party adopted in November 2012 Senator Francis Escudero, Senator Loren Legarda, Senator Koko Pimentel, and Las Piñas Rep. Cynthia Villar, and former MTRCB Chairman Grace Poe.
Casiño slams gov't
Casiño said he is worried that voters in Hong Kong will be disenfranchised because of the decision of the Commission on Elections (Comelec) to allocate only 9 precinct count optical scan (PCOS) machines there.
"This is especially problematic because the registered voters in Hong Kong have increased to 122,820 from 95,000 in 2010. I wonder how Comelec derived that 9 PCOS machines will be enough when the Filipino community itself has been protesting the move," Casiño said.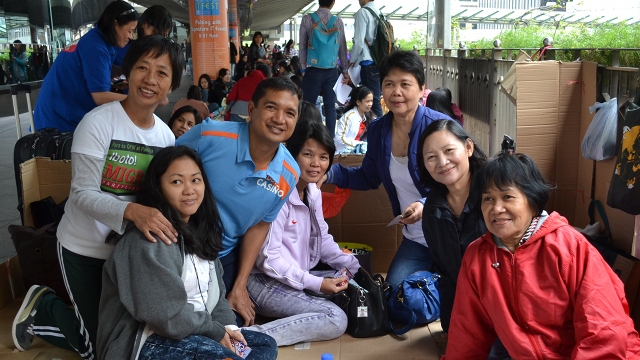 OFW VOTE: Independent senatorial candidate Teddy Casiño campaigns in Hong Kong. Photo courtesy of Bayan Muna
Casiño also called for the lifting of the ban on direct hiring of OFWs. He said this has resulted in the monopoly of recruitment agencies in the hiring.
"In 2009, the Philippine Overseas Employment Administration imposed a ban on direct hiring of Filipino workers, supposedly to protect their rights and welfare. However, this resulted in further exploitation of our kababayans. Filipino migrant workers are being made to pay placement fees and other illegal fees that cost higher than their monthly salaries," Casiño said.
But Casiño said his goal is to push for more employment in the Philippines so that the OFWs can go home and work in the country.
"Government should have long deserted the labor export program and had instead invested in national industries and agriculture which will create wealth and livelihood for the country," he said. - Rappler.com