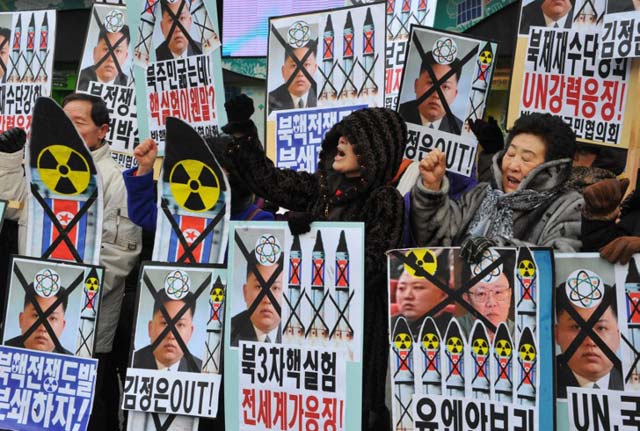 NO TO NUKE TEST. Activists from an anti-North Korea civic group shout slogans during a protest against a North Korean nuclear test in Seoul on February 12. Photo by AFP/Kim Jae-Hwan
MANILA, Philippines – The Philippines' overseas absentee voting (OAV) in South Korea will likely push through despite the tension in the area, the Department of Foreign Affairs (DFA) said Monday, April 8.
In a text message to Rappler, DFA spokesman Raul Hernandez said the security situation "does not point toward a disruption of the upcoming overseas voting for the 2013 Philippine national elections in South Korea."
"However, in the unlikely event of an armed conflict, the safety of our citizens will take precedence over the holding of any electoral exercise," Hernandez said.
In late March, North Korea declared it had entered into war with South Korea, home to over 50,000 Filipinos.
Based on the latest data from the Commission on Elections (Comelec), 5,887 Filipinos in South Korea registered to cast their ballots during the absentee voting from April 13 to May 13.
That's 2.56% of overseas absentee voters (OAVs) in Asia, or 0.7% of the OAVs worldwide.
Contingency plan

The Comelec, for its part, said it will follow the DFA's advice on overseas absentee voting in South Korea. In an interview with reporters on Monday, Comelec spokesman James Jimenez said the Comelec's contingency plan will closely adhere to the DFA's.
Jimenez, however, said he is confident overseas absentee voting in South Korea will push through.
"Eh dito nga sa Pilipinas, nagpuputukan na 'yung mga mortar, bumoboto 'yung mga tao," Jimenez said. (In fact here in the Philippines, mortars explode and, still, people choose to vote.)
Jimenez described Filipinos as a "very hardy lot."
(Where are most Filipino absentee voters registered? See Rappler's infographic below.)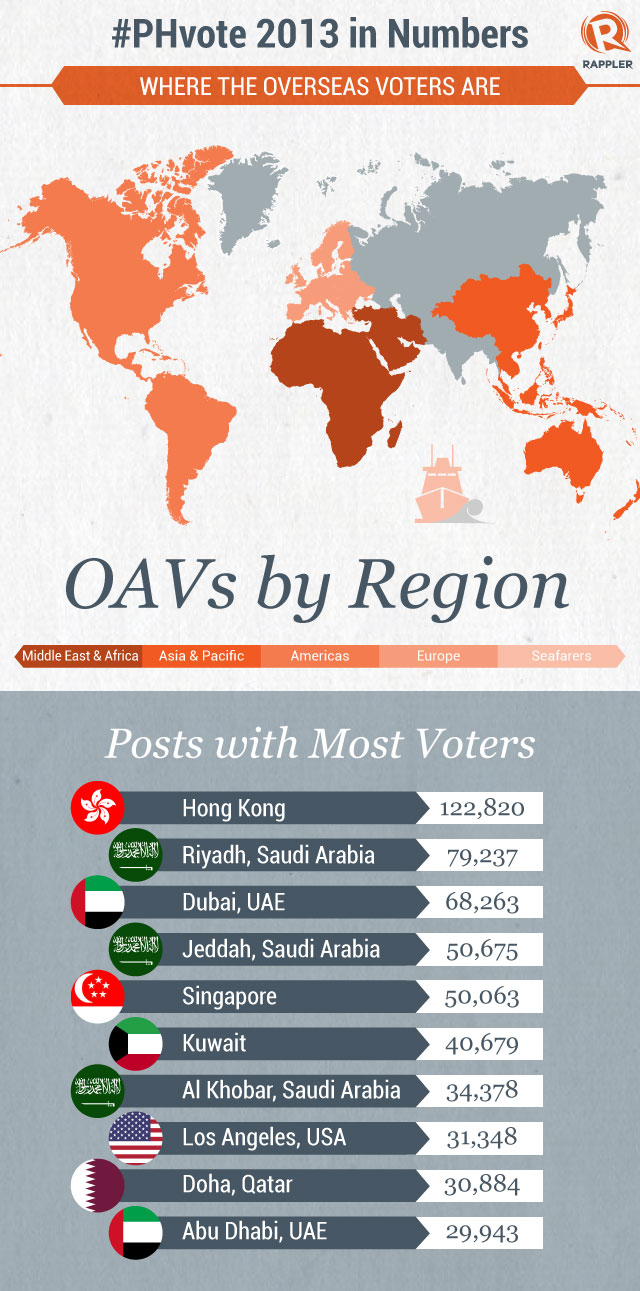 On Monday, North Korea announced it would pull all its 53,000 workers out of the Kaesong joint industrial zone with South Korea and suspend all commercial operations in the complex, blaming "military warmongers." – with reports from Agence France-Presse/Rappler.com