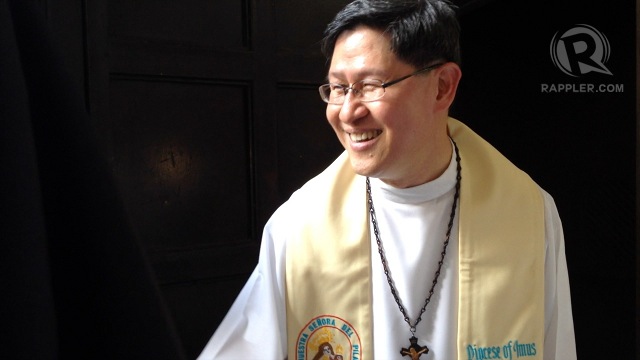 SON OF IMUS. Manila Archbishop Luis Antonio Cardinal Tagle holds a recollection in Cavite in time for the 2013 elections. Photo by Paterno Esmaquel II
CAVITE, Philippines – From the Philippines' capital city, Manila Archbishop Luis Antonio Cardinal Tagle returned to Cavite on Tuesday, April 9, to preach to a province caught in a heated contest between political families.
Tagle, a native and longtime bishop of Imus, Cavite, sought to send local candidates a message of peace and humility. Organizers invited him as a voice of reason in the province.
Tension broke out, however, even before Tagle could do this. A representative of Rep Erineo "Ayong" Maliksi, who is running for governor under the ruling Liberal Party (LP), briefly faced off with one of the organizers. He claimed the organizers informed them about the event on short notice. LP bets failed to attend it.
Co-organizer Axel Pinpin, who was wearing the shirt of progressive group Anakpawis, shot back: "Huwag 'nyo namang gawing karnabal ito." (Let's not turn this into a carnival.)
He said the organizers, the Cavite People's Advocacy for Good Governance (CPAGG), invited the LP camp last week, not an hour before the event as the LP representative asserted.
This happened right outside the De La Salle University-Dasmariñas chapel, the place that would, a few minutes later, resound with Tagle's hour-long preaching on peace.
Cavite, the province with the second highest voters' population (1.6 million), has been included in the national police's list of areas where elections could potentially turn violent.
President Benigno Cojuangco Aquino III has taken a personal stake in the province – he has attended LP rallies in Cavite since September.
During the 2010 presidential elections, the most influential clan in Cavite, the Remullas, was instrumental in exposing how the SCTEX road project was allegedly diverted and overpriced to benefit Hacienda Luisita, which is owned by Aquino's family.
The Remullas, in this year's polls, have allied with the Revillas, whose camp had a violent encounter in 2010 with the camp of Plaridel Abaya, father of now Transportation and Communications Secretary Joseph Emilio Abaya, another LP stalwart.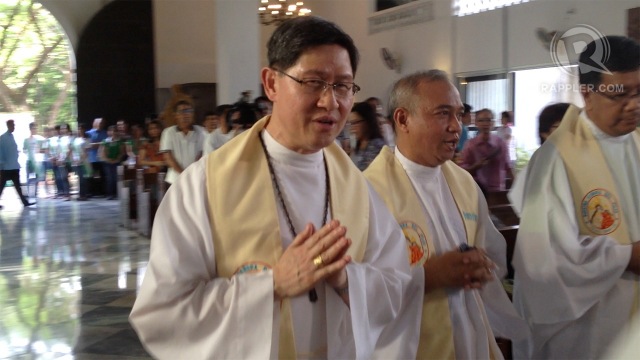 PEACE, HUMILITY. Cardinal Tagle preaches a message of peace and humility during his hour-long talk. He concelebrates a Mass afterwards. Photo by Paterno Esmaquel II
'Trampling on people'
Inside the chapel, a captive crowd listened and occasionally broke into applause during Tagle's recollection.
Tagle addressed an audience that excluded LP bets and included re-electionist Governor Jonvic Remulla and his running mate, Jolo Revilla, in what the organizers called an event for unity.
In his speech, Tagle did not endorse any candidate, consistent with his reputation as Imus prelate.
CPAGG, the organizer, criticized in a statement the so-called "most rabid henchman" of the LP, President Benigno Aquino III, who has attended 4 LP rallies in Cavite since late September.
Tagle did not make any criticisms, however, and instead chose to deliver general reflections based on his experience in the recently concluded conclave.
Tagle, for instance, criticized campaigns that entailed disparaging one's opponents. He said the electoral process should serve as a "school in civic life."
"Baka ang matutunan ay, 'Okay pala, para umasenso, magtapakan tayo. Para umasenso, kailangang magsiraan tayo. Minsan, 'yan ang unspoken message, pero malalim 'yan," Tagle said. (People might instead learn, 'Oh, so to progress in life, let's trample on each other. To progress, let's ruin each other's names. Sometimes, that is the unspoken message, but that is deep.)
He urged candidates to educate voters "in civics, in nobility of spirit, in dignity." "Let the electoral process be really formative. Let it be educative in the dignity of being a citizen," Tagle said.
He also denounced the practice of tastelessly trumpeting achievements in public office – "when in fact, you should just do it!" (Watch more in the video below.)
'Covenant, not photo op'
After the recollection, Tagle concelebrated a Mass and, later, joined the signing of a covenant for peaceful and honest elections.
Outside the chapel, the low-key cardinal walked to a huge tarpaulin that bore the election covenant.
Remulla was then signing the upper half of the tarpaulin. Upon reaching the place beside Remulla, Tagle immediately bent down and signed at the bottom half, intentionally or unintentionally evading a photo opportunity with the reelectionist. (Watch the video below.)
Pressed by the media to stay for photos and videos, a smiling Tagle quipped: "Oy, covenant ito, hindi photo op. Magkaiba ang photo op sa covenant." (Hey, this is a covenant, not a photo op. A photo op is different from a covenant.)
Tagle refused questions from the media, who wanted to ask the Philippines' top prelate about Cavite politics. He told reporters he has said all that he needed to say.
And the preacher quickly walked away, leaving Cavite with his words amid a heated battle over 1.6 million voters. – Rappler.com