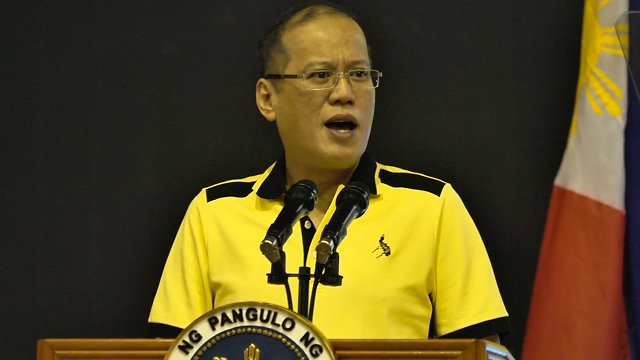 NO EXCEPTIONS. President Benigno Aquino III says Liberal Party bets will be punished for vote-buying. File photo by Malacañang Photo Bureau
MANILA, Philippines - President Benigno Aquino III gave assurances on Wednesday, April 10, he would not tolerate vote buying from any politician -- including Liberal Party (LP) bets.
As vote-buying allegations marked the start of the local campaigns, Aquino told reporters in Capiz, "LP members are not exempt from the law."
He said: "At the end of the day, if there's proof, then they should file a case and we will not support them if they were wrong or if they broke the law."
On Thursday, April 4, United Nationalist Alliance (UNA) accused the Kaya Natin! Movement for Good Governance and Ethical Leadership of vote-buying in the distribution of gift certificates to public high school students -- in exchange for votes for some Liberal Party senatorial bets.
Aquino acknowledged there would be more attacks during the campaign period, but that candidates should also be presumed innocent until proven guilty.
"At the same time, we need to give everyone, not just those in our party, due process. There's a process to prove whether a person is guilty or not," he said.
On Saturday, April 6, the Commission on Elections said it would probe vote-buying accusations only after a case has been filed wth the commission.
Aquino also emphasized higher expectations from his party mates, whom he handpicked and carefully selected for endorsement.
"From the start, we did not endorse candidates in every place. Other parties looked for partners so their numbers would be bigger -- which any party would like -- but we have standards," he said.
"I admit there were some place wherein we were reluctant to include either of the opponents on our side. So we accepted that in the national elections, no one will stand for us in their places."
He added, "We will not gamble what our party stands for on people we are not sure will follow the rules of our party."
Previous elections in the Philippines have been marred by vote-buying, an especially common practice in local races. The election offense is punishable by law through imprisonment, loss of the right to vote, and a prohibition to hold public office. - Rappler.com